10 Things to Know About Highmark Direct Stores
By: Krista Lardieri
Posted: March 14, 2019
Share This
Do you remember the first time you signed up for a cell phone plan, or switched to a different carrier? Maybe you did this conveniently online, or chatted with someone over the phone, but you might have been one of the many people who preferred to go into a store, talk to an expert face-to-face about available plans, and look at your phone options in person.
Did you know you can do that with your health care insurance? If you're in Pennsylvania, Highmark Direct stores offer a central place for shopping for coverage, and managing your health care, with in-person service when you need it.
Celebrating their 10-year anniversary in 2019, the first pair of Highmark Direct stores opened in Pittsburgh and Mechanicsburg. Today, there are 11 stores across Pennsylvania.
Highmark Direct stores serve over 65,000 visitors each year, ranging from new college graduates looking for coverage to people looking for Medicare Advantage plans. Beyond being places to shop for insurance, the stores also hold over 3,000 events each year, including fitness classes, Medicare seminars, and much more. In this article, I'll share just ten of the things you can do at the stores.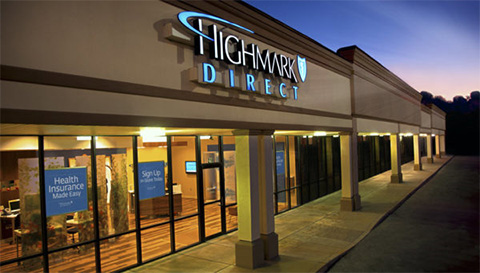 Shop for health insurance, pressure-free
No matter what you're shopping for, it's a less-than-desirable experience to have an aggressive salesperson who won't give you time to think and pressures you for a quick-buy decision. At Highmark Direct stores, you never have to worry about that, because associates don't receive commissions. They'll never try to sell you coverage that you don't need. Instead, the stores are designed to be a place where you can go to learn more about all your options. Store associates are there to walk you through the differences between plans, and help you find the plan best suited to your health, needs and budget.
Store associates are trained to be able to advise you on Highmark Medicare Advantage plans, Medigap supplemental insurance, individual and family plans, and other insurance, such as travel and dental. A store associate can help you narrow your list of potential plans, including explaining the price differences of three critical parts: your premium, your deductible and your out-of-pocket expenses.
Once you have a plan, store associates can also answer policy and benefits questions, and provide money-saving tips to minimize out-of-pocket expenses.
Director of Highmark Direct Mike King talks about the insurance products you can find at the stores
Highmark Direct retail stores are places in the community where folks can come in and explore their health insurance options. Owned and operated by Highmark, we specialize in Medicare products as well as ACA, or Affordable Care Act, products. So folks that are 65 years old and eligible for Medicare, as well as folks that are under 65 and looking for an ACA product, can come in and we can get them into the right plan that fits their budget and fits their needs.
Find providers, schedule appointments, or transfer your medical records
Buying coverage is just the first step in your health care journey. Highmark Direct stores can also help with what comes after that: finding providers, scheduling appointments, submitting claims, and even transferring your medical records.
The stores also have computers and free Wi-Fi so you can log in to your Highmark member website to review account information or complete other health care tasks. A store associate can walk you through each step of the way.
Pay your bill
Stephanie Paul talks about what she likes about visiting her local Highmark Direct store
The Highmark Direct store is so convenient for me, because if I have questions I know I have people that will answer them for me. I can count on them explaining my bill, so I know my responsibilities, and I know what I have and I don't have. They are so warm, so welcoming, and they work for me. So the Highmark Direct store is my positive place.
When it comes to your health, whether it's an annual check-up or a long-term treatment, bills shouldn't be a source of stress and confusion. If you have questions about your bill or prefer to have someone walk you through it before you pay, you can stop into a store to pay your monthly premium, enroll in electronic payment options, or have a store associate look into charges for medical services. If needed, they can also help you set up a payment plan. Payments in the store can be made with a check or money order; depending on your plan, you also may be able to pay with a credit card.
I like having someone walk me through my bill each month, so I know and understand exactly what my costs are. It gives me peace of mind to know that it's taken care of and I can have someone to talk to any time I have questions.
Attend a Medicare Seminar
Turning 65 years old is a big milestone to celebrate. While you may be planning your retirement party, you are also probably getting ready for other changes, like enrolling in Medicare. Whether you are preparing to enroll, or are a new or existing Highmark Medicare member, the Highmark Direct store welcomes all to its Medicare seminars.
Store associates work with seminar attendees to explain Medicare, compare and shop for plans, explore prescription drug coverage, and assist with enrollment. If you're a Highmark member, they'll explain how your specific plan works, including how to find a provider, determine coverage and calculate out-of-pocket expenses. If you're an existing member, you can find coverage and plan updates or get help switching plans during select Medicare enrollment periods.
Sign up for a Medicare Advantage plan
When you're ready to sign up for a Medicare Advantage plan, there can be a lot of information to go through. Each year, thousands of Pennsylvanians get help understanding and enrolling in Medicare Advantage plans at Highmark Direct stores.
You can meet with a store associate one on one to review your Highmark Medicare Advantage options, including private health insurance (Part C), standalone prescription drug coverage (Part D), and Medigap supplemental insurance. The associate will work with you to explain how Medicare works, compare plans, explore prescription drug coverage, and assist with enrollment. If you're a new Highmark Medicare member, a store associate can explain how your specific plan works. If you're an existing Highmark Medicare member, you can get help switching plans during enrollment periods, or get coverage and plan updates.
Reaching 65 or retiring is the start of the next big chapter in many people's lives. Having a trusted advisor, in person, to walk you through your health plan, benefits, options, and those major decisions is important, and that is one of the reasons why we have the Highmark Direct stores in our communities.
Connect with a customer advocate
In some stores, customer advocates are available onsite to connect with you about more specific questions you may have about your benefits. For example, you might have received a bill after a medical procedure that you were sure your health plan covered at 100 percent. Why did this happen, and what can be done about it? Customer advocates can engage in more in-depth conversations about coverage and benefits related to your needs.
Check your numbers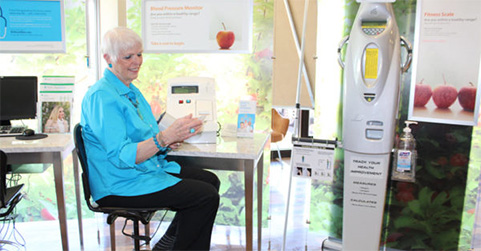 Whether you're looking to jumpstart a new phase of your health journey or just want to get a better sense of how you're doing, you can go to a Highmark Direct store and use the self-service body mass index (BMI) or blood pressure machine. In each store's health evaluation area, you can check your weight, body mass index (BMI), and blood pressure — and leave with a printout of that information. If that inspires you to take immediate action, don't forget that you're in the right place for a range of other health tasks, including finding a provider, connecting with a customer advocate, or signing up for a health and wellness event at the store.
The Highmark Direct store is more than just a place to shop for insurance. It's a place where people can complete a variety of health-related tasks and find the resources and information they need to embrace and manage their health and well-being.
Ask doctors questions at "Doc Talk" sessions
At select stores, you can find a "Doc Talk" session to attend and ask experts questions about health topics relevant to you. Each session covers a specific topic, such as joint replacements or heart health. In-network doctors and specialists, including from Allegheny Health Network (AHN), share their expertise on the week's topic, and then you can ask them questions. Light refreshments are served, and you don't need to be a Highmark member to attend.
Take yoga, tai chi and other classes
Highmark Direct stores are also a place to work on your health and well-being. Much as you might find a MacBook 101 class at an Apple store, Highmark Direct stores offer a range of classes and activities that are all about embracing health and well-being. Many locations have a Fitness Tuesday or a Fitness Friday, which features beginner and senior-friendly workouts such as yoga or tai chi. In Pittsburgh, there is even a workout with the Pittsburgh Ballet, featuring light strength training, range of motion, flexibility and balance.
If you've already got your exercise in for the week, Wellness Wednesday sessions feature other health-related topics, like a registered dietician offering tips for planning better meals, controlling portion sizes, and making smart food choices. Other sessions have featured expert recommendations on everyday habits for lowering your risk of cancer or diabetes.
Watch a movie or join a book club
Stephanie Paul talks about the personal and community-building value of book clubs and other social activities at Highmark Direct stores
And the fact that they offer a book club is an absolute plus. We get the chance to talk about books. We read the same book — it's amazing how many people can give different opinions. We get to socialize — it's so nice that we have access to something in our community. Because it's all about mind, body and spirit, and you really need to work with all three to have a full life.
Your mind and social connections are an important part of your overall well-being — and Highmark Direct stores offer a variety of ways to meet other people in your community, relax, and exercise your brain.
For example, Movie Matinee Mondays allow you to come watch recent releases and family-friendly classics. Technology Tuesdays are an opportunity to get tips and insights on smartphones, home WiFi, social media, and more to stay connected. Entertainment Thursdays invite you to take a relaxed afternoon to play board games or meet your neighbors for a book club.
I love participating in book club. I believe to stay healthy all of your life, you need to exercise your body, your mind, and your spirit. I think the Highmark Direct stores are a wonderful asset to the community — they have a lot of activities that give me and my neighbors something to look forward to and a way for us to connect.
Visiting Highmark Direct stores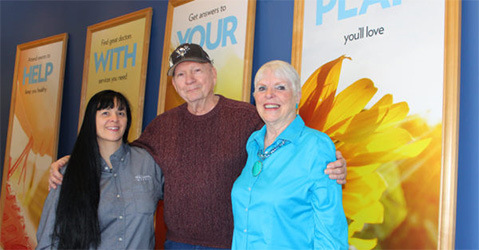 The first step to taking advantage of all that Highmark Direct stores offer is to find the store near you. Once you click on a store on the "locations" page, you'll be taken to a page that includes the events calendar for that store. Events and offerings vary, and some may be for Highmark members only, so be sure to call or check online for details.