Ask a Doc: Answering Your Questions About Lupus
By: Khristan Shafe
Posted: November 21, 2015
Share This
The Lupus Foundation of America estimates that 1.5 million Americans and at least 5 million people worldwide are living with lupus. Doctors and researchers at the Allegheny Health Network (AHN) Lupus Center of Excellence are dedicated to solving the mystery of this complex condition and helping those with lupus live life as fully as possible.
I spoke with AHN's Dr. Tarun Sharma, who specializes in the field of lupus, and Dr. Susan Manzi, director of the Lupus Center of Excellence, to learn about this autoimmune disease.
Khristan Shafer (KS): Dr. Sharma, what is lupus?
Dr. Tarun Sharma (TS): Lupus is a chronic autoimmune disease that occurs when the body's immune system attacks its own tissues and organs. Lupus can affect many different parts of the body, including the joints, skin, kidneys, blood cells, brain, heart and lungs. Anyone who develops lupus will have lupus for the rest of his or her life. There's no cure yet. But with the proper diagnosis, a treatment plan and management, many people can live active and productive lives.
KS: What are the symptoms?
TS: Lupus can affect many different organs, so there are many potential symptoms. They include, but are not limited to, fatigue, headaches, painful or swollen joints, rashes, fevers, chest pain, shortness of breath, seizures, mouth sores, and hair loss. Some people experience only mild symptoms. In others, the condition is life threatening with frequent flare ups and serious complications.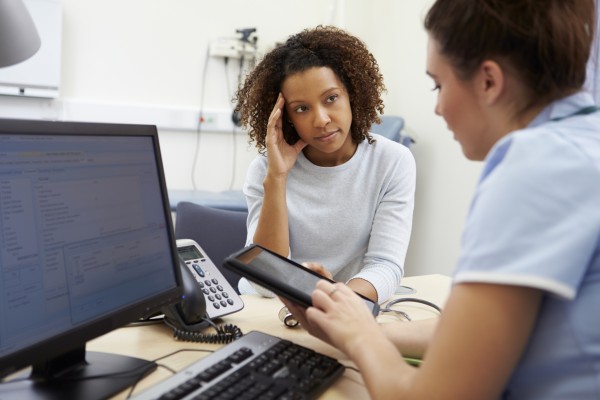 KS: Is lupus inherited?
TS: Some people are born with a tendency to develop lupus. The cause is believed to be an environmental trigger, which results in a misdirected immune response in people who are genetically susceptible. That trigger might be an infection, certain drugs or even sunlight. Certain ethnic groups, for example people of African, Hispanic or Latino descent, have a greater risk of developing lupus. Lupus strikes mostly women of childbearing age (15–44), but men, children and older adults can also develop it.
KS: Are there misconceptions about lupus?
TS: It helps to know what lupus is not. For example, lupus is not contagious. You cannot "catch" lupus from someone or "give" lupus to someone. Lupus is not related to cancer. However, some treatments for lupus are the same drugs used in chemotherapy. Lupus is not related to HIV or AIDS. In HIV or AIDS, the immune system is underactive. In lupus, the immune system is overactive.
KS: How is lupus diagnosed?
TS: Lupus is difficult to diagnose because many of its symptoms occur in other illnesses. The symptoms can come and go, and can change. Some people go for years before they get an accurate diagnosis. We look at many factors. Through research we've done, the Lupus Center has new testing methods that help us get an earlier and more accurate diagnosis.
KS: Dr. Manzi, what is the Lupus Center of Excellence?
Dr. Susan Manzi (SM): The Lupus Center of Excellence is part of the Allegheny Health Network, which is a national leader in diagnosis, treatment and research for patients with autoimmune diseases. The Center's doctors and scientists share research that can be used to treat patients. We have diagnosed and provided treatment for people from South America, Canada, Latin America, Europe, Asia and across the U.S.
KS: What is unique about it?
SM: Our Lupus Center is unique in the world. We provide state-of-the-art patient care by talented physicians, access to cutting edge research and new potential treatments, and an environment that is ideal for the education and training of students, young physicians and scientists. Our research has led to the development of a new blood test to better diagnose patients with lupus. Our doctors serve at the local, national and international level on advisory boards, foundations, and with organizations dedicated to the care of patients with lupus and related autoimmune conditions. We work closely with community partners to raise funds to support our educational and research missions and to increase awareness of lupus, a disease that is often misunderstood.
KS: What is your treatment program like?
SM: Lupus is a complex disease that requires a team of doctors and health care providers. We work closely with these specialists to manage problems such as skin rashes, kidney failure, heart disease, strokes and the many other potential complications of having lupus. Our goal is to better diagnose lupus and to provide early and effective treatments to improve the quality of life of those suffering from this disease.
KS: Would you summarize the value of the Lupus Center of Excellence?
SM: Our Lupus Center of Excellence is here to help patients who are looking for a diagnosis because of symptoms that may be suggestive of lupus, and we're here to help those with an established diagnosis to identify the safest and most effective treatments. We provide opportunities to become involved in research, and we take the time to educate and empower patients and their families to better manage their disease.