Enhanced Community Care Management: A Nurse's View
By: Cheyenne Knight
Posted: December 27, 2018
Share This
Highmark Health's Enhanced Community Care Management (ECCM) program is an innovative "high-touch" approach to patient care (see sidebar). A central aspect of the program is placing specially trained nurses in primary care provider (PCP) offices, where they provide 1:1 help to patients with complex health issues.
The approach has been successful. Highmark health plan members in the program have consistently had 15 percent lower total medical costs and 30 percent lower inpatient admissions compared to similar groups not enrolled in the program. Providers benefit as well, not just in gaining a focused nurse to help with their most challenging patients, but also in learning about motivational interviewing and other care approaches.
Just as importantly, nurses in the ECCM program consistently report high job satisfaction. The extra training, collaborative and supportive culture, and excitement of building a new program likely all contribute to that. But the program also gives nurses something that can be elusive in traditional settings — the chance to work with patients in focused, personalized ways that may feel closer to what they had in mind when they decided to become nurses.
To learn more about ECCM — from a nurse's perspective — I talked with Kelley Fishovitz. One of the first nurses hired when ECCM launched in 2016 through Allegheny Health Network (AHN), she is uniquely qualified to talk about how the program has evolved as well as her experiences as an ECCM nurse.
Nursing — from Hospital to Home Care to ECCM
Cheyenne Knight (CK): Let's start with learning more about you. What is your background in nursing, and how did you end up working with ECCM?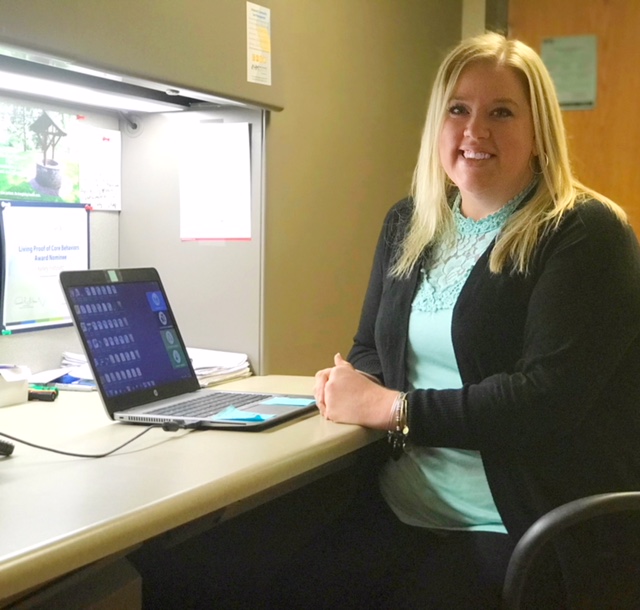 Kelley Fishovitz (KF): I was a hospital nurse for a number of years and then began working in home care and hospice care part-time as well. With home care, I saw some very sick people and the challenges they and their families faced once out of the hospital. Seeing that outside world changed the way I felt about the inside world of hospitals. I realized that these patients needed more than I had been sending them home with as a hospital nurse. I began sending patients home with more supplies to last until a home nurse was able to come, I gave more detailed instructions, and I made sure they had medication at home instead of just assuming they did. It completely changed the way I worked at the hospital.
Eventually I went to home care full-time. Again, I was seeing sick people without a lot of assistance — it felt like it was just me and them against the world. I had to encourage them to make all of their appointments and teach them everything about their medications. The trend in health care to send people home sooner has some benefits, but it also means that care needs in the home may be more complex.
I learned about ECCM from another nurse I'd worked with for years. She told me, "This is a unique opportunity — we're building this program that's going to be really special." When I interviewed and then started to be part of conversations at the beginning of the program and heard what Mark Valenti was proposing, I had that same feeling: "I'm so excited to be part of something this special."
Being an ECCM Nurse
CK: How is being an ECCM nurse different from being a nurse in other places?
KF: Well, let's start with the patient's perspective. The ECCM approach is unique in allowing us to really develop a personal, ongoing relationship with each patient. For my patients, I'm not one of several nurses they see during a hospital stay and then never have contact with again, and I'm not some random person calling them — I'm here in their doctor's office when they come in for appointments. I make a point to meet them and say hello so they can put a face to a name, and then I'm going to be there for them, in person, by phone, however needed, in ways that just aren't possible for nurses in most settings.
Building on that, the way we work in ECCM means I can take time to get to know a patient and really listen to what's going on. That allows us to uncover issues that you may not typically think about when trying to improve someone's health. Instead of saying well, this person's health is deteriorating because they keep missing appointments, we're trained to ask questions like, "How involved do you feel in making decisions about your health?" We try to find out if they're feeling a disconnect, or if something else is causing them to miss appointments. It may be something like, "I don't feel the doctor spends enough time with me, so I don't see the point of coming," or it could be something practical like transportation issues. We're taking the time, and asking the questions, to find out, and then we can address whatever will help.
CK: That kind of questioning — that's the motivational interviewing technique that Mark Valenti talks about in another article?
KF: Yes, as part of ECCM training, we learn motivational interviewing. And — it's not just a class. We also help each other, and Mark helps us, to continuously sharpen our motivational interviewing skills as we deal with real patient communications.
The whole premise of motivational interviewing is impactful — talking to your patients, reflecting on what they've said, affirming what they've done well, and not just jumping in to "correct" them. Often, when patients come in, one of the first things I'll say is, "This must be really important to you because you came to your appointment today." That sets a tone — it highlights that they're making positive choices. Even patients that are struggling, they might say one little thing that's positive, and if you can bring that out, it changes their demeanor and you can help them continue on that path.
Honestly, I feel like motivational interviewing has improved my overall communication with everyone in my life. Getting back to what's different about ECCM nursing, patients can often tell me things that they maybe hadn't felt comfortable telling the staff or a doctor who popped in for 10 minutes and then left. Patients know I'm super open, trusting, nonjudgmental, and a good listener.
CK: Aside from motivational interviewing, what other training do ECCM nurses get?
KF: What's great is that there's a lot of training, and it is more interactive than typical training. It's not, "read these things you don't want to read so we can check it off." We want to attend interactive trainings because we see real value in them.
As examples of other training, we have a course in health literacy. I never would have considered health literacy an issue had I not taken the course. We take for granted that resources and instructions we give to patients are written in a way they understand, but the truth is that there are varying literacy levels and differences among patients. So that becomes something we learn to watch for and then go that extra step with explanations.
There's another course on nonverbal behavior. It helps you understand that things you're not saying, but are doing or not doing with your body, can really affect people. For example, if a patient or staff member comes to see me and I sit here with my arms crossed, they may feel like I'm not willing to help them.
There's also a series on activating your audience and your team. That's been helpful with embedding yourself in a practice. You're coming into a well-oiled machine, and you're an extra piece. Maybe the practice has already seen programs like this, and you're trying to convince them that ECCM is different and you want to work as a team.
CK: I was curious about that — what's the reaction like from doctors, nurses and staff when an ECCM nurse is embedded?
KF: It varies. They want to know what we can do for their patients and why they should use us, so you have to demonstrate those things. In the research we've done and feedback from providers, one thing that came out about other programs is that doctors and staff didn't necessarily know what the program person did day to day. So we try to be as transparent as possible and make sure we're reaching out to physicians and staff about questions and concerns that we can address.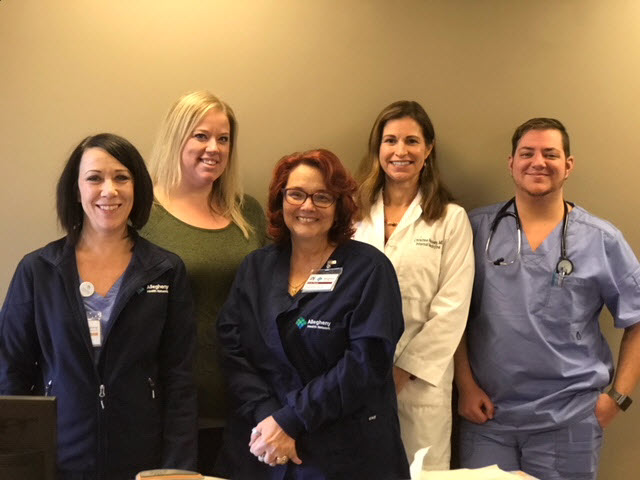 One thing I did in a practice where I'm embedded is start a monthly staff meeting. It helped to have that regular touchpoint to say, "This is why I'm here, this is what I do, and if you have patients that need help, please come to me." I've also shared resources with staff that they can use with their patients. So ECCM really is about building strong relationships with the providers as well as the patients we are partnering with.
Being Part of Highmark Health
CK: ECCM started as an AHN program, but now it's under Highmark Health, the parent company of AHN and Highmark's health plan companies. What has that transition been like?
KF: Highmark Health saw that ECCM was proving its worth by helping patients manage their health better, and the impact that could have in reducing costs. There was already so much collaboration and everyone moving toward a value-based care model, so in many ways it felt like a natural transition rather than a disruption.
When it was just a few of us, we had to be everything to everybody — we knew we were doing good things as nurses, but we also had to make time to network and get the word out about ECCM and think about how to develop it. As much as you might want to be part of all that, it can get exhausting to do it while also doing your work as a nurse.
Once we became part of Highmark Health, there were people to help with that other work, so we could get back to why we're here every day — I'm here for my 78 patients, and for the staff at my locations. So the support Highmark Health provides has had a very positive influence on what we can do.
It also helps that the core values are pretty consistent across the organization. We want patients to get the right level of care, at the right time, in the right environment. The patient is our priority — we place the patient at the center of everything that we're doing, and surround that patient to make sure they're getting everything they need.
Getting Health Care Right — for Patients and Nurses
CK: Do you have a patient success story you could share that shows how an ECCM nurse can make a difference?
KF: I have a patient that I first met in December 2016 — one of my first ECCM patients. When I looked at his records, he had been to the emergency room (ER) 12 times that year.
Once we started talking, I discovered that he wasn't coming to appointments because he couldn't afford to pay for a ride, so his access to care was an issue. He was also taking care of an elderly father that he didn't have help for. I was able to get some services in place for him, and then, as we built up trust, he began to know that, if he wasn't feeling well, he could call me so we could try to fix the issue before he ended up in the ER.
In 2017, he had seven ER visits — from 12 down to seven in that first year working together. This year, he's calling me more, he's more willing to use the specialty services he needs, he's seeking preventive care — and he's only had two ER visits so far. That's huge for him. He's healthier, he's taking his medications, he's calling when he needs to, and recognizing symptoms before they get worse. He's made big improvements in being able to manage his own care.
CK: It's wonderful to hear that the program can make a difference like that. It seems like this would be very rewarding for nurses, too.
KF: Our nurses want to be educators. We want to help patients, families, and caregivers through the tough times they're having. With ECCM, we have the luxury of both 1:1 time with patients and the time to address the obstacles making it hard for them to manage their health. We're all very passionate about this program and how we have touched patients. This is my first job where I have that "I really, really love what I'm doing" feeling. And I get to see the impact I'm making in my patients' lives.