The Gift of Life: A Kidney Transplant Story
By: Nikki Buccina
Posted: July 18, 2018
Share This
Like every year, Jerry Jacovetty expected his vacation on Sanibel Island to be one speckled with memories of fresh salt water, afternoon strolls on the beach and days that didn't need a time check. However, Jerry recalls the year he had an unexpected experience while he was walking on the warmed, sun-kissed sand.
"I was walking on Sanibel Island and I couldn't shake this pain in my lower back. The pain was different than a pulled muscle, and I knew I needed to make an appointment with my family doctor when we got back from vacation," says Jerry. "At the time, I was a little scared because I also noticed swelling in my lower legs, and I had already been battling high blood pressure and diabetes."
Working alongside his local primary care doctor after returning from vacation, Jerry swiftly underwent several tests to determine what his dull ache was stemming from.
"It seemed like I had every heart test under the sun performed. I had a bone marrow biopsy and my lungs were also drained. Everything was in play for me, until I had a kidney biopsy which showed that I had declining kidney function."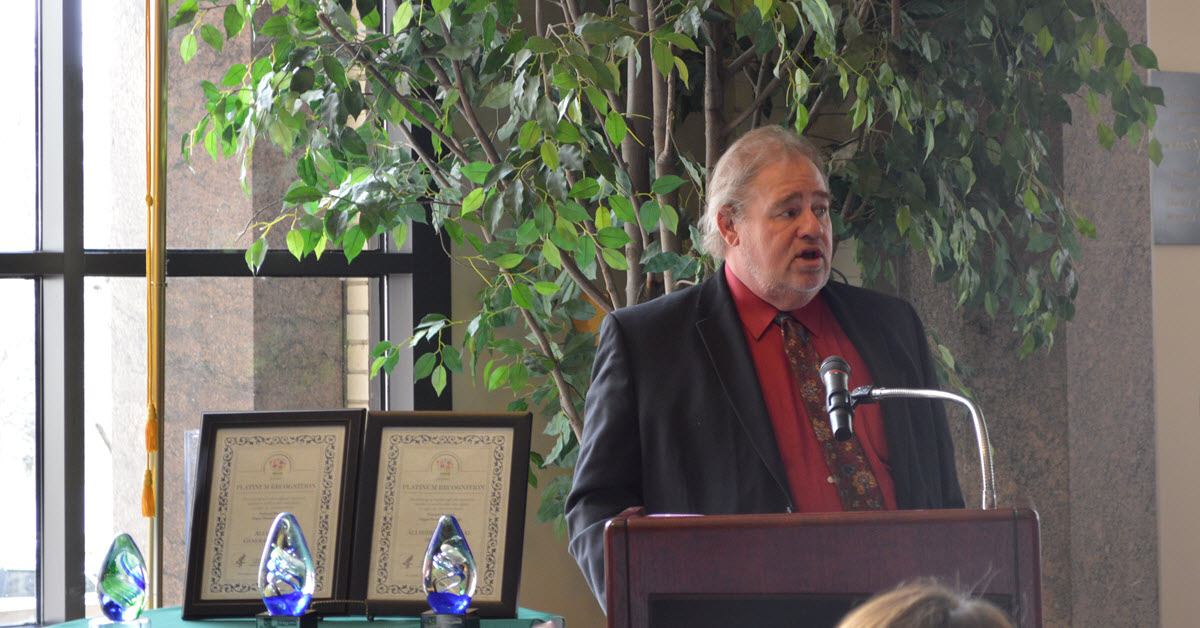 From Practicing Law to Enduring Dialysis
"I grew up in Wheeling, West Virginia, with my parents and two brothers. I was in a solidly middle-class neighborhood," says Jerry. "I didn't grow up around lawyers, but it was always something I thought about, so I went to law school at West Virginia University after attending West Liberty University near Wheeling."
After graduation, Jerry planted his roots in a familiar place, working for a privately held law office in downtown Wheeling. Today, he smiles when he thinks about how much more he appreciates the smaller things in his quiet life.
"I love sitting on my porch and talking to my dog, and now I have more time to go to high school football games on Friday night," Jerry explains. "When I was sick, I was a prisoner to the dialysis chair. It was the worst part of my life, spending nearly 25 hours every week at our hospital going through that treatment."
When Jerry was 55 years old, he was diagnosed with chronic kidney disease and placed on dialysis for three years. Dialysis keeps a person's body in balance when kidneys can no longer do the job on their own. The treatment removes waste, salt and extra water to prevent them from building up in the body while keeping a safe level of certain chemicals in your blood, such as potassium, sodium and bicarbonate.
Often an intensive process for the patient, Jerry found himself up against a challenging new chapter in life.
"When they told me it was going to be three times a week for about five hours each day, I told them I wasn't going to miss one day of work," says Jerry. "Some people told me I wouldn't be able to get out of bed the next day. But I did. I like to think that my family took their cues from me, too — I stayed positive and I never missed a single day from work."
After being on dialysis for two years, Jerry was placed on the national transplant waiting list. There is an average wait time of three to five years (longer in some regions) for a person on the waiting list for a kidney. During that time, patients often focus on leading healthier lifestyles and adopting better habits.
"I needed to lose 50 pounds, and that took roughly two years to drop," Jerry continues. "To be put on the list, you have to be healthy — then you have to undergo examinations that prove it before getting placed on the list."
Organ Donors Make a Difference
As of 2018, more than 115,000 people are on the nationwide transplant waiting list. With one person added to the list every 10 minutes, there continues to be a critical need for more people to register as organ donors.
Jerry's story is a testament to a tragic situation impacting the availability of organ donations: the nationwide opioid epidemic. A recent study in the Annals of Internal Medicine estimated that organ donations from overdose victims have increased 24-fold since 2000. Experts cited in that article also note that recipients are often faring better because overdose donors tend to be younger and less likely to have had high blood pressure, diabetes or other ailments that can affect an organ's function.
"My wife and I got the call on May 10, 2017 from my Allegheny General Hospital transplant team with a kidney match," Jerry explains. "They told me I needed to make a decision. My donor was what they call an increased risk donor, but that didn't bother me in the slightest. In my line of work, you see so many different walks of life and so many people faced with dire circumstances. It didn't affect my decision, and we were on the road within the hour."
"Today, I'm a 10 physically"
The following morning, Jerry received his kidney transplant at Allegheny General Hospital in Pittsburgh. Every year, the hospital performs approximately 100 kidney transplant operations.
There were no complications, with the exception of a low hemoglobin level causing Jerry to feel more fatigued than usual for the next couple of weeks.
"I never understood how much it would mean just to feel normal again. Normal was so far away from where I was," he says. "With dialysis you're not able to drink more than one or two cups of water per day. I was horribly thirsty for four years. My new kidney started functioning on the second day, and I was able to drink more — I finally quenched my thirst."
Today, Jerry still works around the clock, but losing his extra gig of dialysis treatments means he has time for more Friday-night football games, walks with the dog, and time on his porch surrounded by family.
"Physically, on a scale of one to 10, I was a three to four during dialysis," he says. "Today, I'm a 10 physically. Mentally, I have to say I'm close to a million."
Become an Organ Donor
Lives are saved every day because people make the decision to become organ donors. If you have any concerns about what's involved in organ donation, please read the sidebar "Dispelling Organ Donor Myths" from our friends at the Center for Organ Recovery and Education (CORE). Their site also has links to help you with the very easy process of registering to become an organ donor.