Getting Health Care Right: A Conversation with Patricia Howard
By: Tracey Rapali
Posted: February 4, 2019
Share This
An eight-year-old was walking in downtown Newark, New Jersey with her fourth grade teacher, who asked what she wanted to be when she grew up. The hopeful young girl answered: a business woman who runs a large company. When asked what company she wanted to work for, Patricia pointed at two of the largest buildings downtown — Prudential Insurance and Horizon Blue Cross Blue Shield of New Jersey.
Fulfilling her fourth grade teacher's advice — "if you set goals and work hard, you will achieve them" — a determined Patricia Howard went on to work for both companies. She was first hired by Prudential, performing data entry and customer service functions. Guiding patients through the complexity of life insurance helped her realize that customer advocacy was her passion, and she remains a customer advocate to this day.
When she joined Horizon, she began helping people navigate the even more complex world of health care. Starting as a call center supervisor, she spent more than 18 years with Horizon and held a series of leadership roles, including the responsibility for the startup of a Horizon subsidiary formed in response to the Affordable Care Act.
Howard is now Senior Vice President for Highmark's Health Plan Operations (HPO) organization, which includes key functions that impact service for health plan members and customers: benefits set-up and administration; enrollment and billing; claims processing; member and provider customer service centers; training; quality; reporting and other operational support. In addition to these responsibilities that impact millions of health plan members, she also takes time for one-on-one advice sessions with a very special Medicare recipient — her fourth grade teacher, who is still a lifelong friend.
I sat down with Patricia to discuss her many years of dedication to getting health care right for customers, HPO's portfolio of work, and her experiences and advice to others about climbing the corporate ladder while balancing career and home life.
Helping People Navigate Health Care
Tracey Rapali (TR): Early in your career, you saw firsthand how complicated the health care industry can be. Has that been an important motivation — wanting to help people, but also wanting to make health care simpler?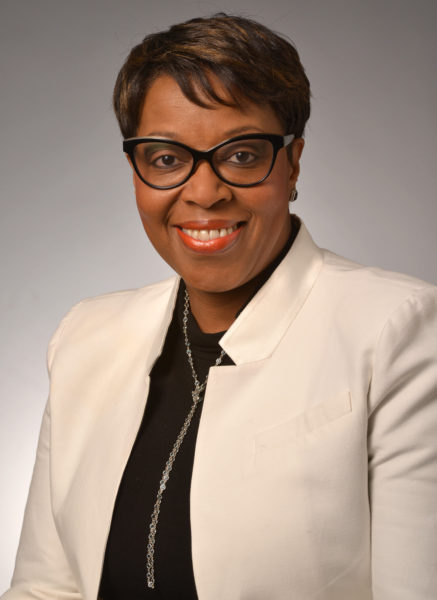 Patricia Howard (PH): During my first opportunity to work in the health care industry, I worked primarily with Medicare and Medicaid members. I found passion in helping them navigate through the complicated health care systems, and I decided that my career would focus on supporting and enhancing health care delivery for all members. I love the opportunity to help people find ways to support their health care needs. Additionally, as a leader of a large operation, I am working within the industry to simplify and improve the customer experience.
TR: You lead Highmark's Health Plan Operations, or HPO — can you talk a little about what that entails?
PH: The HPO team consists of 4,300 employees servicing about 7 million members in the states of Pennsylvania, Delaware, West Virginia, North Dakota, Wyoming and Minnesota — which includes Highmark's members and other Blue Plans' members we support. Throughout the year, we will process millions of transactions, like claims, calls, and identification cards, handle hundreds of channel inquiries, and upload hundreds of thousands of codes when we install new clients.
We collaborate with our sales teams and partner plans to ensure that the source documents we rely on to set up our new members are timely and accurate — we want to make sure ID cards are mailed on time, and that when services are rendered and claims are submitted, everything is processed efficiently, accurately, and without issue or challenge to our members.
I also manage the operational partnership associated with Blue Plans that are customers of HM Health Solutions (HMHS). We work with HMHS to define the information technology roadmap for health plan operations. And most recently we became responsible for a portion of the United Concordia Dental operations, so we will lead calls, claims, client installation, and related training for our dental operations.
Leading the Change
TR: What are some ways that the HPO is working to get health care right for customers and simplify their experience, and how does that fit into the enterprise's larger strategy for the future?
PH: I'm excited about Highmark Health's vision and plans for the future. Across the enterprise, we are moving from being a transactional organization to one that is more value based.
As an example, we can look at one area of HPO, our member call center operations. Three years ago, you might have said that the top three reasons members are calling is for claim status, benefits or ID card questions. In our current environment, members are seeking guidance on where to have services performed. We service them differently — we are advocates not merely reps, helping our customers select the right providers and facilities to get the right care. We are scheduling physician appointments, and doing so much more to ensure that our customers know they have a resource for any questions, not just claims. Our employees are able to take off their administrative services hats and put on clinical support hats, and they are trained to do so — and that creates an easier, more seamless experience for our health plan members, which is what our members need most.
It's really all about providing value to the customer. We're doing more than ever to help them navigate the complexities of health care across the entire experience — that's one very important way that my employees are helping to get health care right.
TR: Do you think that what HPO does, and what is happening across the Highmark Health enterprise, differentiates us from others in the health care industry?
PH: Yes, Highmark does differentiate itself in the market place. While I've worked in health care for 25 years, in both not-for-profit and publicly traded companies, I've always watched Highmark's performance and growth. And after joining the organization in 2017, I can attest that Highmark possesses some specific attributes that really stand out. Highmark is bold, innovative and executes on its mission.
Among other things, an example of Highmark's boldness is how we are not afraid to partner with providers in non-traditional ways. Highmark has taken the payor-and-provider service model to a level most competitors have not. Most health plans focus on the payor transaction, and the primary engagement with the provider community is through resolution of account receivable activity. Our integration with the provider community, both from a clinical and administrative perspective, is much more collaborative. It's an aligned relationship with a common objective for the shared customer — not just "the patient," or "the member," but "our customer." That is at the heart of our integrated care delivery and financing system with Allegheny Health Network (AHN) of course, but extends beyond our relationship with AHN. We are deeply partnered with many of our health plan's in-network providers to take the complexity out of the system, thus delivering one-stop shopping and seamless service to our shared customer community.
Another way we differentiate ourselves is in our use of data. I've always been a firm believer that business decisions should be rooted in data and analytics. And again, having a value-based rather than transactional business model means we work hard to gather accurate, meaningful data to help us deliver value to the customer.
We leverage analytical capabilities in our call center operations for our voice response unit. Our opportunity is to prioritize adding features that our members will need — we have to understand why they are calling, understand and gauge the aptitude and temperament of our customers when they call, and find a call pathway that best suits their needs. Data drives those decisions and enables us to devise a plan that will help the highest number of members.
Succeeding at Work and at Home
TR: You were part of a Highmark Health Women's Summit event recently that included Mellody Hobson. Could you talk a little about your experience as a woman of color who has succeeded in becoming a senior executive?
PH: My experience over the years being a woman of color in the health care industry has been quite an interesting journey and one of which I am very proud. Throughout my career, I found embracing diversity, inclusive of gender, ethnicity, race, age, sexual orientation, education, and disability, can cause you to think differently, and deal with situations differently, based on your experiences and background. As a woman of color, that allows me to tap into my experiences and background and lead accordingly.
I've been very fortunate to have some great mentors, including a diverse group of men, and as such I have had the opportunity to listen to diverse thinking which has helped me shape my thinking and my career path. And I never lose sight of the fact that when you have a diverse set of leaders around the table, you gain multiple perspectives and experiences that help you align with the needs of your customer base better, because they too are diverse.
TR: How do you balance work and home?
PH: In both cases, it starts with a good team. At Highmark, I'm fortunate to have a very passionate and engaged leadership team and employees. They are aligned to the mission and vision of our organization, which keeps them engaged and committed to their work. Because I have a high-performing team that supports our mission, embodies our core behaviors, and provides excellent service to our customers, I am able to remain focused on the strategic objectives of our business and perform all the duties that come with being senior vice president of Highmark's Health Plan Operations.
At home, my family is extremely supportive of my professional and philanthropic work. While I have a demanding career and participate in several social and civic activities that are important to me, I have a great family dynamic. Each family member has their own passions, but they all step up to do their part in the household — and most importantly they understand and appreciate my work load.
I focus on being purposeful at work and at home, and to some extent I do run my home like I run my operations here. For example, in both places, it's important to set priorities to make sure what we engage in is what gives us value.
TR: What advice do you have for young female professionals?
PH: I would offer these things for consideration:
Know your purpose — know your strengths and not just your weaknesses, and work diligently to leverage those strengths.
Learn your voice — understand you have a voice and use it.
Live with passion — working 8-10 hours a day requires you to be present and engaged in the work and at home. Make sure you care about what you do and have a desire to make a difference. Be passionate in your personal life also — take time to enjoy family, friends and yourself.
Get up — you will get knocked down in this journey of life, and it is those who get up that are successful.