Remarkable Leadership: Meet Dr. Chong Park, President, Jefferson and Canonsburg Hospitals
By: Emily Laubham
Posted: April 27, 2021
Share This
Our vision is a world where everyone embraces health. In our Remarkable Leadership series, we talk with people who are making that vision a reality by leading the work to create a new system of health, empower our customers and communities, and better support every individual's health journey.
As a cardiothoracic surgeon at Allegheny Health Network (AHN), Dr. Chong Park preferred to fly under the radar. However, since taking on the role of president of AHN's Jefferson and Canonsburg hospitals — during the COVID-19 pandemic — it's safe to say that when there is a radar, he's on it.
Yet he remains clear that the success of the hospitals is not about him. As someone who grew up in a family of doctors, he is quick to give credit to the bedside nurses, nursing assistants, transport teams, and other frontline workers.
"They determine the success and failure of an institution," he says. "The culture of every community hospital is dependent on its workers."
In our interview, we discussed his background and thoughts on clinician leadership, the unique value and challenges of community hospitals in the U.S., and what's ahead for the future of health and care.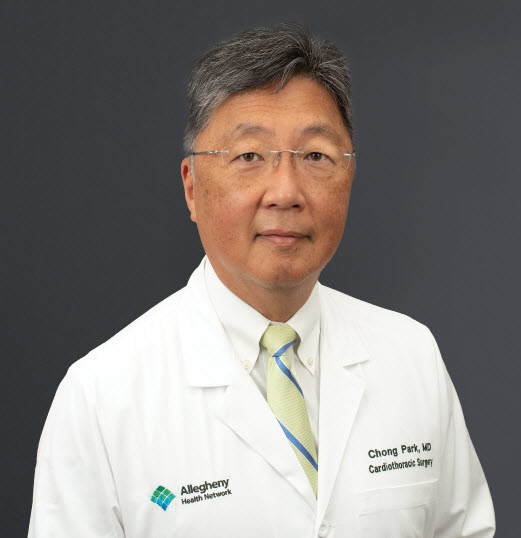 Medicine: a family tradition
Emily Laubham: What's it like to come from a family of doctors?
Dr. Chong Park: Every family has their traditions; medicine is ours. As a kid, I had no idea that other families talked about anything other than medicine when they were all together.
Emily Laubham: Growing up, did you ever want to be anything else?
Dr. Chong Park: It's always hard deciding what you're going to be, but because of my family, I knew all the hurdles involved in becoming a doctor. In many ways, it was the easier path because it was so well known.
Emily Laubham: You now run the hospital where your father started the cardiac program — is there a sense of continued legacy?
Dr. Chong Park: Most days, I don't consciously think about it. But there is a certain undertone — you do feel a sense of ownership or belonging to the hospital because you have family there.
Emily Laubham: You did your residency at Allegheny General Hospital (AGH), which had, and still has, several nationally renowned cardiac surgeons. Your father was also part of that?
Dr. Chong Park: He was the residency director for a long time at AGH. He left shortly before I got there, but basically the program I participated in was his. One of the biggest compliments he ever gave me was after I joined the practice. In the beginning, he made sure he operated with me, but after the first couple cases, he saw that I did things exactly the way he did them, and said I was good to go.
Emily Laubham: You have held several positions of clinician leadership — was that something you always had in mind?
Dr. Chong Park: It was actually something I avoided at first. Then I got a taste of clinician leadership when I became chair of the department of surgery at Jefferson Hospital. After my father retired, I was put in charge of the cardiac surgery program, so that was another step. When the job for chief medical officer opened up, I sat down and thought about how it might be to have someone in that position who was doctor friendly. I realized I could step up to the plate, and I had the support of other doctors.
Emily Laubham: Could you talk more about that value of having clinicians in leadership roles?
Dr. Chong Park: Let me start by saying that there are plenty of non-clinician hospital leaders who do a fantastic job. But I look at things from the provider perspective — because that's what I am — versus someone who might have a more business-centric approach. I make choices clinically first, then we look at what needs to happen on the financial side.
Community hospitals
Emily Laubham: What's the importance of community hospitals like Jefferson and Canonsburg?
Dr. Chong Park: You can't have a health care system in the U.S. without community hospitals. They provide the overwhelming majority of nuts-and-bolts care. There are plenty of phenomenal surgeons in community hospitals, and for most procedures you don't need to go to a big city hospital. One of the hallmarks of AHN is "keeping care closer to home." If you live in the suburbs or in a rural community, driving into Pittsburgh is not doing that.
Another point is that each community hospital has its own personality — that's what makes them so special. As a community hospital, the key is that you don't have to be everything to everyone, but you should be really good at what you do offer, and it should fit the community. A good community hospital becomes an organic reflection of the community it serves, and overlooking that, or trying to sterilize that, would be very misguided.
Emily Laubham: How do you strike a balance between being a community hospital with its own personality and yet also part of a large regional system?
Dr. Chong Park: It's evolutionary — as time progresses, the relationship changes. I think in the beginning, there was a drive to "be AHN," but now there is more focus on the "community" part of being a community hospital.
We can take care of us, but the difference is that, through AHN, we also have access to state-of-art technology and resources we wouldn't have on our own. Ultimately, when you get the balance right, a network makes its community hospitals stronger, and strong community hospitals make the network stronger.
Emily Laubham: How are Jefferson and Canonsburg overcoming the challenges that community hospitals are struggling with nationwide?
Dr. Chong Park: Pressures to reduce the cost of care, reduce hospital beds, and make other changes have put many small, independent hospitals on the verge of collapse. At the highest level, being part of AHN has helped in obvious ways, such as investments in renovations and upgrades. But it goes beyond that. For example, when AHN created the same-day appointment program, that helped reduce unnecessary ER visits at our hospitals.
The pandemic provides other examples. Some hospitals struggled to get adequate personal protective equipment (PPE), but AHN did things like partnering to supply P100 masks, so we had less to worry about. We needed to create negative pressure rooms for safety and AHN basically gave us carte-blanche to take care of our people's safety first and worry about the details later.
We have a finite workforce, and COVID-19 cases just kept rising — you can only take care of so many patients until you risk a reduction in quality of care. Again, however, as part of AHN, we were able to leverage that financial backing and get more people to work, including a huge infusion of agency nurses when we needed them.
Emily Laubham: During the pandemic, has the role of the community hospitals shifted within the network?
Dr. Chong Park: A lot of it is a matter of logistics. Each community hospital has to hold their weight, which means taking care of X number of patients. And then we have calls with AGH and others about more specialized care like extracorporeal membrane oxygenation (ECMO). Only so many ECMO patients can be taken at AGH, so we can't just send patients there on a whim. And there have been times during the pandemic when they asked us to take patients because they were getting full. So that shows the importance of a network where you have both community hospitals and the big academic center hospitals. You can't be everything to everyone. You have to share the load and know when to step up.
Emily Laubham: Do you have a favorite success story from your time at Jefferson and now Canonsburg?
Dr. Chong Park: Mercy Virtual's tele-ICU platform was something we started at Jefferson with great success, and it's become just as successful at Canonsburg, Allegheny Valley, and Saint Vincent. It's very difficult to staff ICUs 24/7 as a community hospital, because you simply can't find enough people, and these days you may not be able to pay as much to get those people. So, we decided to leverage the technology of Mercy Virtual, and that has allowed us to take care of sicker people, and more people, in the community hospitals. Mercy Virtual essentially exports knowledge and support to wherever it's needed. We had already started this before the pandemic, but it accelerated quickly and has been valuable in meeting the challenges of COVID-19.
In general, I think our successes aren't always glamorous. As a community hospital, you create success in small increments, one patient at a time, and what we're trying to do is day after day make sure we provide the best care for our communities.
Improving health and care
Emily Laubham: Can you talk about some of the work at the community hospitals surrounding social determinants of health and why that's important?
Dr. Chong Park: If you look at why certain disease states have higher hospital readmission rates than others, much of it has nothing to do with the hospital. Rather, it has to do with socioeconomic factors in the community, which we can't control. That also includes things like the dissolution of the family unit. In the past, many people grew up in an area, stayed in that area, and took care of family as they aged. Now, kids are scattered and may not be there as parents and grandparents are getting older and sicker.
At Jefferson, we have something called the Front Door Initiative for Social Emergency Medicine through a grant from the Jefferson Regional Foundation. When patients come into the emergency department at Jefferson, social workers complete a screening to determine whether they are dealing with social or economic risk factors that could negatively impact their health. Currently, about 60% of patients report at least one social risk factor. Once we identify a need, the Front Door Initiative team connects patients to hospital and community resources.
Another example is our Healthy Food Center, which opened at Jefferson in 2020. This is a program with the AHN Center for Inclusion Health that is like a healthy food bank, but it goes beyond just providing food. We have dietitians and nutritionists who provide coaching and resources to help people make healthier decisions.
Emily Laubham: What do you find most exciting in terms of improving health care?
Dr. Chong Park: I'm excited about the marriage of technology, including nanotechnology, and health care. Even now, we have almost Star Trek-ish care, which is making us much more accurate and effective. Think about what we've done with the coronavirus vaccine — 10 years ago, no one would have thought we could have highly effective vaccines available in 9 months.
If you look at the incredible tech we have today, five or 10 years from now, it'll be routine, not the exception, and new tech will arise — that cycle from exceptional to routine will continue. Community hospitals have to embrace the tech as well. Something may start as state-of-the-art in the big academic centers, but eventually move downstream and become important for community hospitals to offer.
However, tech can only get us so far. We also have to look at education and other ways to improve the situation where much of our overall population doesn't embrace their own health or take advantage of opportunities to get healthier.
Emily Laubham: What lesson have you learned so far as president of Jefferson and Canonsburg hospitals that will be important in helping them navigate the future?
Dr. Chong Park: There are finite resources and a lot of squeaky wheels. You have to pick and choose how you apply resources, and you can't always just take care of the wheel squeaking the loudest — even if it's the biggest. Sometimes you have to focus on smaller areas so they grow and prosper, too.