Veteran Voices: Sharon Duke
By: Andy Nichols
Posted: September 20, 2014
Share This
Veteran Voices is a series that gives our veteran-employees a chance to discuss their time in the military and how it prepared them for their careers with Highmark Health companies. In this post, United Concordia Director of Government Affairs and Marketing Communications Sharon Duke talks about her time in the Air Force.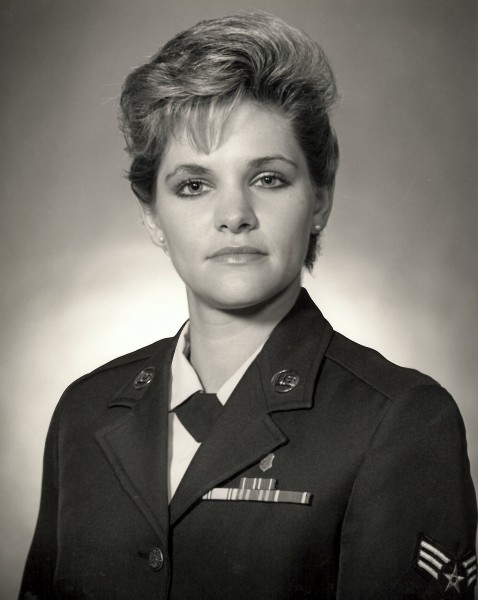 Sharon Duke grew up in western Pennsylvania, outside of Pittsburgh, attending Catholic schools. She graduated from Greensburg Central Catholic High School in 1982 and enlisted in the U.S. Air Force soon after.
Sharon loves to spend time with her family — which includes her son, Brennan, and two Yorkshire Terriers. She also enjoys cooking, reading, and traveling. She recently spoke with me about her time in the military, what it taught her about life, and what brought her to United Concordia [part of Highmark Health].
Andy Nichols: Was there a specific reason why you wanted to join the military?
Sharon Duke: I joined the military to travel — basically to see more than western PA. This is actually funny since I had three military assignments in 20 years, which is an anomaly when it comes to military service. I'm incredibly independent, and wanted to do anything and everything on my own, so the military was a good choice in that regard.
AN: How did your family and friends react to the news that you wanted to enlist?
SD: My entire family was supportive, but concerned. We weren't a military family, so there was very little frame of reference for them. My dad, who was a nuclear engineer by trade, was drafted during the Korean War, serving as a Second Lieutenant in the Army. The war ended on his plane ride over to Korea, so he spent the bulk of his time tearing down tents, cleaning canteens, and such. He chose not to remain in the Army as a career, but who could blame him? I joined the Air Force in the 1980s and at that time, there weren't many women in military service. So I think that between my gender and my dad's experience, there was a foundation for the family concern.
AN: What was the most difficult aspect of your time in the military?
SD: Being a single parent as an active duty member was challenging. During my career, there were really no programs for a single-parent service member. There were, and still are, many programs for military spouses, but none for the single parent. Heck, when I enlisted, you couldn't even BE a single parent in order to join the service. Completing my graduate degree with a toddler in tow, far away from any family members, was a real balancing act. Ten-hour or longer work days, with class twice a week from 5–10 p.m., was difficult; especially when you factor in all of the research and writing required. But I got what I asked for: accomplishing things on my own.
AN: What are some of the key skills or wisdom that you learned from your time in the service?
SD: Joining the Air Force was the best life and professional decision I've ever made. The concepts of team, sacrifice, service before self, professionalism, and leadership are engrained in those who choose the military as a profession. In the military, you form friendships quickly in order to accomplish the mission, which in many instances involves risking lives. The level of responsibility for young people in the military can be daunting, but, quite frankly, is one of the most rewarding aspects of military service.
AN: So what brought you to United Concordia, and what did the military teach you that you use on a daily basis in your work?
SD: I was the Air Force Surgeon General's representative to the Department of Defense for all TRICARE dental programs. A former colleague of mine was already employed at United Concordia when I decided to retire. He asked if I would consider applying for the TRICARE Dental Program's marketing position, and I haven't looked back since.
I feel extremely lucky that the Air Force allowed me to be autonomous and mold and shape not only the task at hand, but also the entire position. For example, although I was hired for a dental position at the Surgeon General's office, I was given the latitude to develop skills and assist other areas and processes. So I was able to incorporate overseas aerovac coordination, Congressional responses, foreign health care, eligibility, requirement development for medical and dental contracts, author medical and dental legislation, and add other various programs into my job description. This approach has translated well into my current position.
Originally hired for marketing, I've been given the autonomy at United Concordia to add other tasks into the job to better utilize my skills and abilities. So in addition to marketing, I provide strategy and manage Government proposal processes, perform business development, oversee military and veteran outreach initiatives, and assist with major implementations, to include the current TRICARE Active Duty Dental Program, working closely with many other areas, including Highmark's outstanding IT staff. Additionally, being a part of United Concordia's transformation efforts further allows me to help the company grow and prosper. We military folk are pretty good at and used to change. Some might say we thrive on it.
AN: Do you have some advice for anyone who is thinking about joining the military? What about veterans who are interested in a job with Highmark?
SD: My advice to anyone thinking about joining the military would be that it will make you rich. Not financially, but personally. Only about 1% of the entire U.S. population can state that they've served as a military member. I'm grateful to be part of this small club.
I would tell anyone interested in working at Highmark or one of its subsidiaries to seriously consider a career here. Yes, it's different from the military, but the values and guiding principles so closely align with the military that the transition can be fairly seamless and the work just as rewarding.