Compassionate Companions Make Sure No One Dies Alone
By: Bill Vidonic
Posted: February 12, 2018
Share This
Facing a two-day drive to the Allegheny Health Network's Forbes Hospital near Pittsburgh, one patient's son feared he wouldn't arrive in time before his mother passed away.
A group of volunteers with the Compassionate Companions program at Forbes made sure that the woman did not die alone.
Volunteers read to the woman, prayed with her, and kept her company as she faded. Her son was in regular contact with Forbes staff as he traveled — but he would not arrive in time.
Just before the woman died, Forbes staff called the son, telling him the end was near, and then put the phone to the patient's ear so that he could say goodbye.
The son said, "Mom, I love you. Thank you for being such a great mom and for all of the things that you did for me." Within moments, the woman slipped away.
"There was truly a spiritual feeling in that room when the Compassionate Companions sat with her," says Michelle L. Vecchio, a Forbes nurse manager, describing the patient's last days. "They all had a huge impact on the end of this patient's life, as well as on our staff. Our staff could feel at ease knowing that this beautiful woman had a companion. She truly died with the dignity that she deserved."
Volunteers gave the son a stuffed bear that was given to his mother to hold before she died, and a log of how volunteers spent their time with his mother in her final days.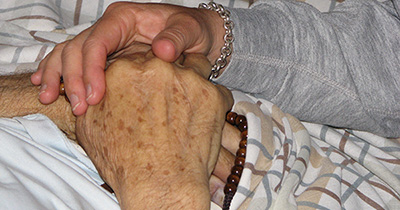 Compassionate Companions at Forbes
Compassionate Companions at Forbes is a ministry of the Pastoral Care Department, Volunteer Services, and the Shared Governance Operations Committee. Program volunteers are asked to sit with about two or three patients a month.
Sue Cox, director, Rehabilitation Services and Volunteer Resources at Forbes, says the group includes about 30 Forbes employees and community volunteers. Many times, she adds, employees end their shifts and immediately begin sitting with a patient.
Volunteers must undergo training and a standard background check, follow Forbes' and volunteer policies to protect the rights and dignity of patients, and be able to volunteer for a three-hour shift as needed.
There are supplies ready for volunteers, including a Bible, prayer book, notebook to keep a journal of the patient's final time, tissues, CDs, and a stuffed bear for patients to hold.
"It's a commitment to our patients and our families," Cox says, then adds that the program has a positive impact for everyone involved. "The staff talk about what a relief it is — they don't have to feel awful that they can't sit with the patient and hold their hand, because they know someone will be there. It's a gift to the patient, it's a gift to the family, it's a gift to the staff."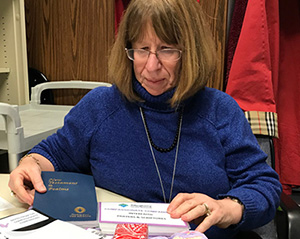 "No One Should Die Alone": Volunteering
Cox emphasizes that volunteers are the heart of the Compassionate Companions program. "The staff and I do the behind-the-scenes work, but the program is truly about our wonderful volunteers who make it happen," she says. "What I hear from the volunteers is that it's a very spiritual thing to them. Once they've experienced it, they're even more committed to the program."
Natalie Costa is one of those volunteers. A certified occupational therapy assistant at Forbes, she recently had her first experience of being with someone as they passed away. She says she held the woman's hand and read prayer verses to her. As she was reciting the Lord's Prayer, the woman took her last breath.
"It was emotional, but at the same time, I felt a sense of relief that she was no longer suffering," Costa says. In discussing why she volunteers she adds, "I'm lucky enough and fortunate to have family and friends — I don't think anyone should have to die alone."
The same sentiment was expressed by Debbie Melendandri, a retiree who found out about the program through volunteer work with her church. She explains that she is guided in her volunteering with Compassionate Companions by a quote from Mother Theresa: "No one should die alone….Each human should die with the sight of a loving face."
She adds that she believes "those last hours before a person dies is a very holy time. I feel privileged to be in that person's presence, at that time of transition to a resting place."
"Those providing this gentle presence have a profound impact in these final moments," adds Patricia Lane, systems director, Volunteer Resources, at the Allegheny Health Network. "It is an honor to provide support and comfort to patients in their final hours."