Delirium in Hospitalized Seniors: The Power of HELP
"My mother is an amazing woman. She's talkative, not big about going out on the town, but has the best personality. She loves to read and watch mass on television. I never thought that she could so quickly change during one hospital stay," says Donamarie N. Wilfong, VP of Simulation Education at Allegheny Health Network (AHN).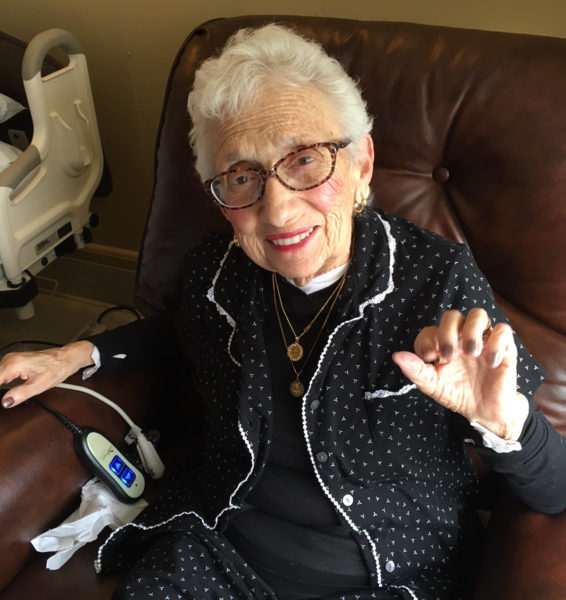 Donamarie's mother, Catherine or "Katie," is considered a high-functioning 92-year-old woman. Today, she lives on her own, with a little help from caregivers, in the family's hometown of Johnstown. Although she's now back to chatting with friends and watching her favorite television programs, she had to overcome some challenges during an 18-month period of being in and out of West Penn Hospital.
"To make sure my mother had care close to her family, we moved her from Johnstown to Pittsburgh," Donamarie explains. "I think this move and the change of environment caused her to become confused and disoriented."
As Katie faced health complications, one compounding factor was the onset of delirium starting to take hold of her vibrant spirit.
"She was totally not like my mother, at all," Donamarie says. "She continued to call out, 'I want to go home right now. I can't hear. I can't get up.' It was hard for me because the mother I knew was never agitated like that."
Delirium and Confusion in Seniors
What Katie and her family experienced is not uncommon. When senior citizens are battling health problems and then experience the additional stress of being placed in a different environment like a hospital, they can become susceptible to heightened confusion or delirium.
Not to be confused with dementia, delirium is a confused mental state that causes change in awareness and behavior and can result in problems surrounding attention, thinking, awareness, emotions and memory. Hypoactive delirium manifests in extreme fatigue and depression; hyperactive delirium takes the form of extreme agitation. Mixed delirium means cycling between the two states.
The symptoms of delirium can often be treated, and patients frequently see a full recovery. However, particularly if untreated, delirium can lengthen hospital stays and worsen the primary issue for admittance. Recent studies indicate that delirium is common for the elderly in a hospital setting, with occurrence rates ranging from roughly 30 to 65 percent.
In an effort to prevent delirium, West Penn Hospital provides patients with extra support through its Hospital Elder Life Program (HELP).
"I was watching my mother decline, and the next thing I know, this volunteer walked in, and she was able to bring something to my mother that I couldn't," Donamarie says.
HELP Arrives — and Katie Puts Her Lipstick Back On
Alyssa Brauckmann is a pre-med student attending Duquesne University. Her main focus areas are Alzheimer's disease, dementia and delirium.
"It really hurts to think that someone could wake up to the person they love but don't remember anymore," she says. "I think you lose your freedom with Alzheimer's, and if I can do my part in trying to fix that and alleviate that loss, that's what I'm going to try to do."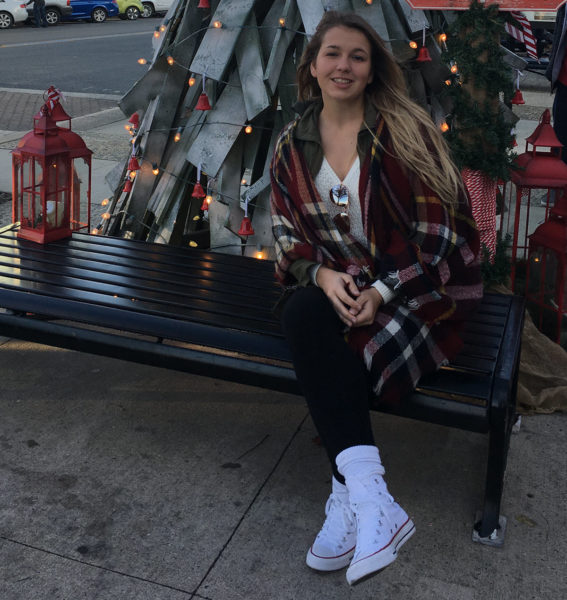 Alyssa was one of the first volunteers for HELP, which aims to engage and orient senior citizens to prevent delirium and assist them with general cognitive and physical abilities during their hospital stay.
"HELP was a perfect fit for me," she says. "I feel as if I'm able to give back, hear these patients out and be a comfort in their time of need."
Although comfort and a friendly face are important, HELP volunteers are purposeful and strategic in doing all they can to bring clarity and stability to patients.
"When I go into the room, I introduce myself, and the program, and mention that they're at West Penn to serve as a reminder of where they are and why they are there," Alyssa explains. "I run through what we'll be doing together and bring magazines, books, coloring pages and puzzles. Most patients I've seen are just looking to talk to someone."
She emphasizes that talking about family, background, and stories from the past are valuable in providing mental stimulation and orientation for the patient.
Donamarie witnessed the benefits of HELP for her mother, Katie.
"The volunteer brought along magnifying glasses, magazines, puzzles, and she sat down with my mother and calmed her down. She said, 'I'm here to just visit with you,'" Donamarie says. "My mother is used to having people come in and out of her house, so it was easy for a visitor to become a familiar routine. Eventually, she would put lipstick on just for her HELP volunteer."
Alyssa adds that the benefits of HELP go both ways.
"It's so powerful to hear about the lives of these seniors," she says. "I have heard stories about first loves, 60-year wedding anniversaries, World War II and the Great Depression. You learn a lot about the lives of these patients and their journeys."
HELP by the Numbers
Originally designed at the Yale University School of Medicine, HELP was brought to West Penn in 2016, led by the efforts of Dr. Lyn Weinberg. The program now has more than 20 volunteers, coordinated by Autumn Corcoran, program director.
"We focus on senior patients who are older than 70 years, and are more prone to developing delirium," Autumn says. "A potential trigger, among others, for delirium can be the change of environment which disrupts a patient's normal routine."
From its inception through the end of 2017, the program has touched the lives of nearly 2,000 patients, logging more than 35,000 patient interventions.
Volunteers of HELP undergo intense training to learn how to keep patients alert, oriented and engaged to prevent delirium from setting in during their stay. The goal is to create a friendlier and safer hospital environment by providing sympathetic support, encouragement and companionship to older patients and their families.
"In our volunteer orientation, we go over key questions to integrate into the conversation about 'the basics' to keep the patients oriented. We also focus on mindful, therapeutic activities like puzzles, games and daily newspapers," Autumn says.
The program offers physical therapy courses to help volunteers assist with patients' range of motion, while also training them to provide support with feeding and exercises.
"This program, to me, is a no-brainer," Autumn says. "Prevention is what we have the ability to do and control, and our work has proven results when it comes to helping the patient while also impacting the hospital's overall length-of-stay numbers."
So far at West Penn, HELP has:
decreased average length of stay for patients by one day
decreased the delirium rate of the target group to 4.8 percent from 24 percent
delivered an estimated 12-month cost savings of more than $1 million
Of course, it's the results that HELP delivers to people like Donamarie and Katie that matter most.
"Without the program, I don't know if my mother would have been able to come back," says Donamarie. "It might have increased her length of stay in the hospital. She was shutting down, she was agitated. HELP made her feel less frightened and less anxious, and they truly became partners in her care, mentally and physically. I can say as a family member, this program was invaluable."