Meet Dr. Right: Health Care Events "for Real Life"
By: Don Bertschman
Posted: May 19, 2017
Share This
If you think about it, finding the right doctor involves personal preferences that are difficult to gauge without meeting a doctor in person. Highmark's research has found that next to convenience and cost, the factor people cite as most important in choosing a doctor is "mannerisms and personality." That's not something you can find in the Yellow Pages or an online directory.
So, in 2015, Highmark's health plan marketing team collaborated with professionals from Allegheny Health Network (AHN) to create Meet Dr. Right — ongoing, free events where you can meet local, in-network doctors before scheduling an appointment.
The video below will give you a taste of what an event is like and why they've been so popular. To find upcoming Meet Dr. Right events near you, check out the Meet Dr. Right website.
Visitors share their experiences from a Meet Dr. Right event.
I think this is a remarkable experience because you get to really see the doctor as a person.
It was nice because we could actually meet the doctor face-to-face.
I think it's a good idea.
We've never been to a Meet Dr. Right before.
It's interesting being able to come meet the doctors, like outside an office setting.
It feels a little bit like a career fair.
We've been looking for a new primary care physician — pretty much someone that I feel comfortable in a room with talking to someone who seems knowledgeable and maybe goes beyond the typical way of talking to a patient but thinks outside the box a little bit.
We want someone who's a good listener, someone who's not just going to try to force something on us, but will try to understand where we're coming from.
Doctors are very friendly and they seem like they're very invested, you know, in your care so I appreciate it. That's definitely what I was looking for — those kind of qualities.
We found a cardiologist already, so it worked pretty good for us.
I got the sense here that these people here, these specialists, they really cared. I really liked that — I felt the sense of being comfortable being out here. What they say, knowledge is power, so I like to know more.
You can actually shop different specialties — they're all here and it's a good variety of doctors.
It was nice to meet somebody and find the doctor and then make the appointment the same day.
This evening I think — what do we think, girls? We think we found Dr. Right.
Meanwhile, how the Meet Dr. Right program got started and has grown is an interesting — some might even say "romantic" — story on its own!
The Start of Something Special
Although the Meet Dr. Right program involves many people, two individuals can tell the tale from day one: Jeff Carlson and Stephanie Ausefski.
In the fall of 2014, Carlson was president of the newly opened Wexford Health + Wellness Pavilion. "I had a great opportunity to meet and greet people at a community open house," he says. "At the event, and after, I had many people asking, 'how do I go about finding a doctor here?' I could point them to our website, but it really made me think about how to help people find a doctor that they trust, where there's that connection both as a patient and a person."
During a brainstorming session with Highmark marketing professionals, Carlson brought up a concept he had tried in a previous position — a kind of "primary care physician speed dating." All agreed that an in-person event would not only help individuals make informed decisions, it would allow them to experience the pavilion setting.
Ausefski, lead marketing strategist with Highmark, was at that meeting. Her responsibilities at the time included finding ways to encourage Highmark health plan members to use their in-network doctors — and increase awareness of the number, breadth, and quality of doctors available.
"Traditional approaches like sending out letters don't feel very personal, people may not read them, and some people you send to don't even need a doctor," she says. "We wanted to create a more personal experience — and when Jeff shared the 'dating event' idea, we ran with it."
Within a few months, the first two Meet Dr. Right events had been held at the Wexford Health + Wellness Pavilion. The success of the model has kept the program expanding ever since.
"You can understand the wariness when you tell doctors, 'we're going to put you out there and let people interview you like speed dating,'" Carlson says. "But we had a great group for those first events, and now physicians ask, 'when's the next one?' In both primary and specialty care, there's always that question of how to market your services. These events attract people who are actively looking for a doctor, and you converse in person in an environment where it's comfortable to make health care decisions. It works well for everyone."
How Do I Know If This Is "the One"?
Meet Dr. Right is the antidote to a classic "bad" health care experience: You're waiting in a new doctor's exam room, feeling vulnerable, maybe needing to talk about a sensitive issue — and when the doctor you've never met walks in, you don't feel comfortable or their approach or way of communicating just doesn't work for you. "As one of our social media people put it, Meet Dr. Right is your chance to meet the doctor before you're wearing nothing but an exam gown," Ausefski says.
She points out that even recommendations from a friend or family member have a shortcoming — what makes a doctor "great" for one person may not be great at all for another.
"For example, some people want a doctor who gives them all the technical details, but others want someone who keeps it simple," she says. "There are many factors that make a doctor 'right' for you. Some of that information is online, but in person you really experience how someone talks, and how you relate to them."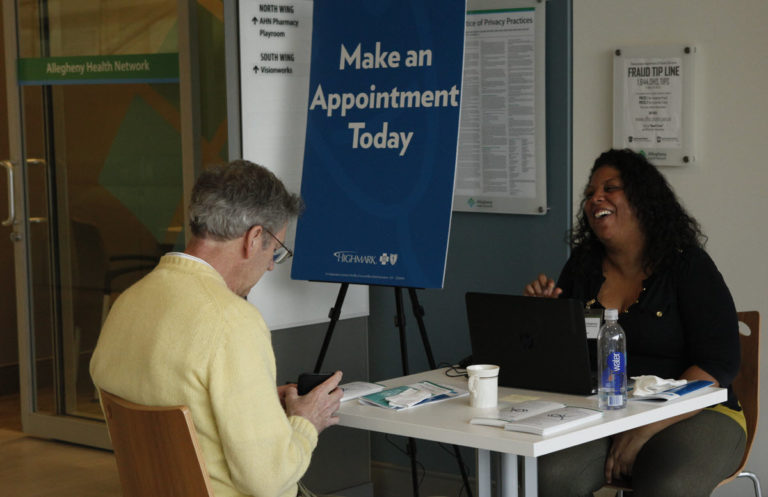 Ausefski and Carlson agree that part of what makes Meet Dr. Right so successful is that the events go far beyond sitting and talking with doctors. "We have other health resources, My Care Navigator reps, Medicare plan experts, free blood pressure, glucose, and cholesterol screenings, and more — not to mention light refreshments," Ausefski says.
"A key convenience we built into the events is being able to schedule an appointment and transfer your medical records," Carlson adds. "When you find a doctor you connect with on a personal level, let's make the rest of the process as easy as possible. We can integrate records from previous providers right into our system, so your new doctor will have that information — you're not starting from scratch."
Ausefski points out that the events are also designed to be comfortable for different types of people.
"We hand out doctor directories at the events, which have all the doctors' locations and basic information, as well as a fun fact for each doctor," she says. "That personal fact can help you decide who you want to talk to, or give you a little ice breaker for conversation. If you're a runner, you're probably going to be interested in the doctor who says she ran a marathon, right? Anyway, some people sit down and read that directory cover to cover — they're very analytic about who they talk to. Other people just wing it and talk to everyone. If someone looks a little lost, we'll step in to figure out how we can help. By having provider relations and customer service people on site, we can often find someone the right doctor even it's a specialist we don't have at the event."
Still Feeling the Love
Meet Dr. Right is now in its third year. Post-event surveys, informal conversations, and hard data have been collected from dozens of events at a wide range of facilities, involving multiple networks and independent doctors as well as AHN physicians. The conclusion?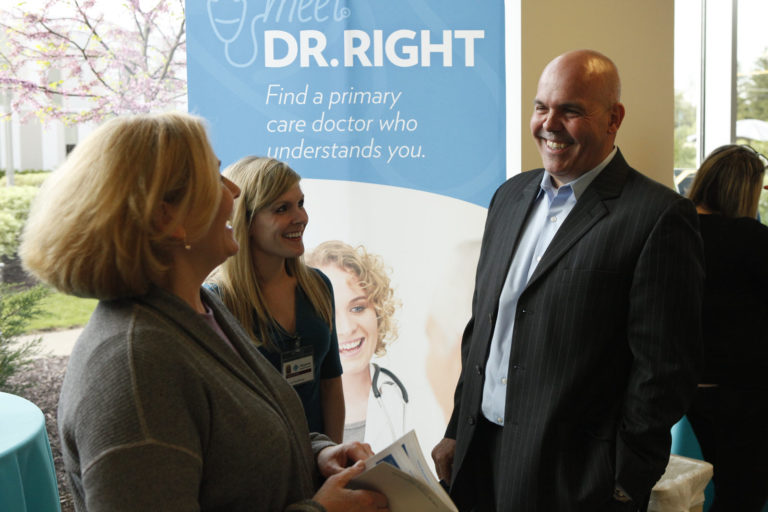 "The business results, including the number of people scheduling appointments at events, have been tremendous," Carlson says. "No marketing piece could provide a return on investment like these events. But the feedback from people who attend is even more remarkable — so many attendees express how happy they were to be able to talk to doctors and get to know them as people before deciding to trust their care to someone."
Although it isn't mandatory, Ausefski says a high number of people take the time to fill out the post-event surveys, often going into great detail about their experiences. She says that on average, "75 percent of participants give the event the two highest possible ratings, which is very good. In person too, we're always hearing thank-yous, and getting compliments — what a great event, this is such a good idea. The most common sentiment is appreciating the opportunity to talk with the doctors and feeling like that was a big help in making a better, more informed selection."
Given that success, why aren't more organizations doing this?
"It can be hard to get a variety of doctors to all commit to the same two-hour slot in their busy schedules," Ausefski admits. "There are lots of logistics to work out — it takes a village to build these events. But once we decided to create Meet Dr. Right, we have had great support throughout the organization. From marketing to provider relations to the doctors — not just at AHN, but also in-network systems like Lehigh Valley Health Network and Sharon Regional — there has been an understanding of how valuable this can be on both the consumer and business sides, and people roll up their sleeves to make the events work."
"These events tell people that doctors want to be part of the community and connect with the populations they serve, and the folks attending the events appreciate that," Carlson says. "I've also heard from staff that they appreciate everyone being together and interacting. In fact, we now have physician networking after our Meet Dr. Right events. In many cases, a doctor may know other doctors by name, and their area of practice, but they don't have that personal connection — which can be valuable in helping their patients."
Keeping It Fresh … Happily Ever After
Although the name and goals of Meet Dr. Right have remained constant, there have been innovations as well. Carlson says it all comes back to listening to the customer.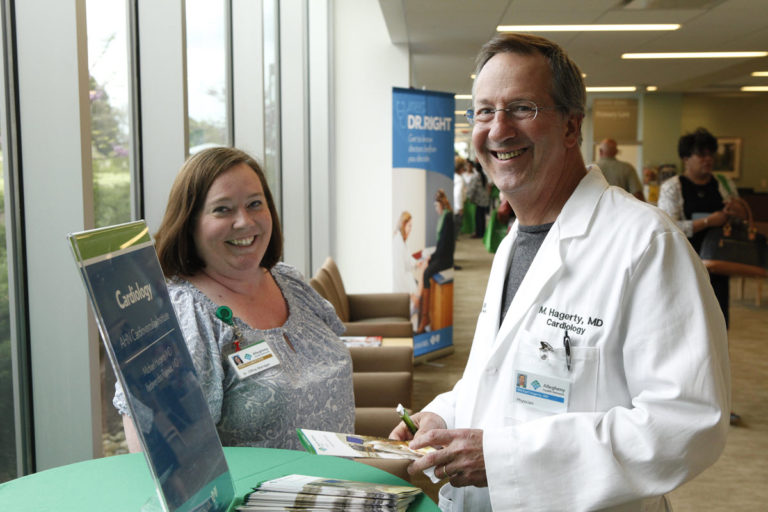 "We started out being very focused on primary care, but then started building in more specialties, and then we even developed Meet Dr. Right events focused on specific areas, like diabetes or women's health or LGBT patients," he says. "All of that was driven by feedback from community members at the events. The success of these events — past, present and future — comes from listening to the feedback we get and taking action to respond and build upon that."
Ausefski says that event organizers are always looking for extra touches that can make an event more valuable. For example, when they were planning a "om and baby" Meet Dr. Right, "we had OB-gyns, but we also knew that if you were pregnant or had just given birth, you probably had that covered," she says. "So the event focused on midwives, pediatricians, lactation experts; we had a pre-natal yoga demonstration, and talks about anesthesia options so women would know their options ahead of time. We did tours of the West Penn Hospital labor delivery suite."
She adds that Meet Dr. Right is a manifestation of Highmark Health's broader commitment to getting health care right. "One thing we talk about in marketing is making health care work 'for real life,'" she says. "We think about people's needs, and how everyone is busier these days. It's hard to find a doctor you like — but this event makes it easier, and then you can go straight into making an appointment and transferring your medical records. That saves you time and hassle. You can look at building the health + wellness pavilions the same way — we're putting more health care services, even outpatient surgery for some conditions, right in your neighborhood. The Same Day Appointments program is another example. It all comes down to access, quality and community."
"Meet Dr. Right shows our compassion and our connection to our communities," Carlson says. "We've taken the model to other aligned hospitals, and it's great to see that we can scale and replicate it. But what's most gratifying for me is that we heard the questions people had about how to find the right doctor, and we put a solution in place that has been embraced by people in our communities and successful for the organization."