Meet Your Highmark Health Care Team: Medicare Advocates
By: Chris Mueller
Posted: March 19, 2019
Share This
From keeping yourself healthy to navigating the complexities of our health care system, no one should have to go it alone. In this series, we'll meet the many different professionals who are part of your "Highmark health care team" and learn what they do, when to contact them and how they can help you.
As seen with other articles in this series, Highmark provides much more than health insurance to support the health and well-being of its health plan members.
Even with something as fundamental as customer service, Highmark finds ways to do more than expected. Consider the STARs Member Experience team, which helps Highmark's Medicare Advantage members. For this team, "customer service" isn't just about responding to calls, emails or social media from members, it's about proactively making calls to members to help with issues like wellness checkups and managing medications.
To learn more about this team, I talked with Zachary Lazewski, lead customer advocate, who supervises some of the dedicated staff that make outbound calls. After earning a bachelor's degree in communications, he initially worked in a traditional call center role before joining the STARs team and being promoted to his current position. While he still makes some member outreach calls himself, his main responsibilities involve helping other advocates — from contributing to program strategy and planning, to assigning and answering questions, to providing training and coaching.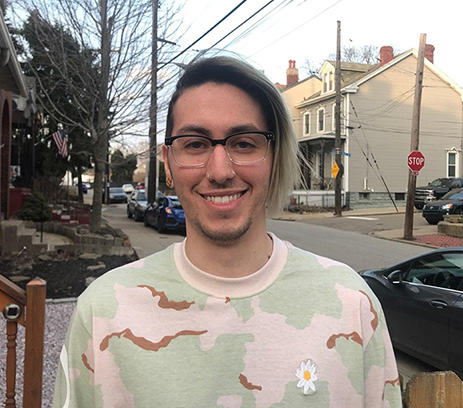 Proactive Outreach for Medicare Advantage Members
Chris Mueller (CM): What are the main responsibilities of the STARs Member Experience team?
Zachary Lazewski (ZL): We are here to help Highmark's Medicare Advantage members, and more specifically we complete outreach programs where the primary focus is outbound calls rather than inbound calls. Those programs are currently defined by two main projects. One is a mobile clinic, and the other is proactive medication adherence outreach.
The mobile clinic provides members with a convenient location to complete certain medical needs — it's driving the site of care closer to where they live instead of having them drive to a doctor's office. The way it's run, it also tends to be more of an in-and-out appointment instead of a situation where you have to sit and wait at the doctor's office. With Medicare members, a primary use of the mobile clinic is to get their Medicare Annual Wellness visit. It only takes about 40 minutes and then members are on their way. These visits can help spot and address potential health problems, and give members a chance to ask questions or just talk about basic health and wellness issues. Part of what our team does is call people in advance to let them know when the mobile clinic will be nearby and see if they want to schedule an appointment.
On the medication adherence side, the purpose is to reach out to our members who we've noticed had a delay in medication refills. The medications that we focus on are maintenance medications that are important for our members to manage in order to reduce long-term health risks from conditions like diabetes, hypertension or high blood pressure, and high cholesterol. With these calls, we want to find out if there's a problem we can help with, provide assistance, and also incite behavior change.
CM: What would be an example of inciting behavior change?
ZL: If a member isn't taking their medication, that could be harmful to their health, so we want to change that behavior. We try to let them know the importance of the medication in a respectful way. We might suggest practical changes like using a pill box, or recording their daily intake, to help make sure they're on schedule. We will even work with the member's pharmacy or doctor to help ensure they have easy access to their medications. We want to do everything possible to make sure that our members aren't endangering their health by missing their medication regimens.
CM: Are people surprised that you're calling them — is there ever a negative reaction to that?
ZL: Sometimes at first, sure, but once people realize that we're calling to help, they usually appreciate the effort. We are trying to preemptively assist our members — in some ways, we're trying to help them before a problem develops that requires them to call us.
Inbound or outbound, it's still all about advocating for the customers. That's really the whole purpose of our department. I'll add that, aside from the outbound projects, we're also still serving as member advocates. If a member brings up an issue on a phone call, we'll address it just as if they had called in to customer service — even if it's not the mobile clinic or medication or other target issue we initially called about.
In any call that we make, our goal is to fully resolve any issues on that call and see it through to the end.
Leading the Way in Making a Difference
CM: What's your role as a "lead" — you're not necessarily making the calls yourself?
ZL: My job is to manage the outlook of a program and how it runs — so, for the most part, my focus isn't making calls so much as doing everything else necessary to keep our programs running smoothly for the member advocates who are making calls. That covers a range of responsibilities — from making sure advocates have the proper records to call people, to training and monitoring and coaching to ensure that we're having the type of conversations that are genuinely helpful and drive change.
The training goes hand-in-hand with the coaching — it's all to make sure the primary focus of a campaign is understood and followed, and that members are cared for as well as they should be. Overall, our advocates do a great job, but even the best advocates can benefit from an outside perspective or a little nudge now and then.
Keep in mind that our advocates are attempting to call about 200 people per week. With that volume, it's very easy to almost turn into a robot at times. So that's part of my purpose — to make sure that advocates don't fall into that trap of going through the motions, and to keep the primary focus of the program or conversation in front of them, and hold them accountable for doing the best they can in identifying issues a member may be having and really supporting that member.
There is a lot of implementation around these programs and then also work in how we're adapting them over time. Our department has been around for a while, so there's a very stable foundation, but we're always looking at what we can improve.
CM: For someone doing customer service calls, there's that immediate reward when someone thanks you and you know you helped them. What is the most rewarding part of your job?
ZL: Well, it's true that some of what I do doesn't directly impact a Highmark member, but I'm still indirectly impacting them. Rather than me interacting with a member once, I'm helping 15 advocates all effectively help all the members they'll contact. That's actually an awesome and fulfilling experience on its own!