Member Discounts: Fitness Your Way
By: Trish Imbrogno
Posted: March 11, 2015
Share This
How many people actually visit their health insurance company's website and click around for fun? Not you? I didn't either, but I learned recently that I was missing out on some amazing benefits that extend beyond the doctor's office or hospital — such as discounts for Highmark health plan members on services and products across the country.
I'm always trying to improve my health, and I'm going to be able to use many of the discounts. There was one in particular, however, that I couldn't believe I didn't know about: Healthways Fitness Your Way.
I have my own reasons for thinking Healthways Fitness Your Way is amazing, but I wanted to find out what others find useful. I reached out to Jamie Johnson, a Wellness Coach at Highmark, to ask what she likes best about the program as a Highmark member herself: "The fact that I don't have to choose just one fitness center is great. It takes the struggle out of high gym membership fees, exercising on the go and having to choose the best facility. With Fitness Your Way, I have options, and I like having options."
What Is Healthways Fitness Your Way?
Healthways Fitness Your Way is a program that gives you access to more than 9,000 fitness locations. When I clicked through from the member website I was taken directly to the Fitness Your Way website, where I was able to search for facilities near my zip code. There were nine gyms within five miles of my home, including national chains, 24-hour access gyms and a couple of women's-only facilities, among others.
I have some travel planned in the coming weeks, so I also took a look at the zip codes where I'd be and found another 10 locations within five miles of my hotel in each city. There were even a couple of options close to my hometown, which is located in the middle of nowhere in northwestern Pennsylvania.
Accessible and Affordable
There was no way that I had been missing out on something this cool, so I pushed on to find out why Fitness Your Way seemed "too good to be true." I made calls to the gyms closest to my home and inquired about the program and using their facilities. Surely, I assumed, there must be some kind of restricted usage — time of day, number of times each month, no access to fitness classes — but I couldn't identify any restrictions.
Each facility knew about the Fitness Your Way program and assured me that I would have access to their equipment, classes, locker rooms, pool and other amenities that their standard memberships offer. If you're a Highmark member interested in this discount, I would definitely recommend checking with each gym to see what is included in their standard membership, as I may have completely lucked out to have extra amenities included in the locations I contacted.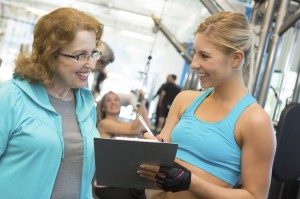 I'm frugal, so, at this point, I rationalized the fact that maybe I hadn't been using Fitness Your Way because I'd assumed it had to cost more than I could afford or would be willing to pay to go to the gym.
Nope. There is a one-time $25 enrollment cost and a monthly fee of $25 that covers access to all facilities in the Fitness Your Way network. That's 20 percent less than I was paying for my current gym that only has one location in Pittsburgh and is a pain to use in other cities. I was also pleasantly surprised to learn that there are also discounts for some health professionals included with the membership… bring on that massage!
Less Money, More Access and More Options… Sign Me Up!
Signing up was simple as well. From the Fitness Your Way homepage, you just click the button to enroll, complete some personal information, including your identification number and group number from your Highmark insurance plan, enter payment information and you're all set. The $25 monthly payment auto-deducts based on the payment option you provide.
Healthways will send a card to you in the mail, but it takes a few weeks. If you want to get started right away, you can print a copy of your Fitness Your Way membership card directly from the Healthways website and use your membership immediately.
It probably sounds like I'm a paid spokesperson for the company (I'm not), but really, I can't say enough good things from personal experience about the Fitness Your Way program.
I've used it in three cities and two states without running into any issues. I'm fitting in workouts on busy days in Pittsburgh, and while on the road, because I can use such a huge network of facilities… and I'm saving money in the process. After more than 15 years of gym memberships in cities across the country, this has been the most convenient and affordable option. If you're a Highmark health plan member, log in to your Highmark member home page, click Member Discounts and check it out.