The Kidney Transplant Voucher Program: A Love Story
When Mark Brilmyer donated a kidney as part of the National Kidney Registry's Voucher program in January 2017, he and his wife, Vicky Brilmyer, turned the hospital bed toward the window to enjoy Pittsburgh's winter skyline.
"We pretended we were looking down on Central Park," he says.
Nine months later when Vicky went into Allegheny General Hospital (AGH) to receive her new kidney from a young woman in Washington, D.C., Mark had a special request for the nurse.
"I asked if we could get the same view of 'Central Park.' They said of course."
Vicky adds, "I stayed both nights when he had his surgery, and he stayed both nights when I had mine. As you can imagine, after 43 years of marriage, we're best friends."
Kidney Donation and Transplantation: The Waitlist
In the U.S., there is a list of names that grows by the day — hundreds of thousands of individuals, all waiting on deceased donor kidney transplantation, with a new name added every 14 minutes. Thirteen people die each day while they wait for a kidney.
Between 2013 and 2015, Vicky and her brother, both diagnosed with Polycystic Kidney Disease (PKD), joined the ever-growing list of names. While her brother eventually received a kidney from his wife through the paired donor program, Vicky's husband, Mark, was not a match.
"We kept holding out hope," says Vicky. "And when we learned he wasn't, we were so deflated."
While they still had the option to participate in the paired donor program, which would involve joining a "chain" of other donors and recipients, they were wary. This option would require them to simultaneously undergo surgery, meaning they wouldn't be able to care for each other post operation.
"I've always been his caregiver," says Vicky, "and he's been mine. We've been able to support each other our whole life together."
The Kidney Transplant Voucher Program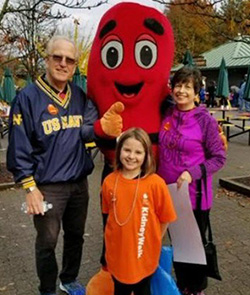 When Vicky read about a man in California who inspired the National Kidney Registry's Voucher program, she was intrigued. Howard Broadman's grandson was born with one kidney; Howard knew that when the time came for his grandson to need a transplant, he might be too old to donate. His participation in the voucher program meant his kidney would go to someone who needed it now, and if or when his grandson needed a transplant in the future, he could "redeem" his voucher to increase prioritization.
"The voucher program is unique to the National Kidney Registry," explains Jonathan Morris, RN coordinator in the AGH transplant program. "Through this program a living donor can donate when the time is right for them. Their gift will immediately benefit a waiting recipient in the National Kidney Registry. The living donor can designate a single recipient who will need a transplant within the year who may not be ready for transplant or who may need the support of their donor in their recovery, which would prevent both donor and recipient from undergoing surgery at the same time. In other cases, the living donor can designate up to five family member voucher recipients. These family members do not need to have the expectation of developing kidney disease. If one of them needs a transplant in the future, they can present to any participating National Kidney Registry transplant hospital and be prioritized for a living donor transplant within the National Kidney Registry matching system."
For the Brilmyers, the first scenario seemed like a promising option.
"I decided to ask Allegheny Health Network (AHN) if they'd ever done one of these advanced donor programs," says Vicky, "or if they would consider it. I knew that only UCLA and about nine other hospitals nationwide were doing it. But Mark was willing to donate sooner rather than later, and my numbers were still good enough to wait, so it was worth a try."
To her delight, AHN, who had yet to participate in the program, agreed to do some research. During their next meeting, paperwork was signed and Mark agreed to be available for surgery as early as January 1, 2017. They called him in on January 4, and his kidney went to a man in Florida.
After two days in the hospital, he was on his way home with Vicky. "I thought he would need more help," she says. "But he took a shower the day he came back and was walking up the stairs. He couldn't lift things for six to eight weeks, but he never needed any pain medication."
Mark says his sister-in-law, whose surgery involved a more arduous recovery, called him "some kind of Superman."
One helpful factor in the speedy recovery: Mark's AGH surgeon, Dr. Lorenzo Machado, only needed to make a small incision and was able to proceed without cutting the surrounding muscle.
"Mr. Brilmyer's surgery was a hand-assisted laparoscopic donor nephrectomy, which has a shorter recovery and less associated pain compared to the traditional open approach," Dr. Machado explains. "This is one version of minimally invasive surgery, and all centers around the country do a minimally invasive approach. Most recently, we have transitioned to the robotic-assisted laparoscopic approach as a means of further improving patient recovery and associated pain. We're one of only a handful of centers offering it."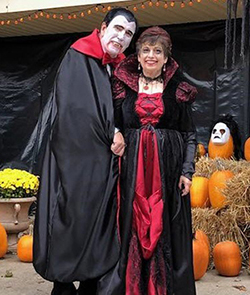 Before the Brilmyers requested to participate in the voucher program and transitioned to AHN from their previous provider, they had a two-hour informative interview with Dr. Machado.
"He treated us like people," says Vicky. "He never pushed us toward AHN. He told us to take as much time as we needed to decide."
One of the determining factors in their decision to switch was AGH's past participation in one of the largest donation chains in the country at the time.
Once they had officially transitioned to AHN, Dr. Machado advised the pair to prepare for surgery as if they were training for a marathon. "He called himself the plumber," she says. "He would put in the new kidney, find two arteries, and hook it up, but after that, his work was done. As good as we could feel the day before surgery, the better."
Vicky's Turn for Surgery
Nine months after Mark's kidney was removed, Vicky was "mentally, physically, and spiritually" ready to undergo her own surgery. If she wanted to preempt dialysis, her team suggested they start searching for a match. Because there was no guarantee they would find a match immediately, the Brilmyers had a back-up plan.
"If we couldn't find a kidney through the registry by October 1, my sister-in-law was willing and able to donate. But it's emotional to ask someone to donate an organ," Vicky says.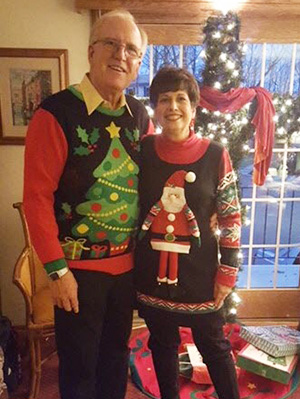 As we're talking, Marks leans in and gives Vicky's shoulder a squeeze. "He has always helped me and I've always helped him," she continues. "He recovered from surgery surprisingly well, but you just never know."
Fortunately, a donor was identified. Vicky's kidney came from a 24-year-old woman in Washington D.C. who donated so her mother would receive a kidney.
After the transplant on September 20, 2017, Vicky was back to work in a mere four weeks. She happily calls it a "miracle."
"We're blessed," she says, "Many people who need a kidney transplant are dealing with multiple health complications or they're already on dialysis. It was hard for me to actually move forward because I wasn't feeling sick yet, but my numbers had decreased enough that to wait would have been unwise.
"Often when people on dialysis are waiting for a deceased donor," she adds, "they get that call that doesn't turn out to be a match, and it happens over and over. They're constantly on edge, sometimes rushing to the hospital just to be disappointed. If it can help, I want people to be aware of the voucher program."
Happily Ever After
"I just had my 18-month checkup," says Vicky. "All the medication I'm on overwhelmed me at first, but I got used to it and now just stick to the rules."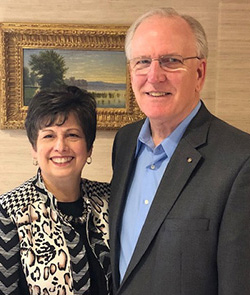 "Yes," laughs Mark. "She's definitely a rule follower."
"I set my alarm to make sure I take them at the right time," she says. "And he has his on as a backup in case we go to a movie or get distracted."
Between them, the Brilmyers have 25 nieces and nephews and 13 great-nieces and great-nephews. If she ever needs a friendly third reminder, she's covered.
"It's a family affair," she says. "Everyone looks out for me."
Vicky calls the voucher program and the procedure itself "life-changing." But Mark is quick to add that, "Being a donor hasn't changed my life at all. It was a no-brainer. Hearing about all those people on the waitlist who need a kidney — why wouldn't I do it? Wouldn't you do the same?"
If you're interested in doing the same, and learning more about kidney donation, check out the National Kidney Foundation's donor resources, the National Kidney Registry's Voucher program, and our sidebar about the broader topic of organ donation. In western Pennsylvania, you can also go to www.AHN.org to learn about AHN's transplant services and resources.