The Medicare Journey: A Caregiver's Guide to Helping Family Members with Medicare
By: Trish Imbrogno
Posted: November 17, 2015
Share This
If your parents are over 65 and trying to figure out the Medicare system, are you able to help answer their questions?
What if your adult brother who receives disability benefits and is covered by Medicare needs help managing his claims or costs? Would you know where to find information to help him make the best decisions on his Medicare coverage?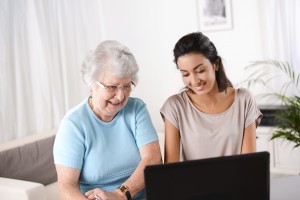 You may need to help a loved one initially enroll in Medicare, or if they are already covered by a Medicare plan, you may have to help them make changes to their coverage to better meet their needs. In both cases, you will want to have a strong understanding of the Medicare system and your loved ones current health care needs.
If you're a caregiver or advocate for someone who is eligible for or already has some form of Medicare coverage, there's a lot to understand about the Medicare ABCDs.
At Medicare.gov you can find a full list of resources that may be helpful. Here we'll cover some basic topics and provide links to additional resources.
Understanding Medicare
To help your parent or other loved one, you will want to understand the different parts of Medicare coverage and what options are available. It can be complex, so you will want to spend time learning as much as possible.
Get familiar with the four parts of Medicare — Part A, Part B, Part C and Part D — in order to know which coverage is best for the person you are helping.
Another type of coverage, Medicare Supplement Plans (Medigap), is available through private companies like Highmark. Medigap covers some health care costs that are not covered by Original Medicare.
Medicare created this chart to give you a quick look at possible coverage options.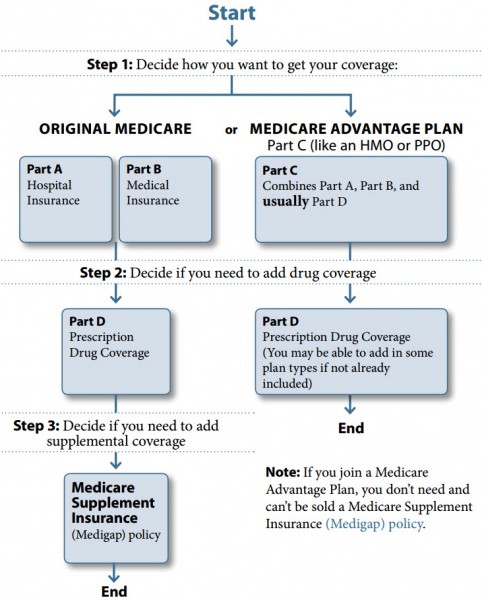 (source: medicare.gov)
Getting Organized
To help someone choose Medicare coverage and enroll in a plan, here's the information you will need to help them gather.
Social Security number, if enrolling in Original Medicare
Medicare number, if already a Medicare member (you can find this on his or her red, white and blue Medicare card)
Other insurance plans and policy numbers
Contact information for health care professionals like doctors, specialists, nurses or pharmacists
List of current prescription drugs and dosages
Information on current health conditions, treatments and symptoms
History of past health problems
Allergies or food restrictions
Emergency contacts, such as close friends, neighbors, clergy or housing manager
This is quite a bit of information to keep organized, but there are resources available to help.
The National Caregivers Library has free tools for caregivers, including checklists, forms and other resources to help you make decisions and get organized.
MyMedicare allows the person you're caring for to register and view his or her Medicare eligibility, plan enrollment information, claims and more.
Visit Medicare's Personal Health Records (PHRs) page and get details on special PHR projects Medicare is sponsoring in certain states.
It is also important that you thoroughly understand the person's current medical and prescription needs, and think about the type of care they may need in the future, in order to help them determine what coverage is best for their situation.
Determining Eligibility for Medicare
If the person you're helping is not currently enrolled in a Medicare plan, confirm that he/she is eligible for Medicare coverage. Medicare's eligibility tool is an easy place to start.
If you're helping someone who is already covered by Medicare, you will want to find out if their current plan is still meeting their needs. If their current coverage may not be right for them anymore, then you'll want to know how and when you can make changes in their Medicare coverage.
Getting Health Care After Medicare Enrollment
If you plan to help someone manage their medical care once they're enrolled in a Medicare plan, understanding the different types of care that Medicare covers is important.
All Medicare plans help to pay for preventive tests and services — including a yearly wellness visit, certain screenings and more — to help keep people with Medicare healthy.
You can learn more about covered preventive services in these ways:
Call 1-800-MEDICARE (1-800-633-4227) to find out what preventive services the person is able to get and when they are able to get them. TTY users should call 1-877-486-2048.
Visit MyMedicare for direct access to preventive health information. You can see a description of covered preventive services, the date the person you're helping last had the service, and the next date he or she can get the service.
Highmark members can contact Blues On Call.
Preventive services can help detect health problems early, when treatment works best, and may help prevent certain illnesses.
The type of Medicare plan your loved one has may affect the doctors, providers and suppliers that are covered, or "in network." What is covered when hospitalized or for home health care also may vary by plan.
Y0037_15_0573 Accepted