Guardian Angels Medical Service Dogs: Friends, Life-Savers for Veterans
By: David Golebiewski
Posted: April 19, 2021
Share This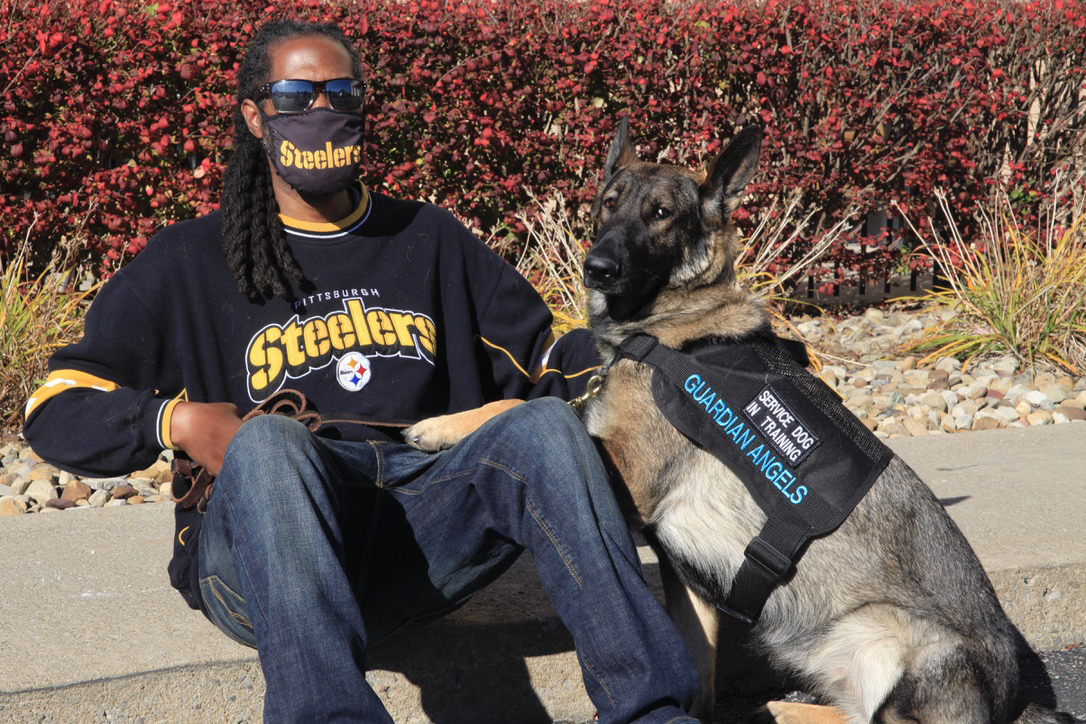 Shar'Ron Harris has endured many sleepless nights. The military veteran has epilepsy, has undergone brain surgery, and has a history of night terrors triggered by post-traumatic stress disorder (PTSD).
But Shar'Ron is sleeping easy these days, thanks to a pointy-eared, precocious German Shepherd named Blue who has been specially trained to assist him with his medical conditions and provide continuous support.
Blue detects chemical changes in Shar'Ron's body, alerting him when something seems amiss. If his adrenaline spikes — a sign that Shar'Ron might be having a nightmare — Blue licks his hand and interrupts the dream state. When he's watching a ball game, begins to doze off and spasm, Blue brushes across his feet to prevent a potential seizure.
"It's amazing," Shar'Ron says. "Once I got Blue, things started getting better for me. I'm sleeping through the night, and I'm not having these wild PTSD dreams. When I had seizures, they were at night and I'm not having them anymore. She's a great friend and helps me out."
Shar'Ron received Blue through the Guardian Angels Medical Service Dogs program, which pairs highly-trained canines with veterans and other individuals with visible and invisible disability challenges to improve their independence and quality of life. Participants receive the dogs free of charge. A Highmark Health grant has sponsored three Guardian Angel dogs, including Blue, covering the $25,000 cost to raise and train each furry life-saver.
Two of those Highmark Health-supported Guardian Angels, Blue and Charlie, were paired with veterans in western Pennsylvania in 2020 and have quickly formed remarkable, life-changing — even life-saving — bonds.
"a godsend"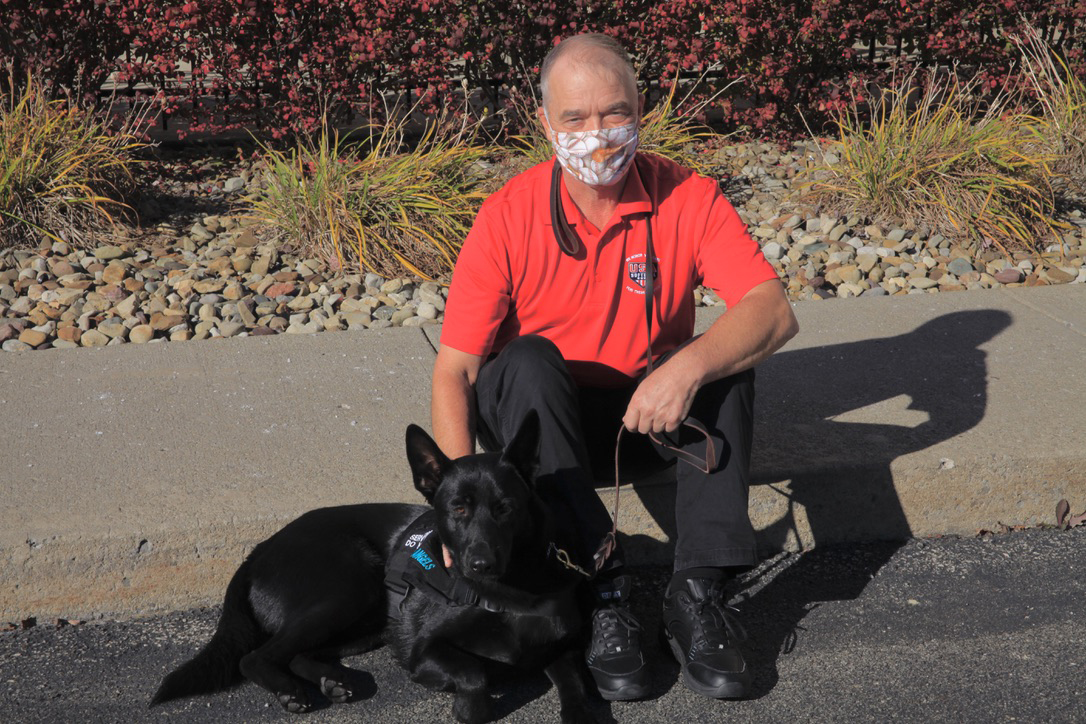 Dan Smith's life was starting to be consumed by his type 1 diabetes. The Butler, PA resident who served in the Navy during Vietnam kept experiencing dangerous dips in his blood sugar level.
"My blood sugar would drop during the night, and since I'm sound asleep, I wouldn't realize it until I had two EMTs looking over me with IVs trying to get my sugar level back up," Dan recalls. "It was happening more and more. A friend of mine suggested I contact Guardian Angels and apply for a dog who could help with my medical issues."
Now, Charlie is on call. The German Shepherd was trained to detect changes in Dan's blood sugar level, based on scent.
"Charlie has been a godsend," Dan says. "He sleeps right by me. If I drop too low with my sugar, he senses it and he will put his paws on my chest and lick my face until I wake up. Then, I can eat something to get my sugar level back up."
That's not the only way that Charlie has improved Dan's health.
"I should have been a bear, since I would love to hibernate during the winter," he says. "I'm not very active in the winter, and I have a tendency to put on a winter 15 pounds and then take it off in the summer. Not this winter. This time, I actually took off 15 pounds. I'm much more active with him because we go for walks and we play out in the snow. He loves the snow."
Charlie is a built-in alarm clock for Dan, waking him up in the morning and kicking off an active daily routine.
"I take him for lots of walks — or, he takes me for walks," Dan says. "He's a good 70 pounds. He's such a good companion. I talk to him, and I think he actually knows what I'm saying. My wife thinks we have our own language."
With spring and summer on the horizon, Dan and Charlie will be on the move more than ever.
"I'm looking forward to getting out more," Dan says. "We have a playground close by, and I love to take him to the enclosed basketball court there. He loves to play ball, so we have a great time over there. I also like to go to a lot of sporting events and car shows. I can't wait."
Dan has a military buddy in Virginia, and he's going to spread the word about Guardian Angels.
"My friend has medical issues due to Agent Orange," Dan says. "I'm going to talk to him and let him know that he can apply. This program is fantastic."
"Dude, did you get up yet?"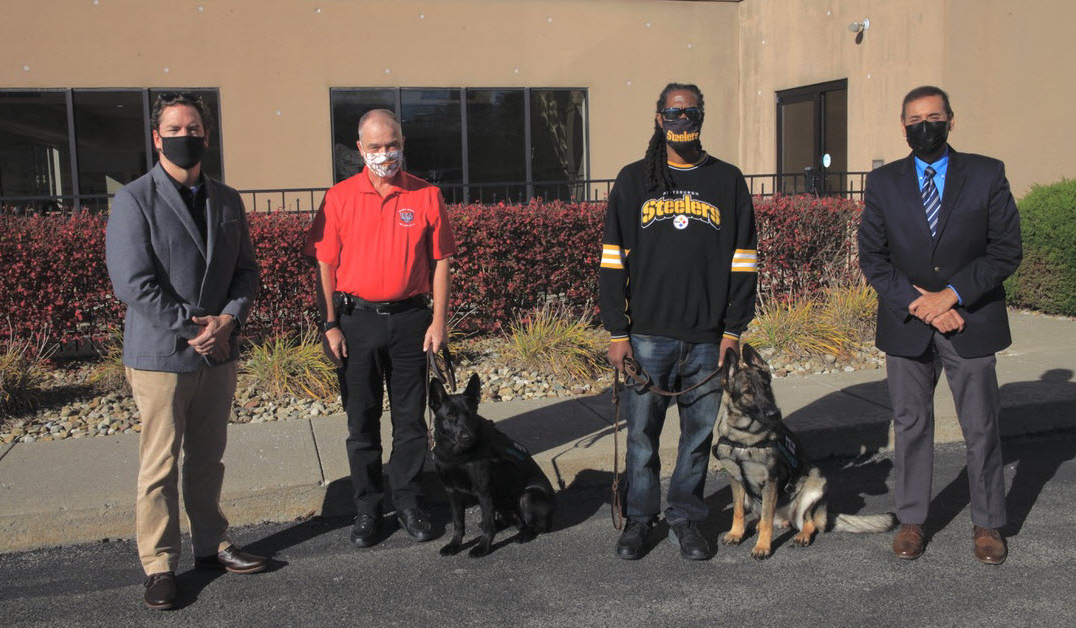 Shar'Ron's mother used to worry about his insomnia. Now, with him taking Blue out for walks three or four times each day, he's hearing something different in the mornings.
"We go for so many walks and mess around the house, so I'm just knocked out by the end of the day," he says. "My mom has to wake me up in the morning now. She jokes with me and says, 'dude, did you get up yet?'"
During the day, Shar'Ron and Blue explore the bike trails and ball fields near his apartment complex in Homestead, PA. By night, they trek Homestead's business district and riverfront under the lights.
"We'll get out together even more now that it's nice outside," he says. "I'm looking forward to going fishing, and Blue will be my fishing buddy."
"Pittsburgh has become near and dear to our hearts"
Carol Borden, CEO of Guardian Angels Medical Service Dogs, founded the program in 2009 in Florida. Guardian Angels has flourished since then, serving recipients in more than 30 states while establishing a close connection to western Pennsylvania.
"Pittsburgh has become near and dear to our hearts," she says. "We have well over 40 paired dogs in the southwestern Pennsylvania area, and quite a few more that have been sponsored, but the dogs are not ready yet. We're very excited about making a much bigger mark in Pennsylvania as we continue to grow."
In a few years, Guardian Angels will open the country's first state-of-the-art service dog training facility in Washington, PA. The 102-acre campus will serve as the northeastern headquarters for Guardian Angels, an oasis where recipients meet their dogs and much more.
"We're not just helping disabled veterans and first responders in the community," Carol says. "We teach college-accredited, VA-approved dog training and service dog training courses. We're also going to add other programs to the campus. It will be educational, while serving the needs of vulnerable populations. We are currently garnering donations to support the project. So many great things will come from that campus for the community and for the state."
Training medical service dogs is a complex business. It takes nearly two years to fully train each dog, including not only basic obedience training but also socializing dogs to a variety of situations in public and equipping them with specific skills to help their recipient navigate physical and behavioral challenges.
"We couldn't exist without our corporate and philanthropic partners like Highmark Health," Carol says. "They are the air we breathe, the blood that flows through our veins. As a non-profit, we could not operate, follow our mission, and save lives across the country without our sponsors who support the work we do. We have recipients who tell us they're walking this earth today because of their service dogs. You can't even begin to put a price on saving a life like that."