Hope for Grieving Children
By: Kevin Sunderman
Posted: November 15, 2016
Share This
Children who experience the death of a loved one lose more than just a person.
Losses build on losses. Children do lose that person they love. But they also lose the living relationship with that person. They lose the family structure as it has been. They lose their sense of safety, security and normalcy. If Dad could die, then why not Mom? And if Mom dies, then who will take care of me?
After a death, children lose many of their plans, hopes, and dreams. They lose their future — at least the future that was wrapped up in the one they love. They lose their sense of self. Who am I now? How can I even figure that out?
And as the new losses continue to be discovered, the central, original loss doesn't disappear. Every day, the child wakes up to the stark fact that a loved one is gone — and he or she must figure out how to get through yet another day without that person.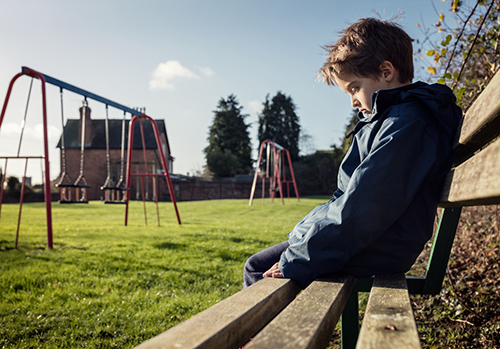 With all this going on, the great majority of children still do not want to let anyone know that they are hurting. At school, when you stand out, you often become a target. They don't want to be made fun of or stared at or pitied. No one understands what I'm going through anyway. It seems like the only attention will be negative, so they'd rather be left alone.
At home it's similar. They may not worry about being made fun of, but everyone grieves differently — and so it can feel like no one understands there either. Then, too, when feelings are brought up, it makes people cry, and no one wants to make someone else cry. So they keep it inside — with no one to help them through the biggest storm they've ever encountered.
These children have understandably been called "silent mourners."
They go quietly about their lives after a death, grieving and mourning on the inside. Feeling very alone. Isolated. Different. Sometimes even invisible. Like no one knows — or even wants to know — what's going on. As if no one cares.
Grieving Kids Don't Have to Be Alone
We all can let grieving kids know that we're there for them. We can let them know we care. We can let them know that we're aware of what they're going through, and that we support them in their grief and distress.
One way to let kids know we care is by participating in Children's Grief Awareness Day.
Children's Grief Awareness Day gives individuals and organizations a way to demonstrate to grieving children that they are supported and that their grief is important. This initiative, begun in 2008 by the Highmark Caring Place, has now become an international day of recognition for grieving kids.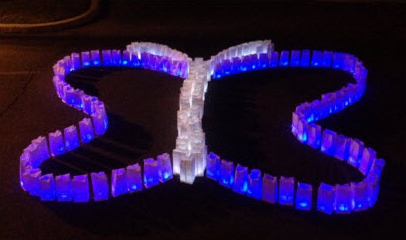 The day is observed on the third Thursday of every November. Falling one week before the U.S. holiday of Thanksgiving, Children's Grief Awareness Day is set at the beginning of what can often be a very difficult holiday season for anyone who is grieving, but especially for children.
Children's Grief Awareness Day has been adopted by more than 130 organizations throughout the United States and around the world, including a number of national organizations dedicated to grieving children. It is observed by groups throughout Canada, as well as in Romania, Hong Kong, the United Kingdom, South Africa and Italy. Thousands of individuals have jumped on board, doing what they can to support grieving kids.
Through this work, on Children's Grief Awareness Day and all year round, hundreds of thousands of children learn that they are not alone in their grief — that others do care.
What Can You Do to Support Grieving Children?
Individuals and organizations can support grieving children on Children's Grief Awareness Day in many ways.
The most fundamental way to show your support is by wearing blue on the day itself, and by letting people know why you're wearing blue. This act of solidarity — wearing blue outside to reflect "the Blues" that these kids wear inside every day — can help children see that they are not alone: that they are thought of and cared about.
As the universal symbol of hope and regeneration, the butterfly plays a large role in Children's Grief Awareness Day. For grieving kids, it is a sign of hope, and of new life being born out of old life.
Sharing hope with grieving children can be as simple as having a picture taken with "HOPE the Butterfly," which can be found and printed from the Children's Grief Awareness Day website, and then posting the photo to the Facebook page dedicated to the day.
Other ways to participate in Children's Grief Awareness Day include:
Holding a Community Open House with HOPE the Butterfly crafts and activities, information, etc.
Requesting that everyone wear blue — especially if your organization or work place would be willing to create and/or sell blue t-shirts.
Creating a Mural or Memory Wall where everyone can add a message or drawing of hope or support, or in memory/honor of a loved one. Pre-cut butterflies or hearts can be added to a group piece. This can be done on windows, walls or boards.
Setting up an Art Show showcasing art that memorializes loved ones or supports grieving children.
Creating Luminaria with blue (battery-operated) candles.
Holding a Butterfly Release in honor/memory of loved ones.
Just as Children's Grief Awareness Day has grown in size and reach, so it has grown in its scope. The initiative has moved from something expressed one day a year to an effort to raise awareness for the needs of grieving children throughout the year. There are many ways to show support and get involved — and individuals and groups create new ways every year. Get involved — and be sure to let us know what you did by posting on our Facebook page.