The Center for Inclusion Health: Homelessness and Urban Poverty Medicine Program
By: Emily Laubham
Posted: October 27, 2021
Share This
During my conversation with Dan Palka, administrative director for the Homelessness and Urban Poverty Medicine program, I found myself returning to a quote by philosopher Jiddu Krishnamurti (whom Palka referenced as well): "It is no measure of health to be well-adjusted to a profoundly sick society."
Part of the Allegheny Health Network (AHN) Center for Inclusion Health, the program has expanded significantly to cover society's gaps, providing support and care for people along a spectrum of poverty — housed and unhoused — including through an innovative partnership involving local law enforcement. In addition to sharing information about the program, Palka took time to discuss broader issues, his background, and advice for people interested in doing similar work.
"carving out a safe space"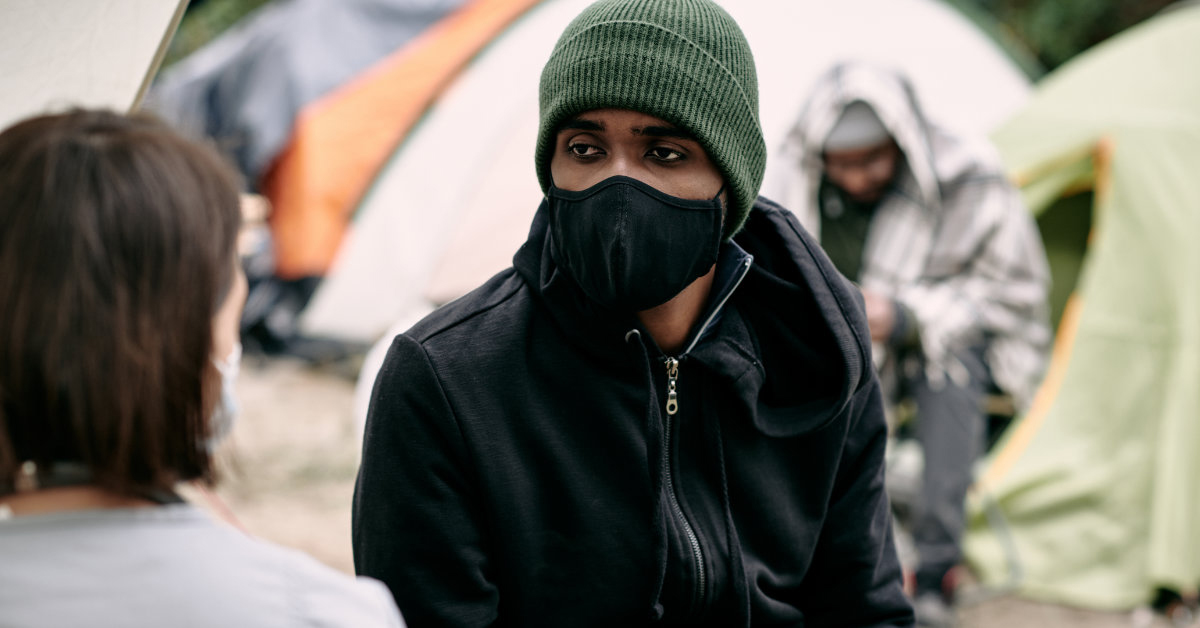 Emily Laubham: What is your background and motivation for getting involved in this work?
Dan Palka: I studied philosophy, political science, and classical languages at the University of Pittsburgh. After graduating, I moved to Turkey to work with refugees. I got interested in health disparities and did a lot of traveling, including Morocco and Tunisia. After that, I became an emergency medical technician and moved to Alaska, where I worked on a fishing boat as a medic and fisherman. Subsequently, I set up a public health clinic in a village on the coast of Peru.
When I came home, I got involved in Doctors Without Borders and ended up back in Tunisia working for the International Committee of the Red Cross to help youths who had been radicalized by ISIS but became disillusioned with the ideology.
Later, I took a position supporting Doctors Without Borders in Greece as a search and rescue swimmer and medic working with boat refugees. I then became the medical coordinator for the largest refugee camp in Europe at the time.
When I came home, I got involved with Operation Safety Net, an organization that pioneered Street Medicine. I started working as a case manager at a shelter, and eventually I became the head of outreach before joining AHN.
Emily Laubham: Are there any common themes connecting the places you've been?
Dan Palka: One of the major themes I've seen everywhere is displacement. At the end of 2020, there were 82.4 million forcibly displaced people in the world.
For instance, the region of Peru I was in flooded every couple years due to El Niño. It was interesting to see what becomes important to people living this kind of Sisyphean life of forcible displacement — starting all over again and again and again.
Back in the States, in a lot of ways, it feels like the domestic version of the refugee camps I've worked in. People are in survival mode; safety is the number one concern.
That's another thing — everywhere I've been, I've seen how creative and resilient humans can be when it comes to carving out a safe space for themselves and their families.
Identify the gaps, keep people connected
Emily Laubham: Who does the Homelessness and Urban Poverty Medicine program aim to help?
Dan Palka: Historically in Allegheny County, if you wanted to be a street outreach worker, you were only able to work with people who were "street homeless" and met a HUD definition of homeless. This precluded a lot of people who are in a space where they may become homeless. It's like watching a train coming toward someone but not being able to do anything.
Fortunately, our program isn't limited by those definitions. If we meet someone who lost their job, whose landlord is giving them two months to pay back rent, whose food stamps or social security benefits were cancelled, we can wrap support around them just as we would for someone living in a doorway. We meet people where they are.
There are often major gaps in assistance for people experiencing homelessness or the risk of becoming homeless. At some point, organizations no longer work with them, maybe because they're deemed "too complicated," or because the organization just doesn't have capacity. Our program is designed to say, "if your organization feels uncomfortable or unable to work with this person, call us."
The goal is to identify those gaps, and then our value is to accompany people on their journey so they don't have to be alone. Whether they can't access resources or maybe the resources don't even exist — whatever the gap, we'll be with them. It sounds simple but it's critical. This program is not just about physical health. Yes, we're looking to keep people alive, but we're also looking at whether they feel that their lives have meaning.
Emily Laubham: How has COVID-19 and the need for social distancing and other restrictions affected the mission?
Dan Palka: Human connection is so critical. When we couldn't do face to face, we would try telehealth, but many people we work with don't have access to cell phones or computers. There were efforts to provide these devices, but if it rains and you're on the street…or if you pass out and someone goes through your pockets — there are a lot of situations where we just can't rely on technology. So the best thing we could do was to know where people were and meet them as safely as possible. Even just showing up at the entrance of a camp, standing 20 feet away, waving hello, and leaving food was so important. We also took a lot of long phone calls — anything to keep people feeling connected.
Partnering with law enforcement and first responders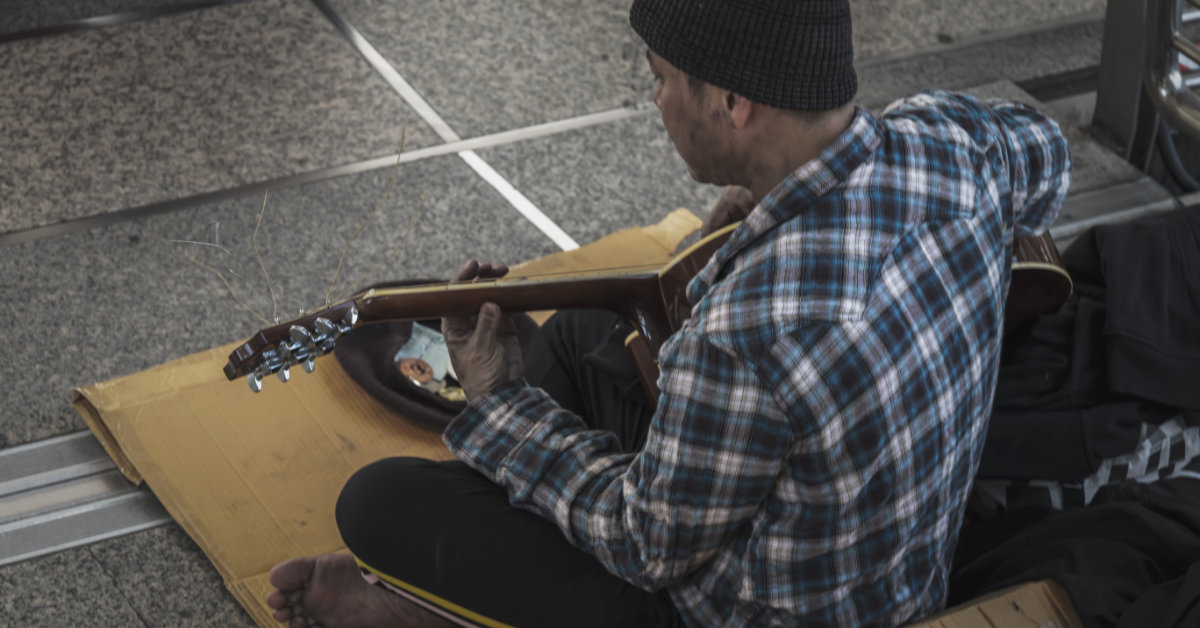 Emily Laubham: One core element of the program, funded by the city of Pittsburgh through the CARES Act, involves partnering with law enforcement and EMS. Can you talk more about that?
Dan Palka: So, for context, I've been in refugee camps that were really military prisons. Part of my job was to build a relationship with the guards, so that when we were wheeling someone up who was injured, they would let us through.
Working in street outreach and street medicine in the U.S., it becomes abundantly clear that if you aren't partnering with the police or working with them in some capacity, you're missing an opportunity to help a lot of people. In Pittsburgh, there are about 900 police, 600 firefighters, and 300 medics. That dwarfs anything we could muster, so we need to be tied to them to identify people in the community who exceed their capacity for care — people they've seen repeatedly but don't have the time or resources to help.
Certain conditions that are fundamentally health concerns — homelessness, mental health, and substance use — are often criminalized. People end up stuck in a revolving door with the criminal justice system instead of getting the treatment they need. We know that officers want to help, but they haven't been supported in navigating our neighbors to care in the community. This program will empower them to do that.
Emily Laubham: So you would say that this model benefits police, too?
Dan Palka: We honor our first responders — their jobs are exponentially harder than what most of us could even imagine. We want to support people on the streets and the police and other first responders. The police have welcomed our program wholeheartedly.
The genesis of this approach was conceived prior to the murder of George Floyd. For a long time, public safety professionals have been telling us that they would rather have us handle situations related to mental health, substance use, and homelessness. They love the partnership because it reduces situations where they feel unsure how to proceed.
The "right" thing
Emily Laubham: So many different variables impact the people your program serves. How do you determine the "right" thing to do?
Dan Palka: It's rare for any provider to just know the "right" thing to do.
If we take a step back, Jiddu Krishnamurti talks about how if you want to improve society, you should first examine the personal web of relationships that are stewarded and maintained — or aren't. That's community. Historically, some things that our program does would've been done by a person's community — by neighbors and family. Now, society is so fractured that we've outsourced many communal duties to public servants. But public servants aren't always participants in those webs of relationships — they don't live in the same place or experience the same things.
Coming back to your question, that means one of the best ways to help us do the "right" thing is to try to hire people directly from the communities we're working in. We don't want to be colonial — too much service provision is predicated on somebody who doesn't share your experience coming in and telling you what is "right" for your life. We want people to be self-directed, regardless of how that may look to us, and we engage with a community to learn its definitions about "right" and "wrong."
Seeing from a different perspective
Emily Laubham: Are there misconceptions about people experiencing homelessness that you'd like to address?
Dan Palka: If you feel fearful around someone experiencing homelessness, keep in mind that person is undeniably in a situation that is more precarious, unsafe, and unreliable than you — the individual you're fearful of is thinking about how to get food and where to sleep.
People experiencing homelessness have forever been the scapegoat for just about anything that a society failed to account for — any faults that society doesn't want to admit.
When you do advocacy work, you are afforded the privilege to see from a perspective that's completely different from your own. It's illuminating, but it can also be frustrating when you talk to people who haven't had that brief glimpse.
Emily Laubham: I'm sure you find yourself angry sometimes — how do you manage that?
Dan Palka: I think you have to be angry to do this work — anyone who wants to drive progress in any way, shape, or form can't be content with the state of things. But for me, it's not a pathological anger that would be an obstacle, it's something that can be motivating. It's also absolutely essential to have a team — unsupported, this work can consume you.
Emily Laubham: What advice do you have for anyone who wants to go into this work?
Dan Palka: I challenge them to consider what draws them to this field. What about the work do you benefit from? What need does it fulfill for you? I want people to be as self-aware as possible, because at the end of the day, when you're burnt out and tired, which you often are, self-awareness is part of your armor. It allows you to know when you've hit your limit. It keeps you from giving away too much of yourself, which is easy to do.
This work can draw people with savior complexes — that's the pathology of privilege, wanting to save people. We don't "save" people in our program, because we don't think they're broken. Everything is self-directed — the people speak first. We might go into a situation thinking that a person needs a housing connection, and they say, "Hey, I've got a lot of issues, but all I want is a guitar." Ok, that's where we begin — at the instrument store. If people don't have a sense of meaning or purpose, it's really hard for them to find motivation to do anything.
A commitment to community and the power of narrative
Emily Laubham: What is the significance of this program existing within a regional health system?
Dan Palka: One fundamental tenet of this program is that any care you're providing depends on having a set of quality relationships, therapeutic and otherwise. AHN's willingness to take this on as a partnership with the city is positive — it acknowledges that no one has all the answers, and, even clinically, you can't know what makes people well if you don't ask them.
AHN has demonstrated a commitment to community that some systems fail to do. It's not perfect — nothing is — but I'm encouraged by the movement toward trying to understand things from a community perspective. For example, AHN's position on things like harm reduction, syringe exchange, and trauma-informed care have transformed the way that we provide care to underprivileged people in our region.
Emily Laubham: What does the future of the program look like?
Dan Palka: The city is working with the American Rescue Plan on allocating us more money. We should receive enough over the next two years to expand services into every police zone in the city. We're also working on getting integrated into the 9-1-1 dispatch system. Until this happens, there are several methods of getting in touch with our team. The police are very aware of us, but there's also 3-1-1, a non-emergent municipal request or complaint line. You can report anything from a road closure, to someone not mowing their lawn, to someone panhandling on the end of your street.
When people leave their contact info on 3-1-1, it gives us a beautiful opportunity to follow up, connect, and without disclosing any private information, reframe the narrative for them. After thanking them for bringing the person to our attention, we might explain that they're in a very unsafe, vulnerable place. Maybe they have a substance use issue and we're working with them to get recovery. Maybe they just lost a family member and are going through a hard time. These conversations show the power of narrative to effectively convey humanity. Most of the time people start to sympathize, even if it's against their initial prejudice.
Emily Laubham: That goes back to what you said about the privilege of the "brief glimpse." How else do you see the power of narrative play out in your work?
Dan Palka: When we meet people who literally have nothing in terms of material possessions, they almost always have their story. Even if they're in psychosis, there are often glimmers of their story that will come out. If you build enough trust with someone that they start telling you their story, we take that very seriously. That might be all they have, so when they share it, it's special.