A New Home for Critical Cardiovascular Care
By: Amanda Changuris
Posted: January 7, 2016
Share This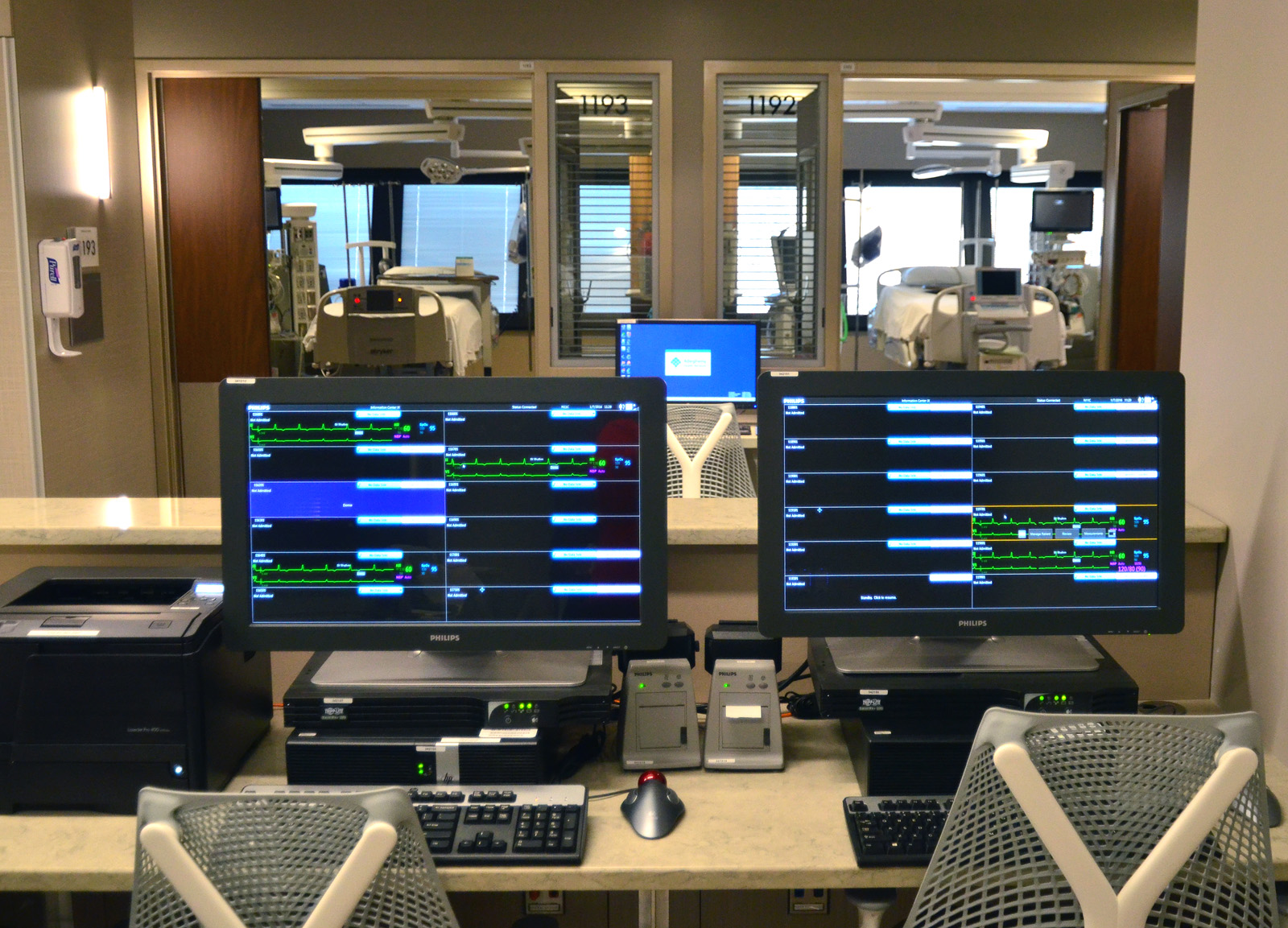 A team approach to medical care helps patients who've had heart attacks, acute heart failure and other cardiovascular events to make faster, fuller recoveries. Allegheny Health Network (AHN) is embracing the team-based care model in an innovative way with the opening of its $26 million Cardiac Intensive Care/Cardiac Telemetry patient care unit at Allegheny General Hospital (AGH)."
"When you look at how cardiovascular disease is managed today, especially the complex conditions, you need a team approach," says Dr. Srinivas Murali, medical director of AHN's Cardiovascular Institute. "It's not something you can do with just one physician or one physician and one surgeon, no matter how excellent they are. You need other health care professionals and a team approach."
"With this unit," he explained, "we can house all of the cardiovascular patients in one physical area. That allows us to work with the patient in a more coordinated and efficient manner. If they are scattered all throughout the hospital, you can imagine how difficult it can be for a team to support the patient."
Team members caring for patients in the new AGH unit include:
Physicians
Surgeons
Nurses
Nurse practitioners
Physician assistants
Pharmacists
Case managers
Nutritionists
Social workers
Post-acute care coordinators
Care navigators
"The pressure in a hospital today, when a patient is admitted, is to make sure that the right skill set of physicians are there," Dr. Murali says. "And that's available in many hospitals, but we're bringing together a team that has all of the components built into it. A team that can gather around the patient and address every issue from A to Z in a very coordinated, effective manner with a great deal of communication among the team members. Everyone is working toward the very best outcome for the patient. This is really a tremendous thing to see and experience and is the future of cardiovascular care."
The Right Team With the Right Equipment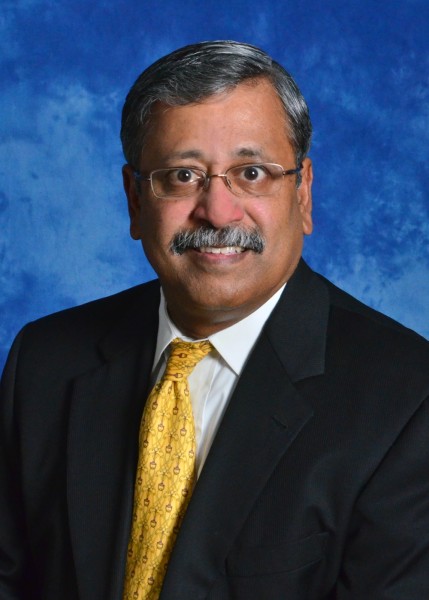 The new 48-bed unit features two wings:
One critical-care wing is dedicated to cardiac intensive care and around-the-clock monitoring of acutely ill cardiovascular patients.
The other wing is for patients who need cardiac telemetry monitoring as they recover from their acute illness, go through any prescribed physical therapy or cardiac rehabilitation, and get ready to go home.
The rooms in the cardiac intensive care unit were designed with boom arms that suspend technology from the ceiling and plenty of space to bring large pieces of medical equipment — like those used for imaging and cardiac procedures — to the patient, rather than transporting the patient to the catheterization laboratory.
"We have large, spacious, single rooms," says Dr. Murali, "and that has a benefit in terms of minimizing the risk of hospital-acquired infections."
And the benefits of bringing medical equipment to the patients go beyond infection control and convenience.
"When we have an unstable, sick patient, we have to balance the fact that the patient needs a test, but how safe is it for the patient to leave the unit to have that test?" Dr. Murali explains. "If you can bring the test to the patient, it solves that problem."
"Because of the availability of the mobile C-arm (which holds imaging equipment used to view the heart and the chest), we have the ability to do a number of emergent procedures right at the bedside such as placing catheters and wires inside the heart, placing patients on balloon pump support, putting them on an ECMO machine, or even inserting a percutaneous LVAD, for instance."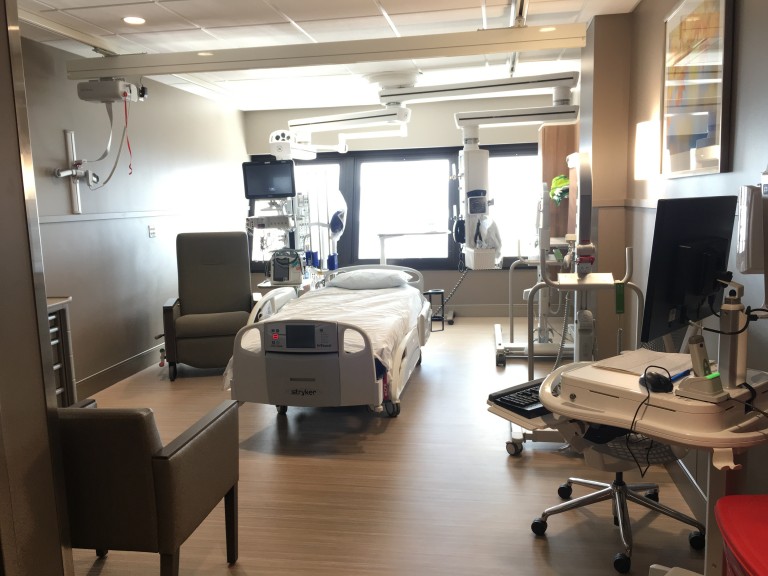 Making Sense of Space
When you have all of those health care specialists gathering multiple times a day to review patients' progress, meeting space becomes pretty important. Dedicated conference rooms on the unit provide space for multi-disciplinary team discussions as well as for teaching cardiovascular residents and fellows.
In addition, the unit has a cardiovascular pharmacist, so drugs can be mixed and delivered quickly to the patients who need them, right from the same floor.
The professional members of the health care team aren't the only caregivers with space to call their own. The unit also features a large family waiting area and family consultation room.
"Sometimes difficult discussions have to take place with a patient's family, whether it's talking about end-of-life issues or a major decision regarding a particular treatment," Dr. Murali notes. "We wanted to make sure we had a quiet environment where families could gather in a living-room-type setting to sit with the medical team, away from the patient's bedside. That allows for those private conversations and gives families some privacy and time to discuss and deliberate if they need to. It's a little thing that goes a long way toward improving our overall care."
Other Improvements in Cardiovascular Care
Since 2013, Allegheny General has undergone several renovation and construction projects in support of its top-performing cardiovascular care programs. Improvements include the opening of an $11 million hybrid operating room that supports complex cardiovascular procedures, including transcatheter aortic valve replacement, mitral valve clipping and endovascular aneurysm repair of the abdominal aorta.
Most recently, Allegheny General opened the region's most advanced electrophysiology laboratory (where tests are performed to treat abnormal heart rhythms). The $6 million facility features the region's first low-radiation 3-D navigation system called MediGuide™. It works like a car's GPS, turning existing X-ray images into a 3-D map that helps physicians navigate inside the heart more accurately.