Brain Cancer Expert Joins Allegheny Health Network
When Dr. Jonas Salk developed the polio vaccine in Pittsburgh in the early 1950s, the world won a landmark victory in the fight against that crippling — and potentially deadly — disease.
Fast forward nearly 65 years, and another Pittsburgh physician, although new to the city, has been interested in the polio virus, but in a much different way — how it actually could be used as a medical ally in the war on cancer.
Dr. Tulika Ranjan, a prominent neuro-oncologist, recently joined the Allegheny Health Network (AHN) Cancer Institute as director of its Adult Neuro-Oncology program. She comes to AHN from the renowned Duke University Preston Robert Tisch Brain Tumor Center in North Carolina, where she had served on a collaborative clinical research team led by Dr. Matthias Gromeier that developed a promising new therapy using the polio virus to treat glioblastoma multiforme (GBM) — the most common and most aggressive cancerous brain tumor.
Roughly 50 percent of patients with GBM die within one year, and 90 percent die within three years. Without treatment, most patients survive for little more than four months. Standard treatments for GBM include surgery, radiation and chemotherapy.
The treatment developed by the Duke team is being tested there in an ongoing phase 1 study in which an engineered form of the polio virus that is lethal to cancer cells — but harmless to normal cells — is used to attack the tumor. The virus-based therapy involves injections directly into the tumor and triggers the body's immune system to attack the infected tumor cells.
"In the clinical trial, I treated the first four or five patients out of the initial 10 and managed their care," says Dr. Ranjan, who had served as assistant professor of neuro-oncology at Duke since 2012. "Now, more than 34 patients have been treated. The average life expectancy for recurrent GBM patients is less than six months. Some of the GBM patients treated under the trial have survived two-and-a-half years. This is very encouraging. We're hopeful that within a year, AHN will be a host site for a phase 2 trial to see how this treatment might help patients with these very aggressive brain cancers."
Furthering Brain Tumor Research at AHN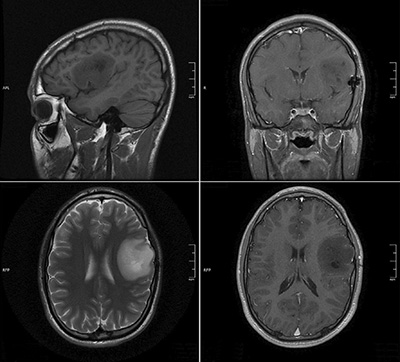 Along with hope of bringing a polio virus therapy trial to AHN, Dr. Ranjan steps into her new role with the focus of continuing current AHN clinical trials and exploring newer technologies to find unique ways to treat GBM.
"We have both current and upcoming clinical trials that use new drug therapies or drug therapies in combination with radiation that are showing promise for brain tumor patients," Dr. Ranjan says. "We're also exploring exciting new technologies and innovative devices that may lead to new therapies."
One such AHN drug therapy trial for newly diagnosed GBM patients includes a phase 3 study through the Alliance for Clinical Trials in Oncology (an organization that connects patients with clinical trials throughout the U.S. and Canada) in which either a drug named veliparib or a placebo is being used with temozolomide (Temodar) treatment following use of standard radiation and Temodar in certain patients.
Another current drug therapy trial involves treating recurrent GBM patients with the drug bevacizumab (Avastin) and either with or without gamma knife surgery (also called radiosurgery) for patients with recurring tumors.
A third drug-related study about to start at AHN is a clinical trial through pharmaceutical company AbbVie that involves using a drug named ABT-414 in patients with newly diagnosed GBM. The drug may prevent the growth of tumors in patients who have gene mutations of the epidermal growth factor receptor (EGFR) gene — which causes abnormal cell growth and can lead to certain cancers.
On the technology side, another study involves use of an electronic device called Optune (formerly NovoTTF) that is fitted to a patient's scalp. Developed by Novocure, the device fits like a cap and contains transducers that create alternating, wave-like electric fields called Tumor Treating Fields (TTFields) to slow or stop the tumor cells from dividing. Physicians at AHN's Allegheny General Hospital (AGH) were among the first in the nation to take part in this study.
"This device is already FDA approved, and it's showed a lot of promise, and we use it for both newly diagnosed and recurrent GBM patients," Dr. Ranjan says. "We hope we can expand this trial and learn more about how it can help patients."
And another promising technology-based effort, led by Dr. Khaled Aziz, director of AGH's Center for Complex Intracranial Surgery, is exploring an increasingly popular procedure called laser interstitial thermal therapy (LITT) that may offer a safer, less invasive surgical option for patients whose brain tumors aren't responding to radiation treatment.
Guided by agnetic resonance imaging (MRI), LITT enables surgeons to make smaller-than-normal incisions to take biopsies of tumors and treat them using lasers. Dr. Aziz was the first surgeon in Pittsburgh to use this treatment.
"The laser increases the core temperature of the tumor to help destroy it or shrink it," Dr. Ranjan says. "It's a temperature-controlled process, and it may give patients another treatment option."
A Unique Collaboration
In the fight against cancer, the more closely that research and patient care experts come together — regardless of their geographic locations — the more patients can benefit. That is why the AHN Cancer Institute is collaborating with the Johns Hopkins Sidney Kimmel Comprehensive Cancer Center —one of the country's 41 comprehensive cancer care centers designated by the National Cancer Institute.
This relationship gives AHN patients a unique advantage against cancer — direct access to numerous other clinical trials and physician-to-physician consultations with some of the world's foremost cancer experts. Dr. Ranjan is collaborating with Dr. Stuart Grossman, a leading clinician and professor of oncology, medicine and neurosurgery at the Kimmel Cancer Center, to expand and enhance AHN's neuro-oncology program.
"We're very excited about working closely with Dr. Grossman and his staff on research and education projects that can have a positive impact here for our patients," Dr. Ranjan says. "We want to give our patients every possible resource we can as treating physicians."
An Impressive Resume
"Dr. Ranjan is an extremely talented and accomplished oncologist whose unique expertise greatly complements AHN's already robust cancer and neuroscience programs," says Dr. David Parda, professor and chair of the AHN Cancer Institute. "Our team of oncologists, neurologists and neurosurgeons looks forward to working collaboratively with Dr. Ranjan to further advance the treatment of brain cancer and help extend and improve the lives of some of our sickest patients."
"The Departments of Oncology, Neurology and Neurosurgery at AHN have a long history of innovative care for patients with brain cancer," adds Dr. James Valeriano, chair of AHN's Department of Neurology. "We are very pleased to have a neuro-oncologist and scientist of Dr. Ranjan's caliber on board to help lead our program into the future."
When AHN announced Dr. Ranjan's appointment last summer, social media channels lit up with positive feedback among members of the medical community. Although she wasn't aware of that feedback, Dr. Ranjan takes it all in stride. She'd prefer to focus her attention on innovation — and developing promising new treatments.
"We want to build an even stronger brain tumor research and treatment program here at AHN," she says. "We're working hard to earn more NIH (National Institutes of Health) funding for research into innovative new treatments that give people hope — and that may save lives."