Care and Recovery Comes Home
By: Emily Laubham
Posted: March 31, 2021
Share This
Even before the pandemic, there was a strong trend in the U.S. toward having more health care and recovery happen at home rather than requiring people to stay in hospitals or overnight medical facilities. Value drivers included higher patient satisfaction, fewer unnecessary hospitalizations and readmissions, and lower overall costs.
In 2019, through a joint venture with a pioneering leader in home-based care, Contessa, Allegheny Health Network (AHN) launched a Home Recovery Care program at select hospitals. The program expanded to include additional hospitals in 2020, and in 2021, it became the nation's eighth CMS-approved hospital-at-home program.
To learn more about this program, I talked with Dr. Harshit Seth, system medical director, Hospitalists Services at AHN, and one of two medical directors overseeing Home Recovery Care services through AHN hospitals.
From traditional house calls to the latest telemedicine monitoring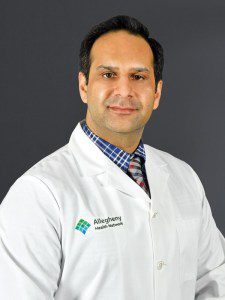 Emily Laubham: Before we talk about the Home Recovery Care model, let's talk about home-based care in general. I've read that your experience with this goes back to childhood.
Dr. Harshit Seth: I grew up and went to medical school in India before my residency in New York. As the son of a cardiologist and OBGYN, I often saw my parents making medical house calls and visiting patients' homes. But I came to the U.S. and always wanted to be a hospitalist. When I was approached about being part of Home Recovery Care, I was skeptical about how this will work in the developed world using technology. I just didn't expect to see this in America. Fortunately, Contessa has data to support what they do, and I came around.
Emily Laubham: It seems logical — that we might do better if we receive care in the place where many of us are most comfortable.
Dr. Harshit Seth: People want to feel like they're in control. When you come to a hospital as a patient, you may feel like a victim. The body doesn't like it when the mind feels it has lost control. Being at home can be especially helpful for older patients with dementia, because they need familiar surroundings. They need their shoes to be in the same place, the bathroom to be in the same place, and when they wake up in the morning, the window is in the same spot. Any disruption causes psychosomatic disturbances. Disruptions are minimized when you're in the comfort of your own home, your daughter is checking on you, you can see your neighbors outside, and other things are experienced in your normal ways. In the subconscious mind, it's like you were never hospitalized.
Emily Laubham: And leveraging technology helps maintain the right level of care outside a hospital?
Dr. Harshit Seth: Right, GPS, cellular, Wifi, video — today's technology makes this kind of home care possible. Virtual visits, where patients visit with their physicians and care team via telephone or video, have become incredibly relevant and familiar due to COVID-19. But the other piece is remote patient monitoring — all the devices that make it possible to collect and transmit data, from basics like blood pressure, heart rate, and glucose levels, to increasingly sophisticated needs. Getting that data allows physicians to monitor and intervene when necessary, just as if the patient were in the hospital.
As an example, in our program, we send the patient home with a tablet. They can press a button and connect with a nurse immediately — just like a call bell in a hospital. The nurse appears on the screen and the patient can ask a question or describe issues they're experiencing. The nurse will take care of it over the tablet if possible, or get someone to the home promptly if necessary. Our program also has a doctor on call just like in the hospital.
Home Recovery Care: How it works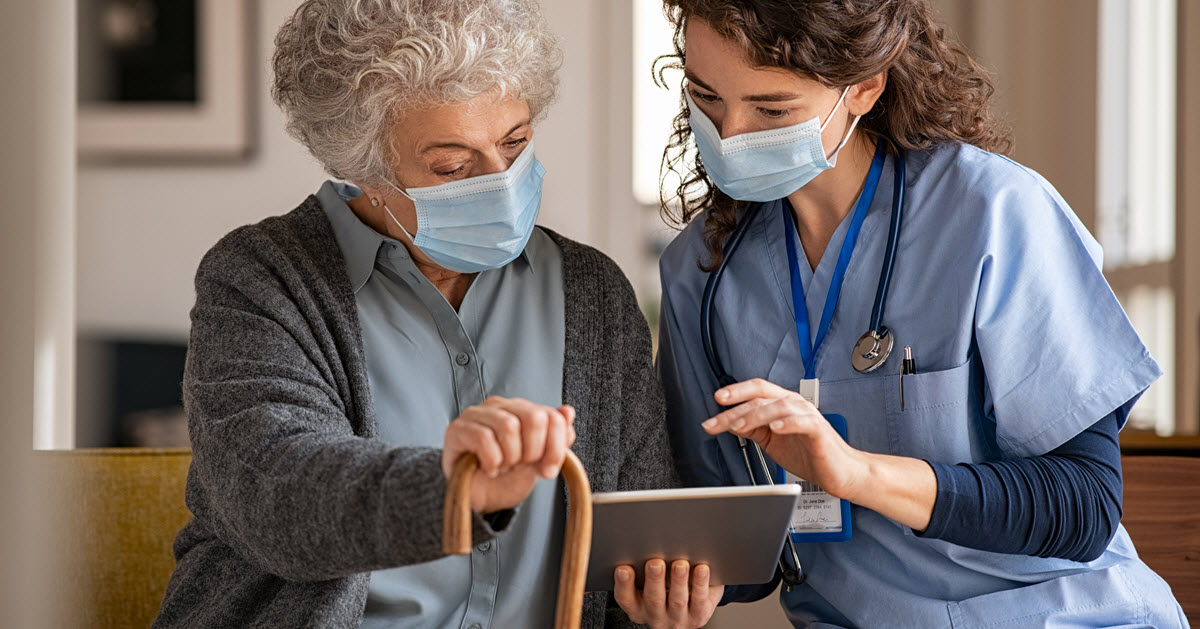 Emily Laubham: Can you give me a high-level overview of the Home Recovery Care program?
Dr. Harshit Seth: Home Recovery Care is basically like having the hospital in your home. We think of Home Recovery Care as an extra unit of our hospital where staff will see patients through virtual visits as well as in-person visits. So we're taking a patient who has been to one of our emergency rooms or hospitals, and then the continuation of their care happens in their own home. This is an interdisciplinary approach just as it would be in our hospitals. Pharmacy, nursing, physicians — we want all aspects of care connected with the patient. We're lucky to live in a technologically advanced age where so many patient examinations and interactions can be done remotely.
We focus on a number of major diagnoses, including cellulitis, congestive heart failure, urinary tract infections, dehydration, pneumonia, and more. Everything can be reviewed for a Home Recovery Care option, but there are some limits to what we can do at home. For instance, we can't do IV narcotics, ventilators, bypass, or more than six or seven liters of oxygen.
Emily Laubham: Are there different pathways to becoming a Home Recovery Care patient?
Dr. Harshit Seth: For the sake of this conversation, let's distinguish two levels of care. Observation care means the patient comes into the hospital, and would be released within 24 to 48 hours of observation. In-patient care means a patient is formally admitted to the hospital. We have four basic pathways for how a patient gets into Home Recovery Care.
First, if the patient comes in for observation through the emergency room, they can move to Home Recovery Care directly to be observed at home for a day or two instead of remaining in the hospital. During observation, if something shows up on testing — maybe they have IV fluid needs, IV antibiotics needs, or acute renal failure — then the patient's status would switch to in-patient. We can do this whether they're in the hospital or in Home Recovery Care.
A second pathway would be that a patient comes into the emergency room and immediately meets in-patient criteria. If appropriate, we can move them from the ER to home care instead of to a hospital room with that status.
The third pathway is that the patient comes into the hospital initially for some small procedure, to visit a physician, or to get an MRI or testing, and that leads to some sort of decision-making. We would put that patient into the clinical decision unit, which is an observation level of care. If the decision is made that the patient needs an in-patient level of care, we could offer Home Recovery Care and take them home to continue their care.
The last pathway, which we started more recently, is the high acuity option. This would be a patient who gets admitted as an in-patient and has brick-and-mortar hospital needs, but then also needs in-patient care afterward (more than 24-48 hours), including care in a skilled nursing facility or rehabilitation facility. They can get that care instead from the comfort of their home through the Home Recovery Care program.
Emily Laubham: Is there a safety assessment performed before a home environment is offered as an option?
Dr. Harshit Seth: Prospective patients must pass through a rigorous home safety assessment to make sure their environment is free of fall risks or other potential hazards, and to make sure there are no pests, no bed bugs, no connectivity issues, and conditions are good for the patient's situation. There's a consent and screening process to make sure a patient is a good candidate for Home Recovery Care. When we decide that they can be treated at home, we have a conversation. We reassure them that services will be the same, and we can bring them back if we need to. So far, we have a 93% to 95% acceptance rate.
Emily Laubham: Is there a set period that the program would provide care at home?
Dr. Harshit Seth: Typically, Home Recovery Care lasts 30 days, offering 24/7 services. A registered nurse will visit to take the patient's vitals, administer IV medications, help with medications, and assist in pain management. Usually, after the first few days, care transitions to a primary care physician.
Emily Laubham: What advantages have you observed?
Dr. Harshit Seth: For clinicians, the most important thing is that patients are happy, and they're happier at home, surrounded by family, and avoiding the kind of psychosomatic complications I mentioned earlier. Especially with the visitation restrictions during COVID-19, having a patient at home means there's less chance of them becoming dejected or depressed. We're also lowering the risk of infection — I don't have to worry about cross-contamination when my patient is in a home environment.
With this program, I have a nurse keeping an eye on the patient 24/7. Obviously, patients are monitored at the hospital too, but Home Recovery Care has an entire nursing unit dedicated to care in the home. They evaluate things like whether or not it's safe for a patient to move around in their environment, do they have food, do they have heat/electricity — details that normally we might not look at or be able to factor in to their care.
Obviously, we didn't know a pandemic was coming when we started Home Recovery Care. But with the unpredictability of how COVID-19 can progress, it's been reassuring to have this option where we don't discharge and can keep a close eye on patients. And it's a huge benefit for patients that they can stay in their homes. Now, we just want to show CMS and other payers the data that proves it makes sense to do this in a post-COVID era.
"more choices without leaving home"
Emily Laubham: What are the challenges to implementing programs like Home Recovery Care?
Dr. Harshit Seth: The big challenge is technology. For everything that exists, other things could be made better. The connectivity of equipment needs to be constantly checked and up to date.
The other thing is education to help with acceptance. On the clinical side, there was initially confusion about whether this was a discharge to home. Home Recovery Care is not a discharge, it's like admitting the patient to another unit. Although patients receive in-patient level services in the home, they are not actually admitted to in-patient status for those acute services. Therefore, if a patient requires an in-patient hospitalization in the brick-and-mortar facility at some point during the 30-day episode, this does not count as a readmission in the eyes of the hospital, but is rather considered an index hospital admission. We've come a long way in raising awareness at AHN — we now have subspecialists, like advanced heart failure consultants and oncology consultants, reaching out to us because they see the benefits for their patients.
As for patient acceptance, when we approach a patient, we typically have success. With people who don't choose Home Recovery Care, one reason we've heard is that they just don't want anyone in their home. That's a personal preference, so I'm not sure we can change that. But as word gets out and people talk about how Home Recovery Care helped them, I think acceptance will just grow stronger.
Emily Laubham: How does Home Recovery Care tie in to broader trends in U.S. health care?
Dr. Harshit Seth: The biggest thing is that it's cutting costs for patients and the health care system. It's also decompressing the health system — with Home Recovery Care, we're helping people without having them in hospitals, and that means hospital beds are available to the really, really sick patients who need that level of care. You could also tie this to the shift from fee-based payment to value-based reimbursement models.
There is also the increased focus on patient satisfaction. With Home Recovery Care, we do our own quality check with a questionnaire, so we know our satisfaction scores are good.
Emily Laubham: How do you see Home Recovery Care evolving — could more procedures potentially migrate to being performed at home?
Dr. Harshit Seth: Well, keeping the level of safety and taking limitations into account, it's not so much doing more procedures as continuing to expand remote telemetry, meaning we'll be able to record and transmit more data gathered by medical instruments that can be provided in a home environment.
I see a bigger, broader payer base supporting Home Recovery Care. As we show CMS that we're doing a good job and patients are having better health outcomes and lower cost of care, their guidelines and criteria for Medicare coverage of programs like Home Recovery Care will also influence private insurance companies.
I can also imagine Home Recovery Care helping to bring health systems together. Patients of different systems — for instance Sewickley Valley and AHN — could be admitted to Home Recovery Care, and so the "home" becomes a shared center of those systems. Care could be given over from one system to another more easily because we are not transferring patients, we are just "handing them off" while they stay in their home. This could happen regionally or even nationwide.
The change that Home Recovery Care and other programs will continue driving is that the patient will have more choices without leaving home or compromising care.