Telehealth Expansion: An Epic (and Ongoing) Tale
By: Emily Laubham
Posted: January 8, 2021
Share This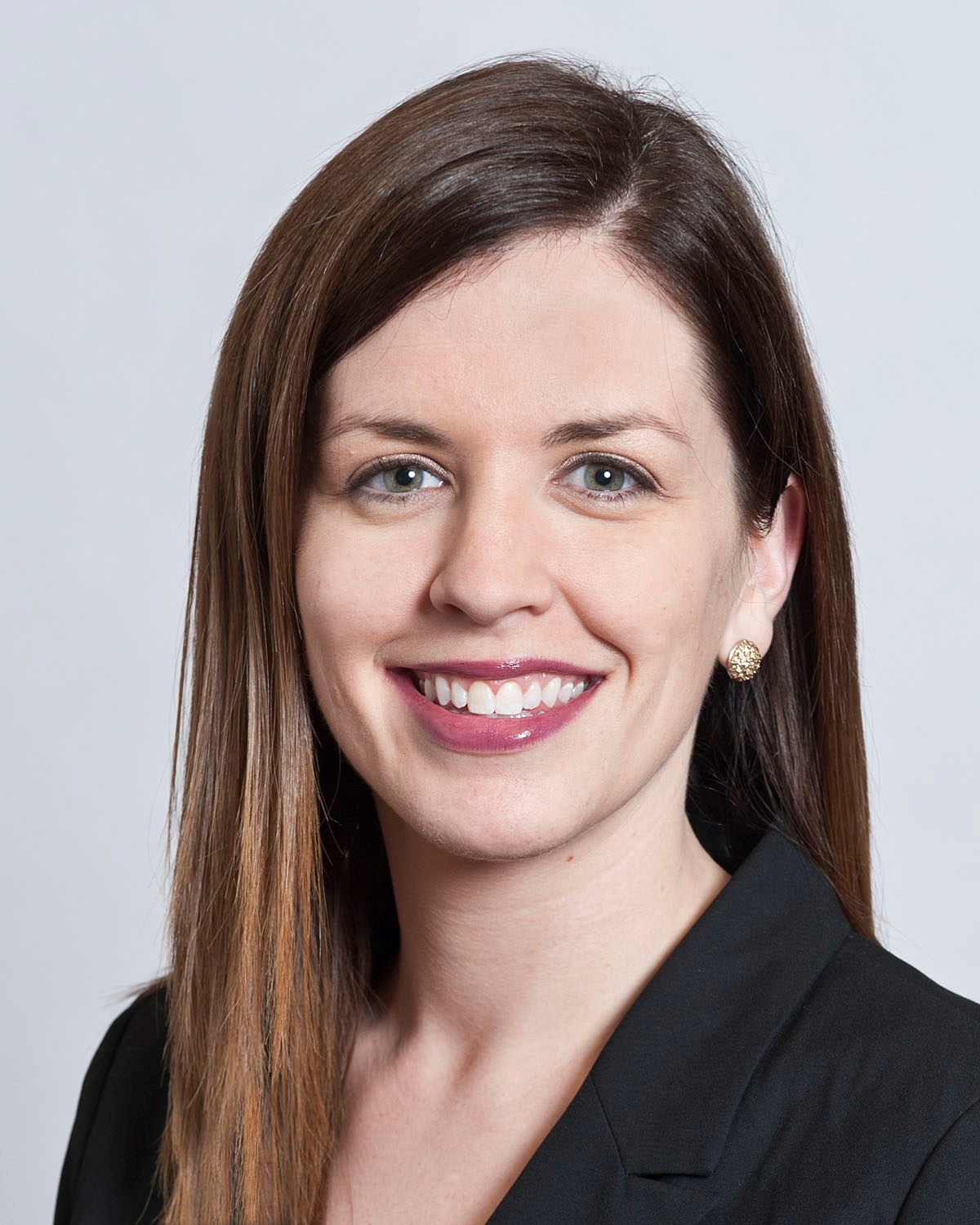 Telehealth has long been on the rise in American health care — gradually becoming more common in fields such as behavioral health and dermatology, with innovative applications in less expected areas like virtual intensive care unit (ICU) support. Before the pandemic, however, it lacked the structure, funding, and patient demand to expand more rapidly.
"For a long time, telemedicine tended to remain a task for another day behind a list of more pressing issues," says Dr. Amy Crawford-Faucher, vice chair, Primary Care Institute, and medical director for telemedicine at Allegheny Health Network (AHN). "But when the pandemic came, we rose to the level of demand."
"It took COVID-19 to kick telemedicine into high gear," agrees Kayla Cousineau, AHN's vice president of clinical operations and strategic initiatives. "High gear" is an understatement: Cousineau says that AHN's nearly 500,000 virtual visits in 2020 represent a 4,000% increase over 2019 telemedicine volume.
"This expansion is an amazing story to look back on and realize what we accomplished," she adds. "In a way, the genie is out of the bottle — now that we know we can do it, we aren't hindered from taking on big, bold, audacious changes in the future."
Rapid response to a public health emergency
In March 2020, the onslaught of a public health emergency left people afraid, unsure, and isolated. Non-essential businesses began shutting down, organizations large and small asked employees to work from home, COVID-19 dominated the news and social media, and public officials issued guidelines and restrictions to try to avoid the level of outbreak and suffering experienced in New York City and other places.
Hospitals, doctor's offices, and other health facilities had a dilemma. On the one hand, they were more essential than ever. On the other hand, to minimize risk of spreading the virus, they had to avoid unnecessary person-to-person contact. Converting in-person services to telehealth was a logical solution, but no health system was prepared to do virtual health at the scale required.
"Technologically, we didn't know what we were capable of until COVID hit," Cousineau says. "But in less than a week, our IT team stepped up, and the entire network was effectively 'turned on' to be capable of providing telehealth services and video consultation."
"Turned on" meant ramping up the necessary technology, including expanding server capacity, getting licensing in place, ensuring that providers had the equipment to do their jobs, and training them. Under normal circumstances, these processes would take time and planning, perhaps rolling out in phases over a period of months. Due to the pandemic, everything had to happen practically overnight.
"Operationally, we had people working around the clock, especially in IT, because they had the keys to the kingdom, so to speak," Cousineau explains. She adds that what was accomplished took every person in the organization working together around the same priority, and is "a great example of a system coming together to make a difference for the community."
Multiple virtual training sessions were conducted daily, and a website was created to house lessons and related information for reference or re-training. Even with providers who had to continue working in person, efforts were made to find ways to reduce contact and risk — for example, by using virtual communications for consultations between providers.
Pre-pandemic, only a small number of AHN clinicians had used a telemedicine platform. Within a week, many health care professionals, including support staff, were equipped to take virtual visits, and a virtual urgent care service had been transformed into a 24/7 operation. By late spring, AHN had more than 1,200 clinicians handling over 3,700 virtual visits per day across a broad range of specialties. At its peak, up to 80% of AHN primary care appointments were also virtual.
Maintaining human connection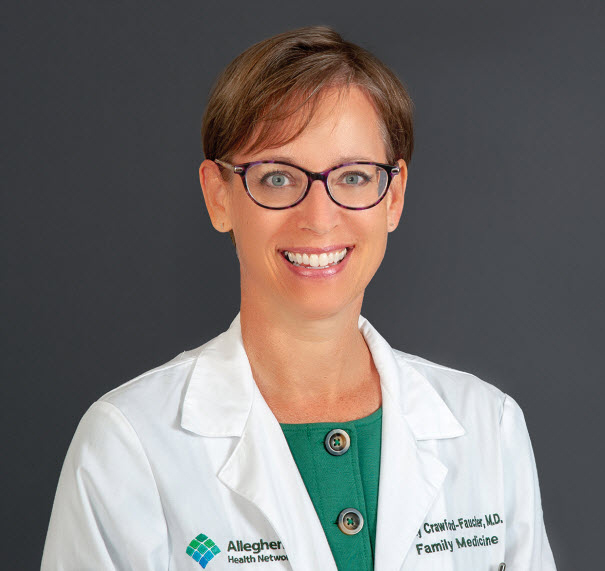 For many patients and physicians, one long-held uncertainty about telehealth has been whether a virtual visit can be as effective as an in-person visit. Specifically, concerns and trepidations often revolved around whether more technology would mean less human connection.
The pandemic offset that by presenting a stronger fear: getting sick and spreading the virus.
"Many older patients who may have been less likely to use this kind of technology are also people who have good reason to be careful about leaving the house," points out Dr. Crawford-Faucher. "Their fear could have paralyzed them, but most of my patients have been able to master telehealth options."
She adds that without virtual visits, some patients would feel even more isolated during the pandemic. "It doesn't mean anyone is ready to give up in-person contact altogether," she says, "but for now they've been able to embrace telehealth as a wonderful, safe option for connection and care."
From the clinician side, in addition to learning how to use the technology, another challenge has been turning a good "bedside manner" into what Dr. Crawford-Faucher calls "webside manner" — making a meaningful personal connection with patients during virtual visits.
Webside manner was so important, and such uncharted territory for many clinicians, that AHN developed training content to provide guidance on how to engage and make a visit feel personal when using video. Dr. Crawford-Faucher says even simple questions and phrases can go a long way. Tips include introducing yourself if you see anyone else on the screen, asking or commenting on something visible in the background, and using phrases like "I really wish I could see you in person today" or "I'm glad we could connect like this so I can address your concerns."
In a way, worries about the dehumanizing impact of telemedicine were eclipsed by the real desire people had to connect despite the pandemic's pressure to limit in-person contact. People found that, with a little effort and engagement, telehealth options could still have the qualities of human connection that are so important to the clinician-patient relationship.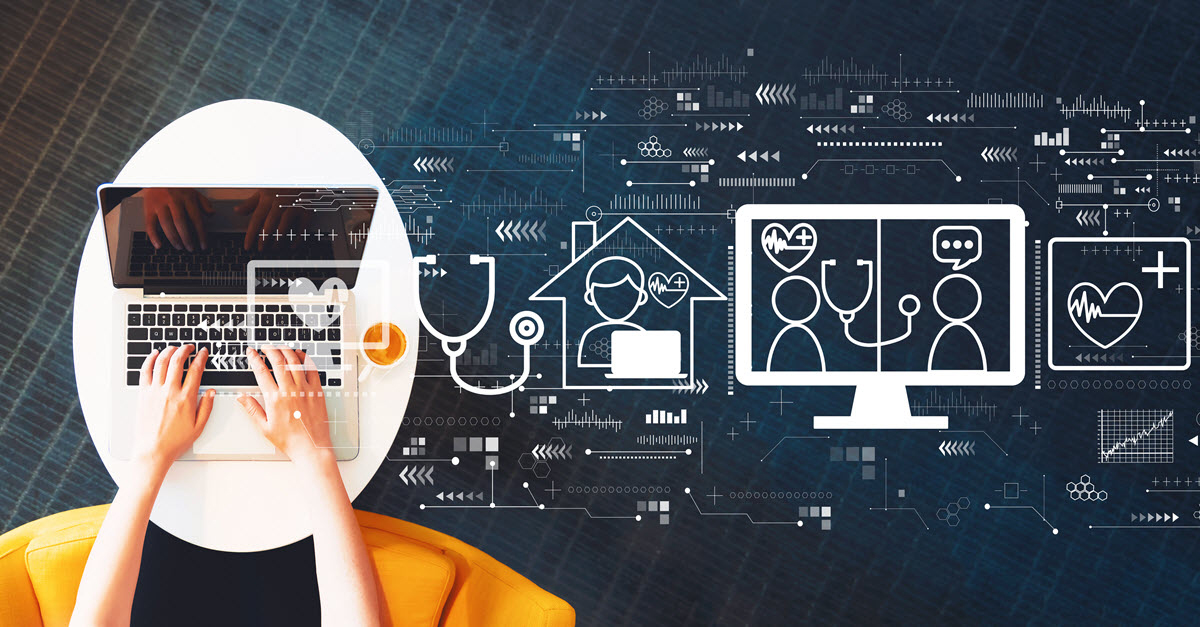 Long-term adoption of telemedicine
Dr. Crawford-Faucher says that the ramp-up of telehealth services at the start of the pandemic had everyone running on adrenaline, whereas "now we're moving into a marathon mentality."
Despite the availability of vaccines, it is difficult to predict the longevity and impact of COVID-19 as a public health threat. When it comes to telehealth, one question is how long COVID-19 will continue to motivate people to prefer virtual over in-person visits. Another question is whether people's experiences with telehealth now will create a lasting rise in demand even when the pandemic is no longer a factor.
Cousineau says that once select AHN offices began opening in May and June, it was no surprise that the percentage of virtual appointments decreased. For much of the year, it has been hovering around 15%, which she describes as "on par with the rest of the nation."
That's still higher than pre-pandemic levels. But Cousineau says it is also valuable to look at use of telehealth across different institutes and specialties.
"For instance, a group like behavioral health is still seeing 80%+ virtual engagement," she explains. "And that may not change much moving forward."
Similarly, it has made sense for each AHN service line to develop its own activities and expectations around virtual capabilities, but the focus for the entire network is on the quality of the telehealth experience. An AHN Telehealth Governance Group now tracks and analyzes data around six primary questions:
What percentage of video visits have been successful?
What percentage of offices (by Institute) are virtual?
How likely are patients to recommend (patient satisfaction)?
What is the payment equivalency between virtual and face-to-face?
What is the provider satisfaction?
Are we maintaining clinical quality?
Cousineau reports that, so far, AHN is checking all the boxes, including the most important one: "More than 90% of patients have said they were satisfied with or would recommend virtual appointments."
As question four on that list suggests, another important piece of the puzzle for longer-term adoption of telemedicine involves reimbursement and government regulation. Historically, providers often lacked incentive to advance telemedicine in some areas because payers, whether private insurers or government programs like Medicare, didn't cover them or covered them at lower reimbursement rates. In response to COVID-19 that has changed: As part of the public health emergency, the Centers for Medicare & Medicaid Services (CMS) added more than 130 virtual services to their list of coverage, expanding the list to 144 services in the fall. Even more notably, they added many of the services to a Category 1 "permanent" coverage list for 2021. What CMS covers usually has significant influence on how commercial payers adjust their coverage as well.
"Everything the government has said has at least alluded to the fact that telehealth is here to stay," Cousineau says. "They might not continue to cover all the additional services that were added as part of the public health emergency, but the situation will lead to some permanent changes."
In terms of what is on the horizon for telehealth, Dr. Crawford-Faucher says that expanded use of Remote Patient Monitoring (RPM) tools are a potential game-changer. These tools allow patients and providers to access real-time observation of key biometrics. For example, a patient might receive some type of Internet-connected device, like a blood pressure cuff, that records data and sends it to their physician, alerting them if findings indicate a serious issue.
As Dr. Crawford-Faucher points out, if RPM tools allow her to look into a patient's throat and ears, check heart rate, get an accurate blood pressure, and collect other important data, that brings a virtual visit much closer to what happens in the office, while streamlining the entire process. It also opens up exciting possibilities to have more meaningful interactions with patients outside of just a traditional annual office visit, or a visit that happens because something is wrong.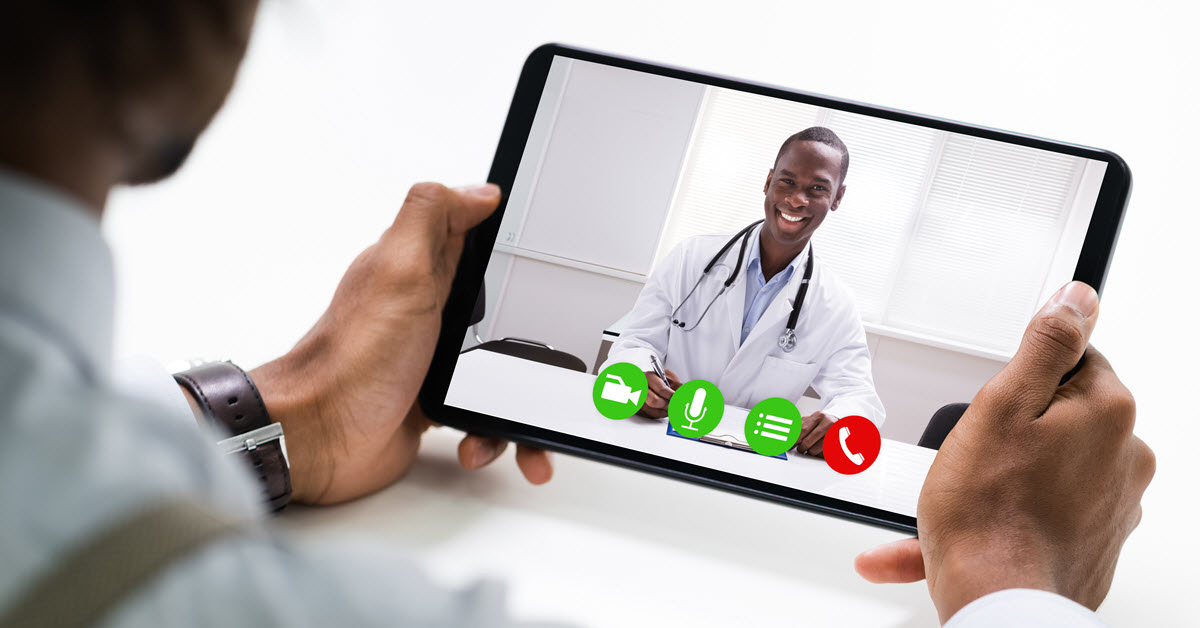 "The data provided by RPM tools, combined with telehealth options for quick, easy communication, give us the opportunity to reach out more often in an informal way and positively affect a person's health," she says. "It means more access points to care for patients."
That fits well with the organization's long-term strategy of building a new, technology-enabled, highly personalized platform for patients and clinicians as part of its Living Health model.
Cousineau says that the impact on patients remains the central focus. "What the telehealth expansion has shown is that it's possible to work together quickly to make a massive fundamental change for the good of our patients," she explains. "That isn't limited to the pandemic — we'll continue to look at how technology can better support a person's health and strengthen the relationship between patients and clinicians, and then figure out what challenges we need to overcome to make it happen."