Veteran Voices: Dr. Allan Philp
By: Emily Laubham
Posted: January 16, 2019
Share This
Dr. Allan Philp says he was born into a "solidly middle class" family in Knoxville, Tennessee. He didn't always envision a career in the military, but the importance of serving others was instilled in him from a young age.
"There was something ingrained in us to give back," Dr. Philp says. "For my family that meant the military, but it could have easily been some other public service."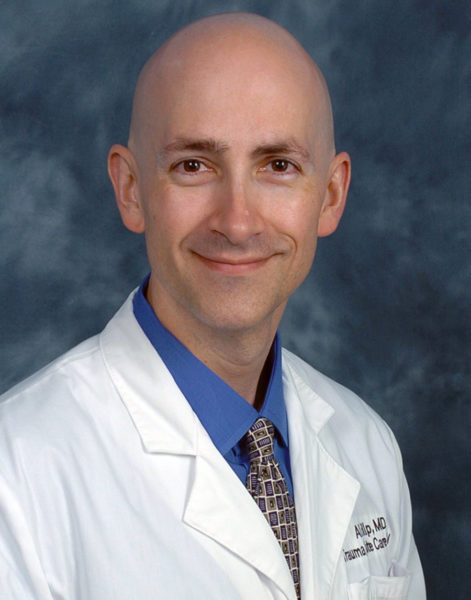 Now chief trauma surgeon at Allegheny General Hospital in the Allegheny Health Network (AHN), Dr. Philp served in the military as a combat surgeon. He led critical care teams in Afghanistan and Iraq during operations Enduring Freedom and Iraqi Freedom, and held numerous positions, including critical care aeromedical evacuation team leader, surgical ICU director of Landstuhl Regional Medical Center, and chief physician of AI Dhafra Air Force Base.
However, before attending medical school at Vanderbilt on a military scholarship, Dr. Philp earned his undergraduate degree in engineering.
"I always assumed that I was going to work in engineering because I enjoyed pressures and flows, movements and devices — stuff like that," he says. "There was a cerebral component, but also a physical one."
Surgery, he discovered, shared similarities with engineering — the body itself being a feat of engineering.
"I found that I liked the immediacy of surgery," he says. "If you look at lives saved per provider, a family practice physician is probably your number one person, but much of what they do is preventive and longer term. A surgeon, on the other hand, might be saving lives today."
Military Medicine
In a sense, the medical branch of the military is freestanding; there are some large hospitals and permanent facilities of course, but much of military medicine is practiced in more mobile environments, including on the front lines of combat.
"You take out a spleen at Allegheny General, or you take out a spleen in Afghanistan — it's kind of the same procedure," Dr. Philp explains. "But what's different are the resources you have and environment you're in."
Surgical equipment and other tools, available medication, personnel, and shelter — all of that can vary when it comes to military medicine. "If you go far enough forward, you don't even have medical records anymore. We would have to leave written notes on tape and stick it to the patient," Dr. Philp says.
He adds that the longer the military is involved in a conflict or region, the more developed the resources become. "What initially starts out as 'nothing but tents' evolves into rough buildings and temporary hospitals," he says. "And eventually you have something that looks more like a stateside hospital."
He describes modern military medicine as involving interlocking, standardized pieces that can be configured according to location and needed services — as an analogy, he says you can think about how a wide variety of Lego® blocks can be fit together in many different configurations.
"War is still terrible, but some things have changed," he says. "What used to be trench warfare is now largely urban. This evolution calls for smaller and more mobile medical teams — we want to use the smaller Lego® blocks. The idea is to push everything as far forward as possible. In the military, we train a lot of our non-medical personnel to perform basic medical care. Then we scatter Forward Surgical Teams (FST) that can perform life-saving operations and resuscitation."
Countless lives have been saved due to this approach, which also led to a similar nationwide civilian initiative: Stop the Bleed. The goal is to teach more civilians how to perform basic first-aid during emergency situations. AHN participates in the program, including having trauma specialists host free community classes at multiple AHN hospitals during the nation's first National Stop the Bleed Day in 2018.
"Think about the Orlando nightclub shootings," Dr. Philp says. "There were people live-texting their own deaths — it was horrific. The problem, especially in an active shooter event, is that EMS can't go in right away. What you really need is the person sitting next to you to be able to take basic actions that could save your life, like applying pressure to a wound."
"the dedication to take care of one person at a time"
Adaptability with regard to resources and stressful environments is vital for those practicing military medicine. Dr. Philp says that another factor involves erratic schedules and levels of activity. While deployed, he says you may need to cope with a "99 percent boredom and 1 percent panic" reality. He explains that the majority of his time deployed was spent on predictable tasks — a steady treatment of non-critically injured patients. Then, without warning, an alarm would go off that signaled the start of the "1 percent panic."
"A mass casualty is defined as anything that overwhelms your system — depending on the resources, one critically ill patient could be considered a mass casualty," he explains. "The problem is that you don't know if it's going to be six hours or six days until the next one occurs."
These situations can create incredibly difficult decisions.
"One day, we were dealing with a mass casualty and burning through our blood bank," Dr. Philp says. "My orthopedic guy was working on this kid's leg — but it was a horrible injury. He had been in there for a long time. I asked how much longer would it take and how much more blood was the kid going to lose, because we were down to only a couple of units of blood. Based on what he told me, I had to tell him to amputate the leg, because those last two units of blood could save another person's life."
Reflecting on another aspect of military medicine, Dr. Philp shares a conversation he had with a military chaplain.
"I told him, 'You're supposed to be the antithesis of war, and yet here you are. How do you square that?" Dr. Philp recalls. "And the chaplain said to me, 'I'm one person. I can't fix the whole thing. What I can do is take care of people.'"
That mindset is part of a dedication that Dr. Philp sees throughout the military — "not to any political ethos, but to the people you work with," he says. "That's the important part about military medicine — it's the dedication to take care of one person at a time. Men and women with their boots on the ground aren't in the military because they have anything against anyone. They have kids to feed and families to support. Being the person to get them home is powerful."
The Transition from Military to Civilian Life
After Philp left the military, he continued his career as a surgeon and teacher, including roles as trauma surgeon and surgical intensivist at the R.A. Cowly Shock/Trauma Center, and clinical assistant professor at the University of Maryland Medical School. In 2011, he took the position of chief trauma surgeon with a health system that eventually became part of AHN.
Dr. Philp now splits his time between emergency surgery, trauma, and critical care. He and his team also develop and coordinate consistent protocol to be followed throughout the network. He describes his role as three-fold: clinical excellence, education, and research to push the field forward.
Although he describes his own transition from military to civilian life as relatively painless ("I was able to drop right back in"), he says there is a lot we can do to improve the transition from military to civilian life for others. In particular, he points to the limited mental health resources available for veterans.
"We need to get better at serially planning for, identifying, and following up about mental health support," he says. "When it comes to mental health help, I think we're at 15 percent of where we need to be."
Although post-traumatic stress disorder (PTSD) receives a lot of attention, Dr. Philp points out that many veterans may not have PTSD, but still need help dealing with Secondary Traumatic Stress Syndrome or Compassion Fatigue.
"PTSD is something that happens directly to you. Secondary Traumatic Stress is when the traumatic event happened to someone else, but you had to deal with it," he explains. "You see this a lot not only with veterans, but with nurses, doctors, and EMS workers."
Prioritizing mental health resources for veterans doesn't just improve their individual lives and families, Dr. Philp points out, it also allows them to fully contribute in the workplace and in their communities. In explaining the positive impact veterans can have in the medical field specifically, he notes that "previously deployed veterans are extremely comfortable working in teams, which is critical in medicine. And they display an adaptability and dedication that is hard to find elsewhere. A typical resume or CV tells you, 'This is the pigeonhole in which I live.' That's not the case with veterans — they tend to have had broader experience, and that can add value in many different situations."