Ask a Doc: Lung Cancer Screening
By: Emily Laubham
Posted: November 2, 2020
Share This
In our Ask a Doc series, we sit down with physicians and other clinical experts, including those at Allegheny Health Network (AHN), for a chat on an important health topic. In this interview, Dr. Jeff Mueller discusses lung cancer and lung cancer screening.
Jeff Mueller, MD, chief of cardiothoracic radiology with the Allegheny Health Network (AHN), tells me that lung cancer is usually treatable if detected early. For that reason, he encourages people who are eligible for lung cancer screening to think of it as one of those things you just have to do, like changing the oil in your car.
"If you wait until symptoms develop — shortness of breath, weight loss, coughing up blood — then in all likelihood, we won't be able to cure it," he says. "Early-stage lung cancer is asymptomatic more often than not. So it becomes a question of whether or not you want to maximize your chances of extending your life. You can do that by participating in screening."
I talked with him to learn more about who is eligible for screening and what people should know about lung cancer in general.
Risk factors: "Smoking is number one"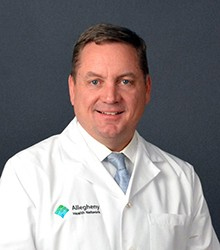 Emily Laubham (EL): What are the biggest risk factors for getting lung cancer?
Dr. Jeff Mueller (JM): Smoking is number one — by far. Other risk factors include having a family history, pulmonary fibrosis, radon exposure, and certain industrial exposures.
Right now, you don't qualify for lung cancer screening unless you have a history of smoking. Unlike a mammogram for breast cancer screening, a lung cancer screen requires an order from your doctor or primary care physician (PCP). If you don't have a PCP, we can assign one, but smoking is such a high risk factor that it's the key criteria.
The U.S. Preventive Services Task Force recommends that lung cancer screenings start at age 55 and end at age 80. You also need to have a thirty-pack-year history of smoking. That means, for example, you smoked one pack of cigarettes every day for 30 years, or you smoked two packs a day for 15 years. If you have quit smoking and it's been longer than 15 years, you are no longer eligible for screening. However — and this is important — those eligibility criteria are being reviewed and will probably be expanded in the near future.
EL: Is it true that living in places with poor air quality, including here in Allegheny County, puts you at a higher risk of developing lung cancer?
JM: It's debatable whether or not that raises your risk of developing lung cancer. Now, the smoking rate in Allegheny County is also higher than most of the country, and that's definitely a risk factor for both smokers and people who are exposed to second-hand smoke.
EL: What advice do you have for people who are trying to quit smoking, or for family members who are helping a loved one quit?
JM: It helps to go through your doctor's office or PCP. There are a lot of programs to help stop smoking, and your doctor's office can point you in the right direction. At AHN, we offer smoking cessation as a part of the lung cancer screening program. So if you qualify for screening, our nurse navigators will provide that information. To get more information about smoking cessation or to schedule a lung cancer screening test within the AHN region, including up in the Erie area, people can call 1-844-AHN-LUNG.
EL: Does quitting smoking immediately lower your risk of lung cancer?
JM: There's some debate about how immediate the benefits would be, but there's no doubt that stopping smoking will lower your risk long term. Plus, it improves your overall health and ability to breathe. Certainly from the standpoint of chronic obstructive pulmonary disease (COPD), it helps to stop smoking.
EL: If you're already a non-smoker, can you reduce your risk of lung cancer in other concrete ways?
JM: Absolutely. First, let your family doctor know if you have a history of cancer or lung cancer in your family. Second, everyone should test their home for radon. Western Pennsylvania has higher levels of radon, so it's certainly possible that you have it in your house and don't know it. That's a risk factor for lung cancer and cancer in general. If you want to test your home, radon testing kits are sold at most hardware stores.
Screening, diagnosis, treatment: Knowing what to expect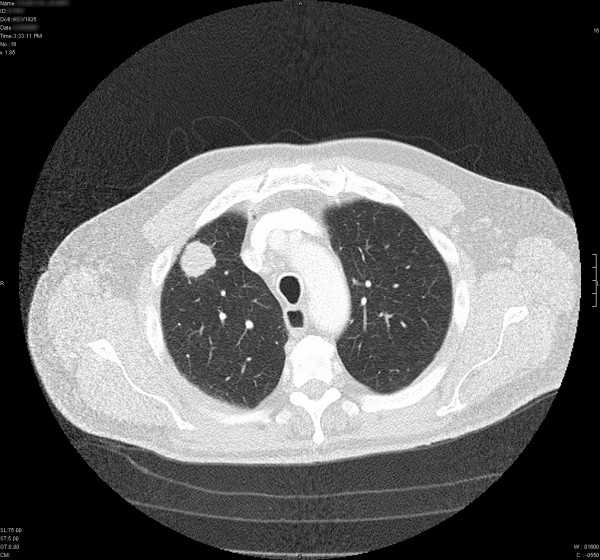 EL: What types of screening modalities are available?
JM: You would receive a low-dose computed tomography (LDCT) chest scan — it's able to pick up small cancers that are usually asymptomatic. The chest x-ray was studied as a potential option, but was never found to be effective. Several years ago, the National Lung Screening Trial compared the two and found that there was a decrease in mortality rate for patients receiving LDCT as opposed to a chest x-ray.
EL: To ease anyone's fear of the unknown, what can they expect when they come in for a screening?
JM: It's very easy. You walk in, register, go to the scanner, and get scanned. There are no IVs and no injections. It's not a painful procedure by any means. You just hold your breath for about 10 seconds and then you're done. Typically, you'll get your results within a few days. As an AHN patient, if you're registered for MyChart, you'll get the results as soon as the radiologist signs the report. If you don't have MyChart, you'll get your results in the mail or from your doctor.
EL: Has the pandemic changed anything concerning your screening efforts?
JM: We screen for active symptoms of COVID-19 before patients arrive. We make sure they haven't had recent positive test results, a fever, or feel sick. If they are asymptomatic, we encourage patients to come in for their scan whether it's at an outpatient facility or a hospital. So far, we haven't had a problem.
Screenings are available at multiple locations, and if you call that 1-844-AHN-LUNG number, a nurse navigator will help find one close to you. Normally, we also offer six or seven free weekend screening events a year, but we've suspended them this year due to COVID-19. For Lung Cancer Awareness Month (November), we usually have an event called "Shine the Light," which is sponsored by the GO2 Foundation. We invite lung cancer survivors and lung cancer specialists to speak and have a moment of silence for those who have died from lung cancer. We promote cancer screenings at those events as well. Unfortunately, we will not be having "Shine the Light" this year.
EL: Let's say a screening shows something abnormal — what happens next?
JM: If you have an abnormality, our nurse navigator or your doctor's office will reach out and let you know whether an additional test is required, or if you need to be screened more frequently — instead of every 12 months, it may need to be every six or every three months.
If we find a lung cancer, we usually move on to additional diagnostic tests and treatment. But one important question to discuss with a patient before they get screened is: If we find a cancer, are you willing to have it treated? Sometimes, people feel that because of their health status or age, they don't want to undergo treatment or surgery. In that case, lung cancer screening may not be appropriate. But if you are willing to pursue treatment — and I think that applies to most people — and you've come to an informed decision with your doctor, then it absolutely makes sense.
Any concerning findings will be presented to a group of doctors — we call it a multidisciplinary chest conference. It includes a radiologist, thoracic surgeon, pulmonologist, medical oncologist, radiation oncologist, and pathologist. Usually, the radiologist will present the exam, then all the doctors in the room have a chance to weigh in and give their opinion about potential next steps. From that discussion, we come up with a consensus recommendation about whether there should be additional testing, a biopsy, or a consultation with a specialist.
EL: What are the options for lung cancer treatment?
JM: There's surgical treatment, chemotherapy, immunotherapy, molecular therapy, and radiation therapy. If the patient is eligible, some of these therapies are very effective and have low side effects. There may also be clinical trials that patients can participate in. These aren't just trials held at AHN — they're frequently multi-institutional trials held across the country and sometimes around the world. The patients who qualify for them can really benefit. When you come into AHN, you will be screened for those trials. Of course, there's no guarantee that you'll respond, but a lot of new medicines have been tested and are showing promise.
Looking back, looking forward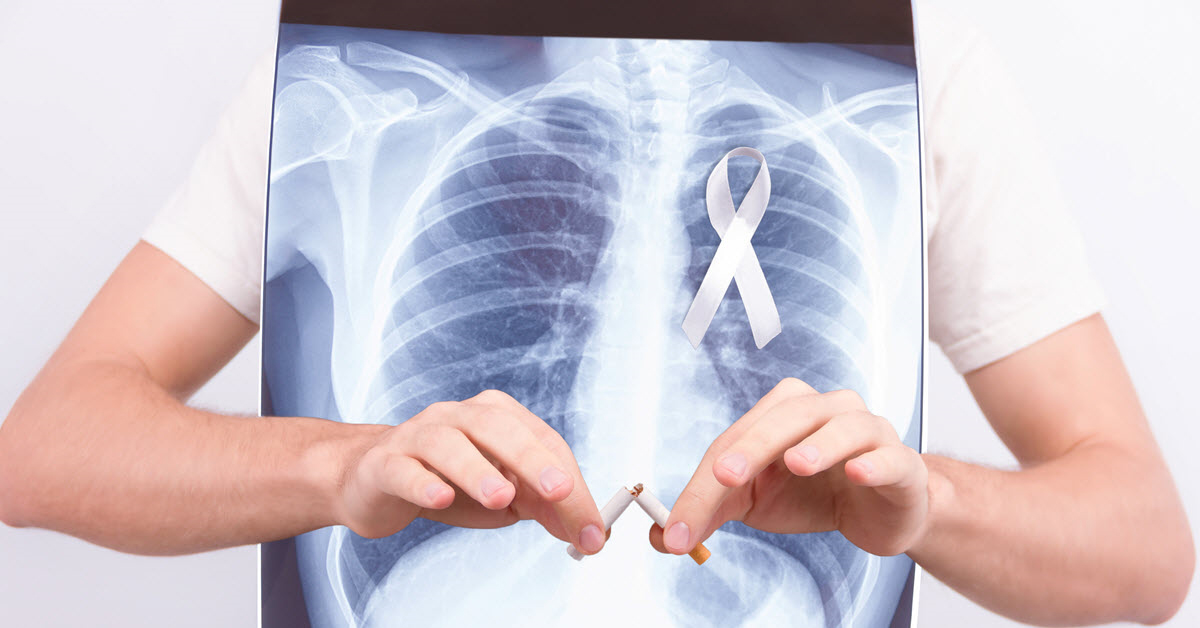 EL: How did you become interested in the work you do?
JM: When I was in medical school, I was intrigued by medical imaging. I found the ability to noninvasively diagnose disease, without ever entering the patient's body, very exciting. For instance, you come into an emergency room in a tremendous amount of discomfort, you lay on a scanner, and it gives you the diagnosis without any needles or surgery. That's amazing.
EL: How has lung cancer screening evolved over your career?
JM: Well, when I started my training in the early 2000s, lung cancer screening wasn't even an option. Now, with newer CT technology, we have the ability to pick up lung cancer at an earlier stage with lower radiation. So much has changed and improved in a relatively short time.
EL: What are you excited for in the future?
JM: I'm excited about everything AHN has supported in this area, and the other doctors, nurses, and staff who help the screening program succeed. We've also had good support from the community, including foundation support. CindyStock has a yearly independent fundraising effort where they raise money for cancer screening. Due to their support, we have a voucher program to help patients without insurance to get screenings. It really is a team effort from clinicians and staff, AHN, and the community at large, and it's just exciting to be part of helping people this way.