Cardiac Rehab Helps the Beat Go On
By: Alison Conte
Posted: March 15, 2016
Share This
Patients with heart conditions celebrate each milestone on their journey to recovery, and the cardiac rehabilitation programs at Allegheny Health Network (AHN) help to guide them through.
Cardiac rehab is recommended by the American College of Cardiology for individuals recovering after a heart attack, angioplasty/stent placement, bypass surgery, heart valve repair or replacement, heart transplant, and heart failure.
"Cardiac rehab is a pretty happy place," says Lexi Robinson, MS, CES, describing the outpatient cardiac rehab center at Jefferson Hospital. She is director of cardiology services at Jefferson Hospital, an AHN facility.
"Outpatient cardiac rehab is completely different from the inpatient experience," she explains. "Here, participants are on the road to recovery. They meet people with similar, or even the same conditions and treatment plans, so they can compare experiences. They develop a camaraderie that allows them to learn from each other."
The happiness flows from a positive outlook as participants gain strength and anticipate resuming their favorite activities. They share the same goals: to avoid another heart episode, stay out of the hospital and find a healthier future.
Support That Goes Beyond Exercise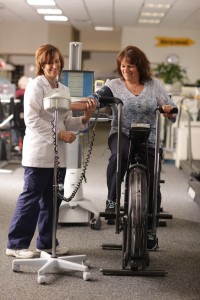 If "cardiac rehab" makes you imagine treadmills and jumping jacks, think further. Today's cardiac rehab programs provide much more, particularly at AHN's Jefferson Hospital, Forbes Hospital and the Wexford Health + Wellness Pavilion. These multidisciplinary programs feature individualized care plans, monitored exercise sessions, and nutrition and diabetes education.
The staff includes clinical exercise physiologists, registered nurses, clinical nutritionists, diabetes education specialists and behavioral health specialists. They follow the guidelines of organizations such as the American College of Cardiology and American College of Sports Medicine, as well as the American Association of Cardiovascular and Pulmonary Rehabilitation.
Healing Broken Hearts
Most patients begin cardiac rehab after a heart procedure, such as a stent placement or bypass surgery.
"We also provide preventive exercise programs for those at risk of developing heart disease, such as those with high blood pressure or cholesterol," says Robinson.
With approval from their cardiology team, patients receive an individualized exercise prescription suited to their diagnosis, age, abilities and phase of recovery.
"If you have not participated regularly in an exercise program in 20 years, you can't just go out and run. This becomes especially important if you have suffered a cardiac event. You need a calculated, supervised exercise program," says Robinson.
Cardiac nurses and trained clinical exercise physiologists — with master's level education in exercise physiology — guide the sessions. Portable EKG monitors measure each participant's heart rate and rhythm. Oxygen levels, blood pressure and weight are also tracked to make sure the activity is safe for healing hearts.
"The professional staff is here to answer their questions and soothe their worries," says Robinson. "Often a patient will tell us about their issues or struggles — such as symptoms at home, intolerance to medication or increased weight — before they have a chance to tell their doctor. Education and counseling are important tools to avoid readmission and keep our participants healthy."
From Hospital Bed to Exercise Class
Robinson says the participants range from 24 to 90 years old. New technology and awareness campaigns have increased heart disease diagnoses among women and younger people. Heart patients usually begin therapy while they are still in the hospital.
"The research shows that patients recover better when they are up and moving as soon as possible after an event,"; says Robinson. "Patients with open heart surgery may stay in the hospital for four to five days, but spending all of that time in bed is not good for their muscles, lungs or recovery."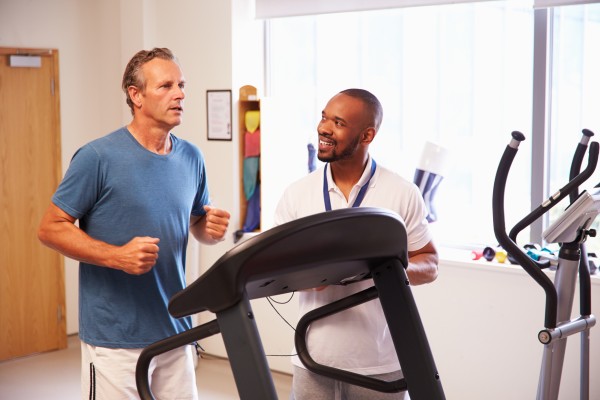 As a first step, patients receive a prescription for outpatient cardiac rehabilitation. They start the program when it is medically safe; usually three to four weeks after their hospital procedure.
"By the time they come to see us, they are generally ready to get back to their lives, moving in the direction of optimal heart health," Robinson says.
Managing Multiple Issues
The cardiac rehab sessions, which are covered by most insurance plans, are three days a week for eight to 12 weeks.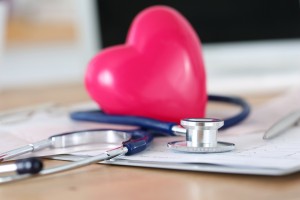 Participants also learn about heart-healthy nutrition from the clinical nutrition team, and how to change and/or modify their lives to include more physical activity. They also learn how to address other risk factors such as diabetes or obesity.
"We also work with our participants on stress management and coping mechanisms. Sometimes our participants will be referred to a behavioral health program to work through anxiety or other emotions," Robinson says.
The multi-disciplinary approach helps patients understand how they got to where they are, and how to avoid future heart attacks or blockages.
"You can't be expected to understand the changes you need to make if you do not understand your medical condition," says Robinson.
A Return to Strength and Activity
After participants complete the initial stage of cardiac rehab, they can continue exercising with the program at AHN wellness centers or follow the individual exercise program they receive at graduation.
"The same staff teaches lifestyle modification and self-sufficiency — how to continue a safe exercise program at home," says Robinson. "Our goal is for our participants to be able to return to their pre-cardiac event activities. They may be able to do more than they could previously tolerate. With their new cardiac plumbing, they may actually feel stronger, or no longer be sidelined by their symptoms. We provide guidance on how to return to normal activities, but in a safe manner. For instance, they can mow the lawn during the cool part of the day, with frequent breaks. They need a level of activity that they are comfortable with."
Heart patients should seek out a cardiac rehab program that treats the whole patient, with a high level of staff training, advises Robinson: "You will learn how to live with heart disease and reach optimal health."