Compassionate Companions: Joy and Debbie
By: Emily Laubham
Posted: April 26, 2018
Share This
At Forbes Hospital, a purple butterfly on the door of a room means that the patient inside is at the end of their life. If that patient doesn't have friends or family with them, there's a good chance that the purple butterfly also means that a Compassionate Companion is in the room.
Compassionate Companions, an Allegheny Health Network (AHN) volunteer program, is aptly named. Program volunteers provide companionship, comfort and support to patients during their final hours if, for any reason, family or friends can't be by their side. Their inspiration is summed up in a popular Mother Teresa quote: "No one should die alone….Each human should die with the sight of a loving face."
The program's creators, coordinators, and volunteers have seen first-hand that the service they provide is important to patients and loved ones. Doctors, nurses and staff also appreciate the program; if someone under their care passes away while they are tending to other patients, they are reassured to know that a Compassionate Companion was there.
To learn more about what makes this program special, I talked with volunteers Joy Montgomery and Debbie Meledandri.
My "Fred" Project: Joy Montgomery
"My family knows this as my 'Fred' Project," says Joy Montgomery, who is responsible for scheduling Compassionate Companions volunteers and facilitating communication between the hospital staff and volunteers. Her involvement goes even deeper: She was part of the team that worked to create the current program.
"It was and is still overwhelming at times," Joy says, "but I do it in honor of my brother."
As they were planning the program, which celebrates its one-year anniversary on May 15, it quickly went from a job to something more personal. Joy's brother John, who lived in Texas, became ill.
At the time, Joy was creating a kit for Compassionate Companions to use when they sit with patients. Those kits became the purple, butterfly-patterned tote bags volunteers now pick up at the start of each shift. Joy sewed the tote bags herself; inside, there's a bible, journal, and prayer book of various denominations…and something inspired by her experience with her brother.
As John's health deteriorated, Joy decided to send him a teddy bear. "He traveled the world twice over as part of his work, and he could have had almost anything he wanted," she says. "But I just thought, John needs a teddy bear right now."
Joy's niece called to say that John loved it, and that it gave him comfort when he slept. He'd named it "Fred" — their father's nickname.
Only a couple of weeks later, around Thanksgiving, John passed away. Just before Christmas, Joy received "Fred" back in the mail.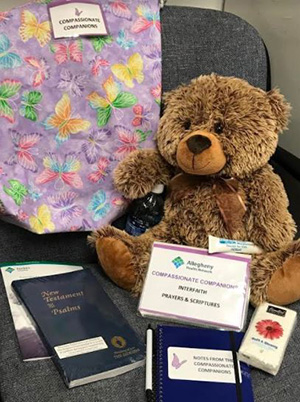 "And that," she says, reaching into a Compassionate Companions tote bag and pulling out a teddy bear, "is why we have teddy bears in these bags."
Knowing how her brother had been comforted by this small but personal gesture, she decided that Compassionate Companions volunteers would have a teddy bear to share with each person.
What makes the Compassionate Companions program possible is not only its volunteers' incredible generosity of time and spirit, but also the funding and support provided by medical staff and other donors — as Joy makes clear in continuing her teddy bear story.
To enact her plan to include a teddy bear in each Compassionate Companions bag, she went to 380 Auction and Discount Warehouse, a family-owned retail business with an ever-changing inventory. Finding a promising batch of teddy bears, she asked about pricing. When the seller learned what the teddy bears were for, he donated them instead.
Joy says the success of Compassionate Companions has inspired conversations about eventually expanding it to have "companions" sit with patients who are depressed, or with long-term patients who don't have regular visitors. But for now, she says getting more volunteers into the program can help ensure that every patient who needs one will have a Compassionate Companion. (See sidebar for ways to get involved.)
"A Gift": Debbie Meledandri
After retiring, Debbie Meledandri began doing volunteer work with her church in 2016, including visiting patients once a month at Forbes Hospital. When she saw a notice there for a new program called Compassionate Companions, she signed up for the training. What inspired her to volunteer for a program like Compassionate Companions?
"Well, I guess in the back of my mind…" she begins, and then tells the story of her mother being diagnosed with terminal cancer. Her mother lived in Maryland at the time, while Debbie lived in Minnesota, and her sister lived in Florida. Fortunately, their circumstances allowed them to travel to Maryland and be with their mother around the clock. In her final weeks, she was never alone, and Debbie, along with her sister, brother, and father, were all by the bedside when she died.
She says she realized how important that moment was — that it was "a gift" that many people don't get. Compassionate Companions is a way of honoring that gift, and sharing it with others.
Debbie speaks highly of the program's practical side as well as its purpose. Noting that you can't always predict when someone will need a Compassionate Companion, she says the program is flexible and respectful of its volunteers' schedules. Each week, she explains, you get an email asking for prior commitments, so you can select the days and times that work best. Then, if they call you in, the expectation is that you will get to Forbes in an hour to 90 minutes. Each "Companion shift" lasts three hours, and then another volunteer takes over.
"Joy and Sue and everyone involved with the program are always looking to improve it," she adds. "It's being run in a way that is so open to making things better, and any changes are implemented quickly."
In describing what it's like to volunteer, Debbie refers to a line in the Compassionate Companions handbook that says, "When you are with a patient, they are the center of the universe." She points out that you are being there for someone during one of the most important and profound experiences of any lifetime. "It's a privilege," she says.
Her own approach to "being there" stays focused on the present. "In a way you wish you knew more — what was your life like? Did you have children?" she admits. "But part of you also realizes that sometimes we categorize people with questions like that. It's boxing them in. So I just sit with them as they are right now."
Being present that way for a person who is dying is emotionally intense — and Debbie adds that the program encourages volunteers to take care of themselves physically and mentally. For example, if someone needs to step out of the room for a moment, they are told to feel comfortable doing so. She says she has never felt any negative emotion when with patients, and has found the work to be peaceful. Her experiences with patients have reinforced her feeling of not fearing death, and fortified her faith in a higher power.
Compassionate Companions are available regardless of a patient's religious orientation, and Debbie emphasizes that it's really for anyone who needs it. She explains that sometimes family members are sitting with a loved one, but they just need a little time to go home and shower, or take a nap. "We don't care what the circumstances are — if we can help, we will," she says.
She adds that it is a team effort, with nurses and staff and volunteers and loved ones all working together to make a dying patient feel comfortable and surrounded by care. She recalls one woman in particular that she sat with whose family "had made her room so beautiful. She was dressed in a nightgown, and had a hat on, and her nails were painted," Debbie says. "They covered her with a quilt from her home, and there were flowers and cards. She never opened her eyes, but I felt like they had made her last hours dignified and lovely."