Low-Dose CT Scans Show Promise in Detecting Early-Stage Lung Cancer
By: Amanda Changuris
Posted: December 12, 2014
Share This
While lung cancer isn't as common as breast or prostate cancers in the U.S., it is the most deadly. More than half of all cases are diagnosed after the cancer has metastasized — or spread beyond the lungs — dropping the average survival rate to just 3.9 percent.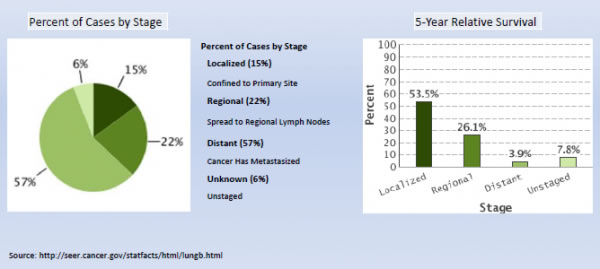 "The earlier we can find the disease, just like we do screening mammography, prostate exams and colonoscopy, the better our chances are for increasing those odds for lung cancer patients," says Dr. Rodney Landreneau, director of thoracic oncology and co-director of the Allegheny Health Network (AHN) Esophageal and Lung Institute. "Finding cancer at an earlier stage gives us a chance to cure it."
Until recently, finding lung cancer before it had a chance to spread to the lymph nodes or other organs was almost entirely based on luck. Most lung cancers don't cause any symptoms until they've spread significantly, and even those symptoms (coughing, hoarseness, shortness of breath, weakness) are far more likely to be related to another condition such as emphysema or chronic bronchitis.
Without a clear trigger to prompt patients to be tested for lung cancer, the disease often is only found when patients have a chest x-ray for another reason (such as pneumonia concerns) or as preparation for another procedure (like a hernia repair or gallbladder surgery).
CT Scans: An Effective Lung Cancer Screening Tool
But now, growing medical evidence — and acceptance of the data by the Centers for Medicare and Medicaid Services (CMS) — is supporting the use of low-dose CT scans to screen high-risk patients for signs of lung cancer.
In 2011, the results of the National Lung Screening Trial were published in the New England Journal of Medicine. The trial followed more than 50,000 people, randomly assigning each person to have three annual screenings with either low-dose CT or a standard chest x-ray.
Participants who had low-dose CT scans were 15 to 20 percent less likely to die from lung cancer when compared with those who received chest x-rays.
All of the participants in the trial were considered to be at high risk for lung cancer, meaning they had all of these risk factors:
Were 55 to 74 years old
Had a smoking history of at least 30 pack-years (one pack per day for 30 years, two packs per day for 15 years, etc.)
Were either current or former smokers
Had no signs, symptoms, or history of lung cancer
These results inspired AHN to launch a lung cancer screening program for people with similar risk profiles.
Lung Cancer Screening Shows Promising Results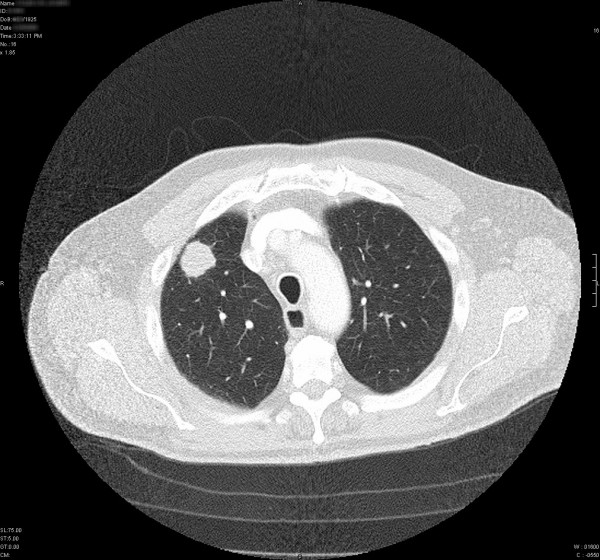 As of the date of this article, more than 175 high-risk patients have been screened through AHN's program, and five cases of lung cancer have been identified.
"The incidence of cancers being found with this screening is about 1 or 2 percent," explains Dr. Landreneau. "That may seem pretty small, but that's 20 times higher than the number of breast cancer cases found by mammography. You need to screen 1,000 or more women to identify one breast cancer. In the case of lung cancer, we're down to one in less than 50."
These annual screenings are helping to diagnose patients with lung cancer before the disease has a chance to spread. Remember the five-year survival rate of 3.9 percent faced by 57 percent of patients diagnosed after the cancer has spread? Survivorship when lung cancer is caught early and can be surgically removed is more than 90 percent.
Signing Up for a Lung CT Scan
If you're a current or former smoker at high risk for lung cancer (as outlined above), talk to your doctor about a low-dose CT screening. If your doctor agrees you're a good fit for the program, he or she will give you a prescription for the scan. In western Pennsylvania, you can also call 1-844-AHN-LUNG for more information.
If you qualify for AHN's program, you'll be contacted by an AHN Lung Cancer Nurse Navigator who will provide more details on the screening process and what to expect from the results. If any follow-up care is needed the navigator will be there to guide you, and if you're a current smoker he or she will direct you to resources to help you kick the habit.