Celebrating the Highmark QUAD Games
In northwestern Pennsylvania, a city resides on the shore of Lake Erie. Named after this Great Lake, Erie was originally a shipbuilding and railroad hub, but has transformed over the years into the fourth-largest city in Pennsylvania. Its beautiful beaches and parks offer swimming, boating, and fishing all year long.
Erie is also home to a one-of-a-kind, year-round, fitness extravaganza known as the Highmark QUAD Games. This unique, community-based program promotes a healthy lifestyle for the whole family by combining swimming, biking, running and skiing events.
This year, the Highmark QUAD Games celebrates 35 years of leading the way in helping the Erie region's families to stay fit and healthy. Highmark Inc. has sponsored the games for 20 years — and Saint Vincent Hospital, now part of Highmark Health's Allegheny Health Network (AHN), was a sponsor all the way back in 1984 and continues to be involved today.
But it all started with one man.
The Man Behind the QUAD Games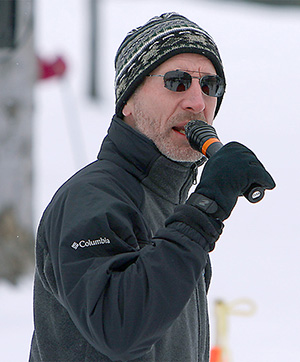 When Craig Latimer settled down with his wife and family in Erie in the 1970s, he wanted to find a way to stay fit. "At the time, there were few if any fitness clubs to join," he says. "Marathons were a big deal in the area, but there were no similar sporting events for activities like biking or swimming."
Building on his passion for cross-country skiing and cycling, he pulled together a group of friends to compete over eight months in a variety of eight events which they dubbed the Erie Octad.
The events included running, swimming, skiing, golfing, biking, and even ping pong. "Our families showed up to cheer us on and then we'd all spend time together afterwards," he says. "It was a great social event for our group."
They never advertised their events, but they began to get a lot of attention. Strangers started attending their biking events and asked to join the competition. Latimer says they gladly accepted everyone, and by the fourth year, over 150 people were participating.
As their other events also grew in size, Latimer knew something special was happening. "I was amazed at how many people were looking for a social sporting event," he says. So, in 1983, he refined the concept to focus on four events stretched out over a year's time, officially creating what is now known as the Highmark QUAD Games. An advocate for physical activity, he says he purposely scheduled the events a few months apart to encourage participants to stay physically active throughout the year.
His next step in formally launching the games was to find a sponsor. "I approached the Erie Times News and offered to write one article a week about the games in exchange for sponsorship," he explains. They agreed, becoming the first sponsor of the QUAD Games. The following year, Saint Vincent Hospital was the sponsor — and as the games grew, other organizations and companies also got involved.
In 1995, the YMCA of Greater Erie provided critical infrastructure to support the QUAD Games' continued success and expansion, and has been involved ever since. Highmark became the official title sponsor in 1997. "This year is the 20th anniversary of Highmark's partnership with the YMCA of Greater Erie and the QUAD Games," says Latimer. "I'm very grateful for Highmark's ongoing sponsorship. It's a great partnership for the program and the entire community."
Game Changers
Some QUAD Games details have changed over its 35-year history, such as a snow shoe event being added as an alternative to the skiing event. But the biggest change came a few years ago when Curt and Julie Cardman approached Latimer with an idea to expand the games to allow children to participate.
"I always thought of the games as family-friendly, and I was all for making them even more family-friendly," Latimer says. "The QUAD Kids games have been a great addition."
The Cardmans run the Highmark QUAD Kids events every year. Children ages 12 and under can participate in a noncompetitive series of shorter distances held right after the adult events. Events include a 25- or 50-yard swim, ½- or 1-mile bike ride, ½- or 1-mile run, and a ½- or 1-mile ski.
Another recent change was adding "corporate teams" as a participant category. "The games are a natural fit for companies to include as part of their employee wellness programs or just as another way to promote teambuilding and healthy lifestyle choices," Latimer says.
Although there have been requests from some participants to create longer or more challenging courses for each event, that's one change that event organizers haven't made. "We wanted the games to be open to all athletic levels and to help keep people motivated all year," Latimer explains. "So, for instance, we know the course for the biking event is not as challenging as some cycling events. But this was done on purpose to allow both experienced and novice athletes to participate. Plus, it's a scenic ride, and we want everyone to enjoy the event."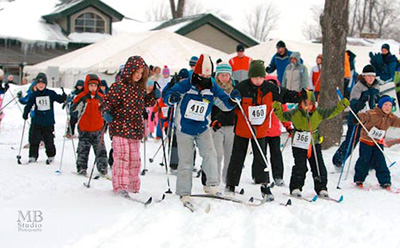 Joining the Games
The Highmark QUAD Games and Highmark QUAD Kids events are scheduled throughout the year and include swimming, biking, running and skiing. Each event is structured for participants of all ages and experience levels. If you are interested in testing your athletic skills, the competitor level offers timed results. If you are looking to maintain a healthy lifestyle, the non-competitive level is for you.
To register for the adult or children's events, visit the Highmark QUAD Games signup site. You can choose to participate in all four events or only one. Proceeds from the Highmark QUAD Games benefit the YMCA of Greater Erie.
The Games Must Go On
Craig Latimer is now retired as the Highmark QUAD Games organizer, but there's no need to worry about the games going away. Expressing his hope that the games go on for another 35 years, he explains that his daughter-in-law, Kelly Latimer, has been running and expanding the event for the past few years. New features under her leadership have included an awards banquet, and four new performance recognition categories: Fastest Swimmer in Erie County, Fastest Time Trialist in Erie County, Fastest 5-Miler in Erie County, and Fastest Skier in Erie County. Latimer notes that his son, Nathan, who is married to Kelly, helps Kelly with historical background on the QUAD Games as well as doing the "heavy lifting" at each event.
"Kelly is an elite athlete, and I'm grateful that she wanted to take the reins and expand the program," he says. He adds that he still helps out on a part-time basis — but mostly is just enjoying his retirement. "As the main organizer, I was always too busy during past events to participate. Now, I attend and participate in every one."