Strengthening Our Communities: Leg Up Farm
By: Aaron Bomba
Posted: December 6, 2019
Share This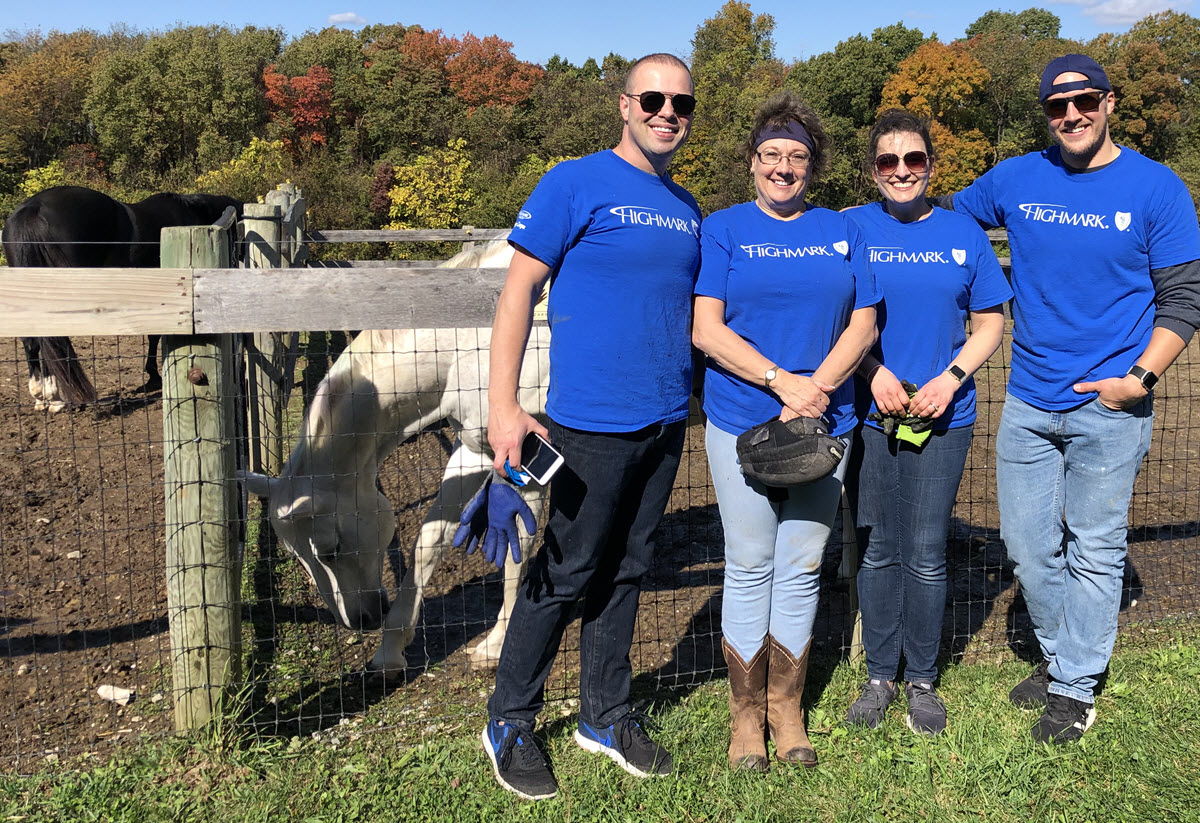 One reason Highmark Health invests so much in changing its corner of the nation's health system is that there's a lot worth changing.
If you're lucky, you don't have to experience the shortcomings in person too often. But if you have a child with special needs, for example, you must interact with different parts of the health system multiple times a week, indefinitely.
That's what inspired Louie and Laurie Castriota to rethink the special needs therapy model, and build something better — on a farm. When you think of a child with special needs, your first reaction probably isn't to put them on top of a 1,000-pound horse. Yet, this is exactly what the Castriotas have done with Leg Up Farm in York County, Pennsylvania — and it's how they're changing the health system.
"Louie and Laurie realized how spread out and fragmented services can be after their daughter Brooke was diagnosed with mitochondrial disease, which causes physical and cognitive impairment," explains Jennifer Hitz, chief development officer at Leg Up Farm. "They were running to one place for physical therapy, another place for speech therapy, and another place for occupational therapy. They learned that therapists don't often know one another, and they aren't always speaking with each other, so things were being missed and duplicated."
Their vision: create the ultimate therapy center for kids with special needs, with all the services they require under one roof. Leg Up Farm offers physical therapy, speech therapy, occupational therapy, behavioral health services, nutrition services, and therapeutic horseback riding. They have six on-site special education classrooms and also run recreational programming.
"A lot of our kids don't get to be on T-ball teams or soccer clubs," Hitz points out. "We believe that social development is important to any child's life. We want to make sure our kids have that opportunity as well."
That ties into another groundbreaking idea behind Leg Up Farm: Make the facility a place where kids want to go.
Therapy…that kids enjoy
Say you want to become healthier. You know running will help, but each time you go, you find that you hate running. What do you end up doing? You stop running.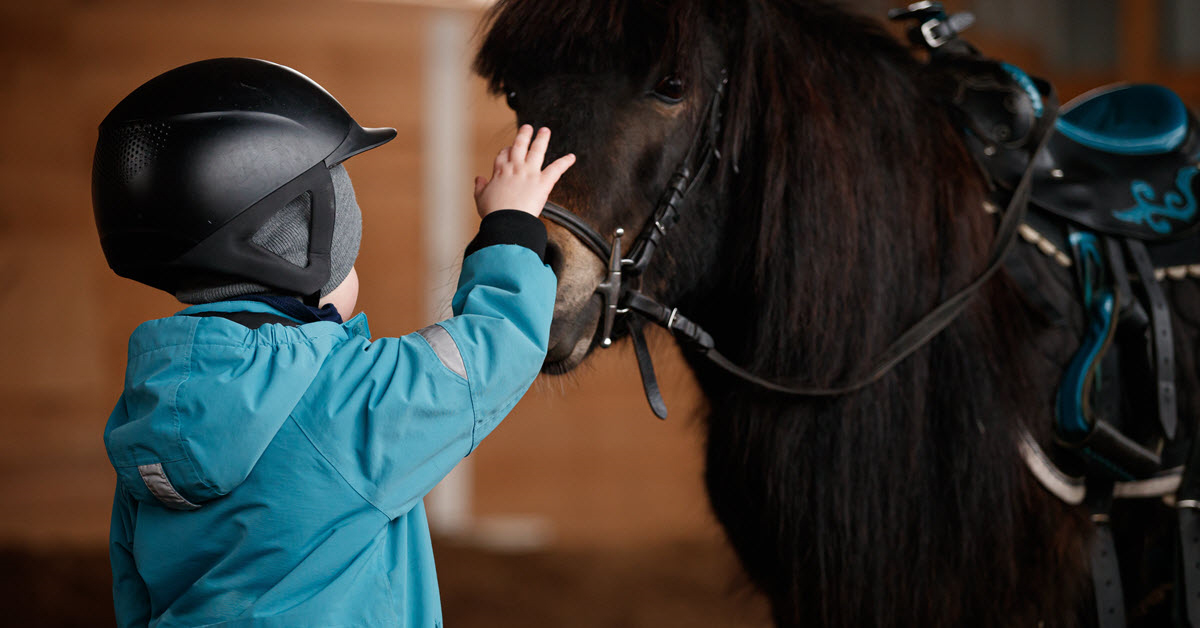 Louie and Laurie Castriota experienced something similar when they took their daughter to traditional therapy: She dreaded it.
"Leg Up Farm's entire treatment model is set up on the premise that kids come in and feel like they come to play," Hitz says. "It's tricking them into therapy in a way. If you can make the therapy something the kids enjoy, they want to do it, which makes all the difference."
She says the therapeutic horseback riding program provides some good examples of how the farm disguises therapy.
"Riding has an intense value in terms of exercise in your core muscles," she explains. "It also works groups of muscles that you don't typically utilize much in the course of a normal day. By switching up a child's position on the horse, we can help strengthen different body parts. We also incorporate care and maintenance of our horses in each session. Brushing a horse or picking up a hoof helps to develop a child's finer motor control skills. So while they're just having fun in a stall with their horse, they're actually helping to meet some of their other therapy goals."
Introducing something as surprising as a horse into a treatment plan can lead to surprising breakthroughs. Hitz recounts a favorite story about a 7-year-old boy with severe autism who had been non-verbal his whole life. During one of his riding sessions at Leg Up Farm, he started saying words. Staff ran inside and asked the mom when her son had started to speak. The mom said, what are you talking about?
"What we've learned is that sometimes there's so much going on in the brain of a child with autism that they have things inside of them they just can't get out," Hitz says. "Each horse has a different movement or gait, just like each of us has a different walk. Autistic children tend to love repetition and rhythm. So this kid became so concentrated on the gait of his horse, it's almost like things started to slow down for him and then words were able to come out that were never able to come out before."
Because they have all their services under one roof, Leg Up Farm was able to have the boy's speech therapist start co-leading sessions with his riding instructors. They could then work on transitioning the verbal activity he was experiencing during his riding sessions back to his everyday life.
Horseback riding is just one example of how Leg Up Farm is rethinking the therapy model for special needs children.
"In typical treatment centers, you may go into a physical therapy gym and there's a metal staircase with four steps and you're instructed to walk up and walk down, up and down. Imagine how boring that is for a child," Hitz says. "When we have kids that need to learn how to climb steps, they go into what looks like the Keebler™ Elves House — a giant tree you walk into. When you get inside, all the walls are covered in beautiful murals where you feel like you're in the rainforest. At the top of the steps, we have dollhouses and trains and musical instruments — whatever might intrigue a kid."
Additionally, the farm boasts an open campus, so families who have one child with special needs can bring their other children with them to enjoy the playground, music garden or therapeutic koi pond, or hike the trails located on the property.
Replacing therapeutic environments that are often sterile or depressing with nature and fun is a great example of thinking outside the box to improve health care and, as the Highmark Health mission says, "create remarkable health experiences, freeing people to be their best."
Supporting — and learning from — good work
Providing sponsorship support to an organization like Leg Up Farm is part of Highmark Inc.'s decades-long commitment to supporting its communities. Given the enterprise-wide commitment to transforming the health system, there are also inspiring lessons from Leg up Farm.
To experience the farm first-hand, engage in team-building, and pitch in as volunteers, members of Highmark's Sales Operations group in Camp Hill spent a day at Leg Up Farm, led by Bev Cleland, manager of client implementation.
Bev loved horses when she was young and recalls riding with the fearlessness that comes naturally to most twelve-year-olds. Then many years passed.
"I was terrified the first time I got on a horse after all those years," she laughs. "I was just looking to get comfortable, because I knew I wanted to take this Arizona horse riding trip and I didn't want to be afraid of the horses when I got out there."
She soon fell back in love with horses — buying her own, Aurora, who she rides several times a week.
"When you're a kid you have no fear, you have muscles and everything works properly, but now it's retraining my body and retraining my mind not to be afraid of things like the speed of the horse," she says. "It's a mental game with the horse. They really are intuitive animals — your body movement and the tension that you hold in your body filters down through that saddle and through the pads and that horse feels it. That's how they know what to do."
That intuitiveness is one reason she thought Leg Up Farm's use of horses for children with special needs made perfect sense.
"I think it's a fabulous idea. Horses can be very affectionate. Putting a child with a disability on a horse has got to help with their confidence, it gives them joy, and they experience their ability to interact with an animal," she says.
She adds that she has also seen this at the stables where her horse is kept. "There's a girl who comes to our barn that has some emotional disabilities, and the difference in her when she gets on a horse is amazing," she says. "Beforehand, she might be really agitated, but when she gets on the horse she's all smiles and relaxed and calm. It just has that kind of effect on you."
Bev says the Sales Operations event at Leg Up Farm was a big success — both as team-building and as a way to give back to the community.
"I think it's important to participate in community service projects, and Highmark in general is a firm believer in supporting the community," she says. "It's not required, but this is what Highmark does."