Igniting Innovation at AlphaLab Health
By: Catherine Clements and Austin Price
Posted: May 19, 2022
Share This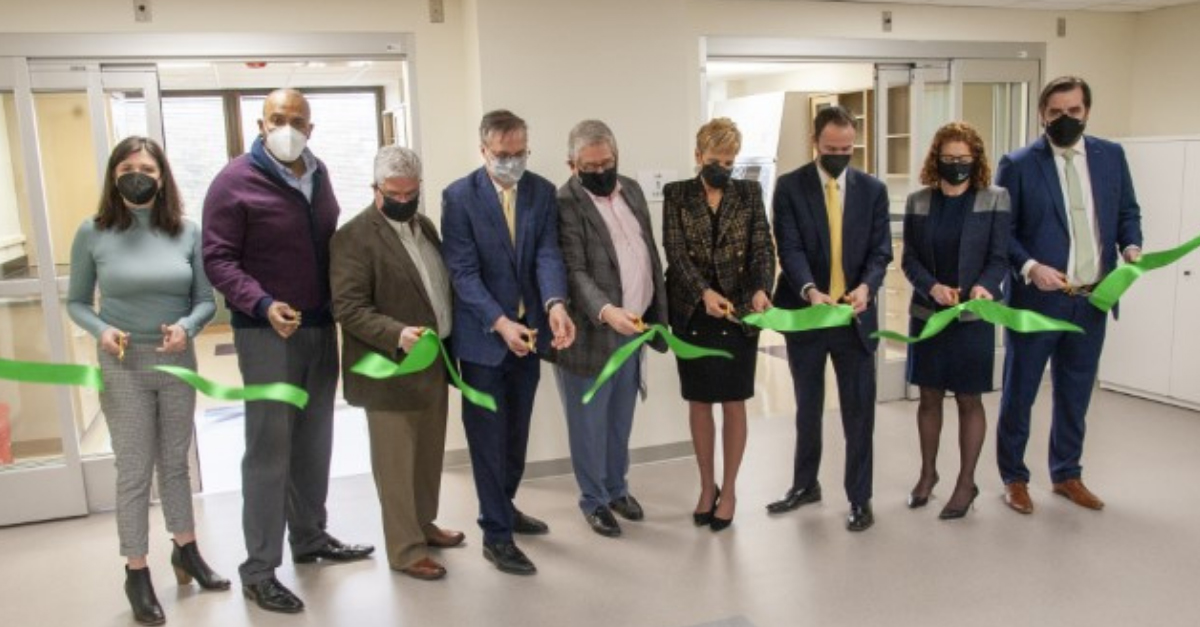 In February 2022, Allegheny Health Network (AHN) and Innovation Works unveiled a state-of-the-art research facility to support startup accelerator, AlphaLab Health. This innovation hub, which kicked off in 2020, supports health care and life science startups with clinical resources, early-stage funding and mentorship opportunities from industry experts. The collaboration is also supported by Pittsburgh-area universities, corporations, and foundations. Based at the former Allegheny General Hospital (AGH) Suburban Campus in Bellevue, AlphLab Health's new home is a 10,000-square-foot open-concept space fully equipped with wet and dry labs.
A new model for health care innovation
"While AHN has long been a leader in clinical research and innovation, AlphaLab Health is a transformative partnership that takes our commitment to an entirely new level and further elevates the Pittsburgh region's profile as a wellspring of pioneering, game-changing ideas and solutions in health care," said Jeff Cohen, MD, AHN's Chief Physician Executive for Community Health and Innovation in a press release.
Dr. Jeff Cohen: In 2010, Suburban General ended inpatient care after decades of economic struggle related to the steel industry's decline. Experts predict as many as 1,000 hospitals and medical facilities across America will shut their doors over the next 10 years. Closing a central community pillar like a hospital has wide reaching impact. Access to health care becomes more difficult especially for the marginalized in our midst. Good paying jobs disappear.
Well, what if hospitals like Suburban General could serve as the foundation for systems level change to improve community health and economic opportunity? What if we could not only develop new technologies, but also study social determinants of health, the other side of disruption, to find out what makes the biggest positive impact on healthcare cost quality. Individuals in America's healthiest communities live 14 to 15 years longer on average, than their counterparts in underserved neighborhoods. That is a profound statement of inequity.
Our social goal at Suburban is to design interventions aimed at food security, economic security, housing and behavioral health and to find ways to curb costs and improve outcomes for all. The new AlphaLab Health hub will include wet dry labs, offices, shared conference area and kitchen, training space in the community located 10 minutes from downtown Pittsburgh.
We're repurposing a near empty hospital into an asset which will improve the economy and thus the health of the surrounding community. We believe this will be yet another model of innovation, hope and inspiration that Pittsburgh can export to the rest of the United States. We invite you all to join with us as champions and co-creators with AlphaLab Health and also with our larger effort at Suburban to reimage and revitalize legacy healthcare infrastructure to improve community health and opportunity.
AlphaLab Health is in a unique position to advance health innovation, leveraging expertise from AHN, as well as insights from Innovation Works, one of the most active seed-stage investors in the country.
Six startups aim to transform health
The second cohort of AlphaLab Health entrepreneurs is focusing on solutions in a variety of verticals, including diagnostics, therapeutics, health care IT, medical devices, and packaging. We asked them to tell us briefly about the purpose and progress of their innovations.
Dr. Melinda Lee I knew that there has to be a better way. And I truly feel that my team and I are the best people to solve this problem. The plastic that's used to make orange prescription pill bottles less than 3% of this is actually recycled. Parcel Health is a sustainable medication packaging company really focused on replacing the more than 8 billion orange plastic pill bottles used in the United States annually. I wanted to make sure that when we design this fully recyclable and compostable boxes, it's not going to be the paper straw version of plastic straw. We wanted to make sure that whatever we made was actually better than the orange plastic pill bottles. We've also really designed it with the patients in mind. So making sure that it's easier to open and that it's also easier for patients to read just what's on the label.
Megan Shaw: AlphaLab Health takes companies that have spun out of universities or other areas, and really helps them get that true business traction and move to the next stage of growth.
Dr. Jeff Cohen: We already have two cohorts of them seeded. They're bright people. They're solving problems. They're integrated within the healthcare system. We're doing what we really wanted, and what we hoped for the very beginning.
Dr. Brad Mahon: Core abilities like the ability to walk and talk and see and remember are supported by different regions of the brain. And there are incredible tools available now to map the human brain. So MindTrace is doing is it's bringing those tools to the point of care to help clinical teams better support neurosurgical interventions to take out brain tumors and to treat epilepsy. We spun MindTrace out of my research lab at Carnegie Mellon University. We recognize that there is a need for neurosurgical teams to be able to generate predictions of how their patients will do six months after surgery before the surgical intervention.
Dr. Tamar Krishnamurti: We have a flagship product. It's called the MyHealthyPregnancy app. And the app helps identify and intervene on pregnancy risks that can have short and long term impacts on a mother's health and a baby's health and their well being. MyHealthyPregnancy is currently designed to be available when it's prescribed to pregnant people by their doctor or their midwife. So we combine machine learning algorithms which can do more kind of granular individualized risk prediction with behavioral science and more culturally sensitive approach to identifying informational and resource needs of our target audience.
Satya Venneti: There are more than 500 million patients with chronic lung disease. And today they're not able to manage their lung health because they have no way of detecting and tracking their lung status outside of a doctor's office. Telling.AI is a digital health company. We modernized respiratory wellness just like when in home glucose monitoring completely revolutionized diabetes care.
So by recording your voice and breath for less than two minutes on your smartphone, Telling.AI can detect and track changes in their lung status for a patient it's completely revolutionary. Now just as I know my temperature and as I know my pulse rate. I also know my lung function.
Josh Israel: I used to smoke in high school and while I was able to quit, it did help shape how this product will be built because I do understand that not everybody is the same as far as quitting is concerned. The problem with the products that are currently on the market today is essentially they're changing the behavior of a smoker and a lot of substance addiction is physiological and psychological. So when you're giving someone gum or a patch that's delivered orally or transdermally. You're not delivering nicotine rapidly when it's compared to combustible cigarette smoking. So we're not only you know solving for that physiological issue but we are exactly the same experience: the oral fixation, the smoke inhalation, you're getting exactly a one to one experience as you would if you were to pick up the cigarette.
Michael Bond: There's all sorts of reasons that people might run into in their lives from a stroke to Parkinson's that makes them unable to speak in a normal manner or keep up in conversation. Spoken, we give people realistic voices and good next word predictions that help them speak in the real world. It's been five years from idea to now we're in people's hands helping people every day. In the past year, we've doubled our users, doubled again and then doubled again. And we'd like to keep doing that. And the way we've been able to do that is by finding more and more use cases where we can help.
Megan Shaw: So the more exits and acquisitions we have the more pool of capital there is to go back into early stage companies. And the more talented people there are to continue to grow new companies. So the successes that we've seen recently will catalyze the next generation of companies here in Pittsburgh.
Telling.ai
Telling.ai answers the question "how are your lungs doing" by giving users a detailed lung performance report by simply speaking into a smartphone. The company's vision is to turn every smartphone in the world into a powerful remote respiratory monitoring device through a simple app to help improve wellness and prevent unneeded hospitalizations and ED visits. The advanced machine learning algorithms behind the company's novel approach were spun out of research at Carnegie Mellon University.
"We are the only company in the world that provides patients and providers with easy-to-use voice-tests that measure gold standard lung functions metrics through our unique AI/ML audio processing infrastructure," shares Satya Venneti, co-founder and chief technology officer.
The year ahead is a big one for Telling.ai. The team is aiming to launch a direct-to-consumer app for monitoring lung fitness, collaborating with a health care provider on a pilot program, and developing a white label app with a value-based care provider. Telling.ai wants to use their technology for pre-screening patients for respiratory diseases, like COPD, and is collaborating with a pharmaceutical company to bring this to market.
"The pandemic has really kicked off virtual health and remote monitoring and we feel we are well positioned to leverage this new approach to health care," says Venneti.
MindTrace
MindTrace is developing technology that allows neurosurgeons to remove brain tumors and seizure-generating tissue, while ensuring each patient leaves the hospital the same person they were when they arrived, preserving personality and skills.
"AlphaLab Health helped de-risk key aspects of our business plan so that we could take this surgical planning technology from the bench to bedside at scale," says Max Sims, MBA, co-founder and CEO. "The introductions to clinicians, business administrators, and members of Pittsburgh's life science investor community successfully prepared us for the next round of funding and navigating the regulatory process."
Since coming out of AlphaLab Health, MindTrace has met with the FDA, received independent institutional review board approval, solidified fundraising plans, and identified four neurosurgical departments to pilot early versions of the software platform.
Naima Health
Naima Health is an interdisciplinary team developing the MyHealthyPregnancy (MHP) app, which uses decision science, machine learning, and maternal-fetal health expertise to help pregnant women minimize their risk of adverse outcomes — including preterm birth. The foundational research that fuels Naima Health was spun out of work done at Carnegie Mellon University and the University of Pittsburgh.
There are significant disparities in adverse pregnancy outcomes among populations that have been historically denied equitable access to resources and high-quality health care, requiring that any tool addressing pregnancy risks is mindful of the needs of moms of color. MHP has worked closely with moms of color to help inform the conceptualization, design, and interventions available through the tool.
"MHP has rolled out to over 7,000 patients with great results: intervention for high-risk, untreated conditions identified through the app, significantly higher engagement among patients with historical risk factors, and greater behavioral health referrals for patients reporting their depression risk in the app," says Tamar Krishnamurti, PhD, Founder. "Through enhanced risk identification, predictive screening, better communication and custom resources contextually served, Naima Health is positioned to be a market leader in predictive screening. With more data and commercial partners, Naima Health plans to expand to other health conditions and advance from predictive screening to predictive diagnostics."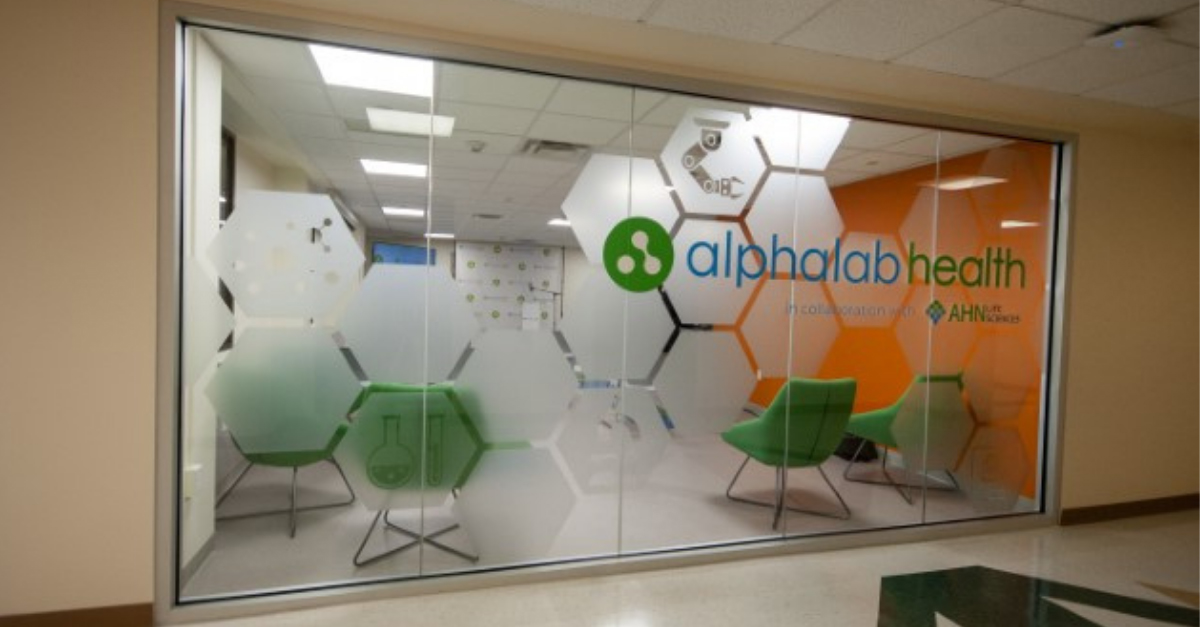 Parcel Health
Parcel Health creates innovative and sustainable medication packaging. More than four billion plastic prescription bottles are used annually in the U.S., most ending up in landfills. Parcel Health provides eco-friendly medication packaging that is designed to be child-resistant and elderly-friendly, all while improving pharmacy workflows and reducing medication errors. Parcel Health began putting their prescription packaging alternative to the test in a nationwide pilot with 10 independent pharmacies.
"One of the biggest takeaways from the AlphaLab Health program was the soft skills we gained. From negotiation techniques to managing manufacturer relations, Parcel Health has become a stronger and more holistic company from the leadership skills gained in this program," says Melinda Lee, PharmD.
Spoken
Spoken helps people with aphasia or other language disorders speak again by predicting likely words and phrases. The company has taken the same type of machine learning algorithms that power a phone's autocomplete function and applied them to much bigger data, giving suggestions that fit the context and improve with time. It's a radically different approach to treating disabilities that aims to serve a growing global market.
According to founder and CEO, Michael Bond, Spoken grew 10x in 2021. Each week, the app helps over a thousand people with aphasia, nonverbal autism, and other language disorders speak again.
"We're looking to continue to grow those numbers, by better reaching potential customers in the U.S. and expanding to underserved markets and languages globally," shares Bond.
Hale Therapeutics
Hale Therapeutics is on a mission to end one of the leading causes of preventable death: smoking. Through a consumer-facing device, they've combined smoking cessation science with an elegant full-stack solution to wean people off of nicotine. Hale's connected medical vaporizer automatically and gradually reduces nicotine intake over time, helping people quit smoking better than current nicotine replacement therapies.
"The upcoming milestones for our company include raising our seed funding round and conducting the necessary preclinical tests and clinical trials. This safety and efficacy data will be used to seek approval in the U.K. and an investigational new drug submission in the U.S.," says Josh Israel, co-founder and CEO.