Our Nation's Health Care System: A Conversation With Sarah Marché
By: Don Bertschman
Posted: October 25, 2015
Share This
There is plenty to debate on the topic of specialty drugs, and pharmacy drugs in general. The Health Care Forum Series, co-sponsored by the Post-Gazette and Highmark Inc., was designed to encourage such debate by bringing together experts from diverse backgrounds to discuss key health care issues facing our nation. The free forums enabled the public to join the conversation by attending and asking questions. To extend the conversation, health care experts participating in the series, as well as Highmark Health leaders, are generously sharing additional thoughts around forum topics here on the Highmark Health blog.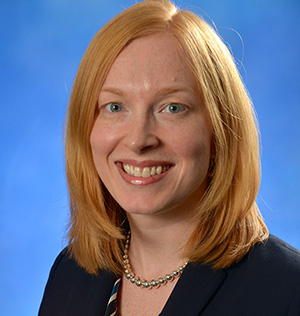 Sarah Marché is vice president of pharmacy services at Highmark Inc. In this position, she oversees pharmacy sales and sales support; the operations that ensure a good experience when customers go to a pharmacy or order prescriptions online; and pharmacy product design. Her team is also involved in formulary decisions, as well as utilization management, which involves making sure that drugs are used by the right people in the right ways. She was kind enough to offer an internal perspective on the issues being discussed as part of the Health Care Forum Series events on specialty drugs.
Don Bertschman (DB): From your perspective, what makes specialty drugs such a hot topic right now?
Sarah Marché (SM): Specialty drug utilization and costs are increasing at a rapid rate and are contributing to the higher pharmacy cost trends we are seeing in the industry overall and also at Highmark.
Taking a step back and looking at the larger picture, Highmark covers about 2.5 million individuals with pharmacy benefits, and our drug claim costs are between $3 billion and $3.5 billion a year. Specialty drugs are less than 1 percent of our claims when it comes to volume, but they make up about 20 percent of total pharmacy costs. Specialty drugs cost $1,000 to $2,000 per month on the low end, up to treatments that cost $10,000, $20,000 and even higher per month.
Now, specialty drugs are also allowing patients to live longer lives with conditions that historically had no treatment option. The hepatitis C drugs even offer a cure — so that's very positive. At the same time, that's a $100,000 treatment.
So that explains the spotlight on this issue, and why pharmacy teams like ours — which includes both medical and financial professionals — are trying to find ways to better control those costs.
DB: You said that specialty drug use is increasing — what conditions are treated with specialty drugs?
SM: Specialty drugs are used to treat chronic inflammatory conditions such as rheumatoid arthritis, psoriasis and Crohn's disease. Multiple sclerosis, hepatitis C and many types of cancer diagnoses also involve specialty drug treatments.
Until recently, specialty drugs were used for diseases that were not prevalent. However, two specialty drugs were just approved for the treatment of high cholesterol. So, specialty drug use is expanding to treat more common diseases.
That said, if you compare increased specialty drug utilization against price inflation, it's mostly inflation that's driving up costs. Historically, we saw "normal" price increases under 10 percent a year for drugs. Now we are seeing price increases up to 25 percent per year — and manufacturers are also pushing the limit of what they can get as a launch price when a new drug goes on the market. There's a kind of upward spiral: Other drug companies say, hey, if the market can bear that, and people will pay that, then we should raise our prices, too.
DB: It seems like we have five stakeholder groups here: patients, providers, insurers, pharmaceutical companies and regulators. As an insurer, what is Highmark able to do to make a positive impact so that people can get the benefits of specialty drugs without the costs becoming unsustainable?
SM: First, Highmark has a rigorous process to review new drugs — clinically and financially. That includes determining what will appear in our formulary — which is the list of drugs covered by a health plan's benefits. It also includes our utilization management policies, which are the clinically based rules for appropriate diagnosis and dosage, accompanying therapies — really everything that can be done to make sure that a drug is used with the right people and conditions, and used in ways that ensure good outcomes.
So long as something is used appropriately, and we know that with a given diagnosis a treatment is proven to get results, our job is to pay for it. We just want to make sure that what we pay for is effective and is used appropriately — because, if we don't manage these costs, health insurance and health care get less and less affordable for everyone.
Second, we negotiate pricing on a drug-by-drug basis for specialty drugs. With 2.5 million pharmacy plan members and almost 5 million health plan members, Highmark has the leverage to negotiate aggressive pricing. At the same time, we're trying to find common ground with drug manufacturers as we negotiate price. We want to change the conversation to ask how we can partner rather than just arguing short-term for the best price. We don't want to have a manufacturer giving us a better price but then "squeezing the balloon" somewhere else. We're looking for ways to collectively solve for cost and pricing challenges instead of just squeezing the balloon.
Finally, our government affairs area works to make the case for some kind of price controls. There's been progress on requiring more transparency from drug manufacturers, which tells us what goes into a price — but we need something to help lower prices in a way that's fair for all sides.
DB: I like that idea of changing the conversation. In Highmark's role as insurer, it seems like we have opportunities to change the conversation with each of the other stakeholders. How do we change the conversation with individual patients?
SM: One prime example is raising awareness about the difference in price between drugs, like some specialty drugs, that are infused in a hospital setting versus drugs infused in a home setting or doctor's office. It can cost two or three times more in the hospital setting without providing additional clinical value, but patients don't always know that getting a treatment outside the hospital is even an option.
We're implementing a program where we'll proactively reach out to members who are going to get an infused drug that has non-hospital options, and say, "Did you know you can get this in your home? You have nursing care coverage, drug coverage, and you can stay in the comfort of your home, not be exposed to potential infections in the hospital, and potentially even save money." As long as the patient is OK with it, and the provider is OK with it, and it's the same quality of care, let's get you into the most cost-effective setting.
It all ties together — we're trying to change the drug manufacturers' mindset to help us educate patients, and in some cases providers as well, about lower-cost treatment settings. We don't want to steer patients away from a drug that's effective, we just want to get them in a setting that helps keep the costs manageable.
DB: Does the connection between Highmark health plans and Allegheny Health Network (AHN) providers make it easier to have these conversations with providers? Does that create more of a shared sense of responsibility?
SM: That's certainly a goal of Highmark Health — to think about how to leverage being an integrated health care network and change the conversations with our own providers. There's a lot of work going on to better integrate with AHN and make sure we're making the best decisions as an enterprise, and that's an ongoing opportunity for the future.
DB: Let's go back to the issue of what drugs get covered. On Highmark's social channels, we sometimes deal with people who are angry about a specific drug not being covered. Could you give us a little insight on the process that determines whether something is covered?
SM: When Highmark reviews a drug, we are looking at the FDA-approved indication for that drug. We review the clinical studies conducted by the manufacturer to receive FDA approval as well as other therapeutic alternatives already approved and available for coverage. We also ensure that we are following nationally accepted clinical guidelines for a given disease.
Highmark, like many pharmacy benefit managers and health plans, has a Pharmacy and Therapeutic (P&T) committee made up of practicing physicians and pharmacists in our network. All policies for coverage of a drug must be approved by this committee.
After reviewing the information for a drug, our P&T committee makes a recommendation. It might be, "Yes, cover this drug for this group of people." Or they might say, "This is a 'me-too drug'" — which means although it's new on the market, it doesn't offer clinical benefits beyond what already exists — so it becomes a question of whether it makes sense financially to cover the drug. We might put out a competitive bid with the drug companies to get the best possible price among similar drugs, for example. Or the P&T recommendation may be, "No, don't cover this." Even if we get the best price in the world, we're not going to add a drug to our formulary if it's not recommended by the committee — our doctors and pharmacists.
DB: Like many people, before I started working in this industry, I didn't really understand how involved doctors are in driving these decisions about what should be covered.
SM: They are. In terms of a drug being covered, it's also worth adding that sometimes it's not that Highmark hasn't approved the use of a drug, it's that a specific plan or benefit package doesn't cover it. For example, some benefit packages don't cover fertility drugs or erectile dysfunction drugs or contraceptives. It's not that Highmark disagrees with those drugs, philosophically or clinically, but there are benefits packages that don't include them.
So that's a conversation that sometimes has to happen with an employer or individual member, just clarifying that there are different levels of coverage available. When you're standing there in the pharmacy, it's understandable to blame the insurer, but in some cases you just need to choose a different plan (or your employer would need to offer a different plan) to get that broader coverage.