Our Nation's Health Care System: Prescription Drug Benefits and Costs
By: Kara Malitsky
Posted: October 10, 2015
Share This
Another version of this article appeared as a guest editorial on PennLive.com and other media websites in Pennsylvania.
Prescription drugs help many people combat disease and live longer, healthier lives. In fact, the Centers for Disease Control and Prevention (CDC) estimates that nearly half of all Americans have taken at least one prescription drug in the last 30 days.
What's more, the CDC reports that 75 percent of physician visits in the U.S. involve drug therapy, and that 2.6 billion drugs are prescribed by physicians annually.
While there are certainly many benefits to prescription drugs, it's important to understand that the costs of many of these drugs — particularly specialty drugs — are a key factor in rising health care costs for individuals as well as for employers that provide health plan coverage.
Statistics on Medication Costs
October is recognized as Talk About Your Medicines Month, so let's discuss some of the facts about prescription and specialty drug costs.
Recent data compiled by America's Health Insurance Plans (AHIP), a national trade association representing the health insurance industry, and Express Scripts, a national pharmacy benefits manager (including for Highmark Inc. companies), shines some light on how much more expensive prescription and specialty drug costs are becoming.
U.S. prescription drug spending increased by 13 percent in 2014, driven largely by a 31 percent increase in spending on specialty drugs.
32 percent of U.S. prescription drug spending was for specialty drugs in 2014, though they accounted for just 1 percent of prescriptions written.
In 2014, more than 500,000 Americans had annual medication costs higher than $50,000, with the most expensive specialty drugs costing up to $750,000 per year.
The AHIP and Express Scripts data further shows that U.S. prescription drug spending totaled more than $263 billion — or approximately 9.4 percent of the total expenditure on health care — in 2012 alone.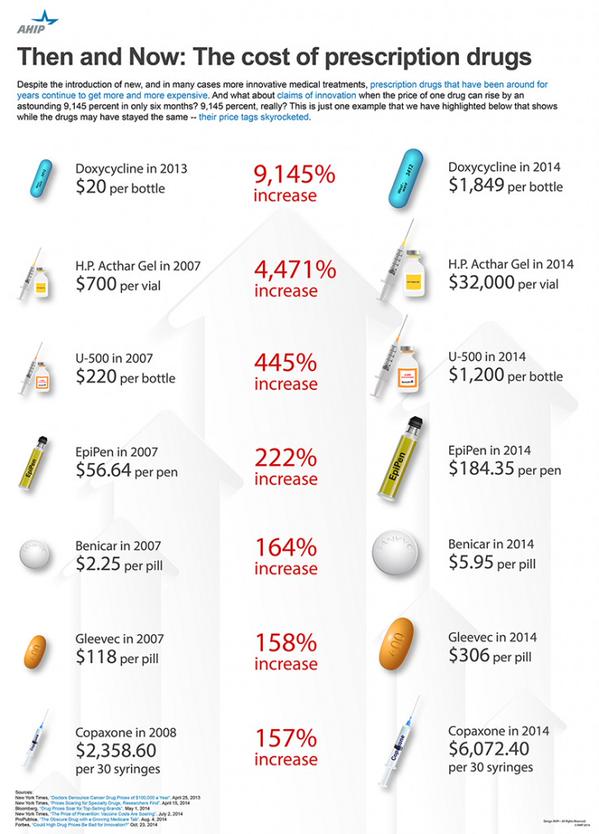 What Are Specialty Drugs, and Why Are They So Expensive?
Specialty drugs are used to treat complex and/or chronic conditions such as cancer, cystic fibrosis, hemophilia, multiple sclerosis or psoriasis.
For example, you may have seen advertisements or news reports about the drugs Humira for treating inflammatory conditions such as rheumatoid arthritis or Crohn's disease, and Harvoni for treating hepatitis C.
Many of these drugs are showing great results in treating complex, chronic conditions and allowing patients to live fuller, longer lives. But what can be done about the cost?
Drug companies have come under fire for the high costs associated with their products, but generally argue that their prices are set by each medication's value to patients. Sloan Kettering's DrugAbacus online tool seeks to demystify the process by rating a drug based on six qualities:
Effectiveness
Toxicity (frequency and severity of side effects)
Novelty
Cost of development
Rarity of the disease or condition
Population burden of the disease being treated
For example, Provenge (sipuleucel-T), which is used in the treatment of prostate cancer, costs about $77,500 per month. According to DrugAbacus, it's value is closer to $27,000 per month. For a typical course of treatment spanning six weeks, that's a $75,750 difference of opinion.
Even generic drugs aren't immune these days. A recent survey of more than 21,000 generic drugs conducted for Bloomberg News found that 3,500 have doubled in price — or more — since late 2007.
Keeping Treatment Options on the Table
Health insurance companies recognize that the high cost of some prescription and specialty drugs can limit treatment options for patients and increase overall health care costs. Insurers across the country have developed programs to help improve accessibility to medications and better manage costs.
Many insurers also work with employer clients to offer access to lower-cost generic drugs to their employees, when appropriate. Some also offer case- and disease-management programs to help chronically ill workers stay on track with self-management.
At Highmark, we use a team of clinical professionals — including pharmacists, doctors and nurses — to conduct ongoing reviews of specialty drug use to be sure our members have coverage for the medications they need. This review also allows us to check in and make sure the specialty drug treatment is working effectively and is helping the member to get better.
These prescription drug management programs are also designed to keep our members safe. By making sure each member is getting the right medication, in the right amount, at the right time, and in the right place, we can help reduce the risk of prescription drug misuse and abuse.
With all of the news reports and television ads encouraging you to "ask your doctor about [drug name]," understanding how prescription and specialty drugs work — and how much they cost — can be difficult. That's why it's important this October to "Talk About Your Medicines" with your doctor and your health insurer to make sure you're getting the most out of your prescription drug benefits — and your health.