Reimagining the Future of Nursing
By: Emily Kostelnik
Posted: September 11, 2023
Share This
Steve Shoup, RN, BSN, has been working at Allegheny Health Network's Allegheny General Hospital for over ten years in the orthopedics trauma unit. During his usual 7:00 a.m. to 7:30 p.m. shift, he spends most of his morning organizing patient reports, planning his shift, and prepping medications and therapy referrals to discharge patients efficiently. Steve calls this period "the morning rush" and emphasizes the critical need of time management skills — or else the workload can become overwhelming.
"I see patients briefly in the morning to ensure they're ready for discharge," Shoup says, "but I'm not able to prioritize direct patient care as much as I'd like to."
According to the 2023 Survey of Registered Nurses, 94% of respondents stated that there is a severe or moderate shortage of nurses in their area. Four out of five nurses say they experience a great deal of stress.
While the ongoing nursing shortage remains a nationwide crisis, Allegheny Health Network (AHN) kicked off a strategic effort, known as Reimagine Nursing, to retain nurses and attract others to the organization.
To help innovate and transform nursing at AHN, leadership brought in Highmark Health's Enterprise Effectiveness team to observe nurses' current workload and collaborate with them to make strategic adjustments that enable nurses to work at the top of their license. The team identified opportunities to break through the barriers preventing nurses from prioritizing direct patient care, while enabling teams to experience joy at work.
The result: launching western Pennsylvania's very first Digital Nursing Program.
Reimagining nursing at AHN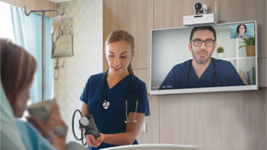 Highmark Health's mission to create a remarkable health experience is supported by actions to transform the way work is done, known internally as thinkUP. The Enterprise Effectiveness team used thinkUP methods to study what activities take up nurses' time on a shift and leveraged that data to construct a program that would ultimately change the way nurses work.
The team conducted 1,150+ hours of observations across various units at Allegheny General Hospital, Jefferson Hospital, Saint Vincent Hospital, and West Penn Hospital to gain a data-driven understanding of nurses' work. They approached the observations with a single question — how can we help?
They found that nurses spend more than half their shift (55%) on administrative or indirect care activities — not directly interacting with patients (45%).
"As we were reviewing the data from our observations, we asked ourselves, how can we reimagine this job so that nurses spend more of their time doing the things that drove them to want to be a nurse in the first place?" explains Vanessa Leong, vice president of Highmark Health, Enterprise Effectiveness Strategy and Delivery.
The best way to answer that question was to include nurses in the design process. The thinkUP team and several AHN nurses spent the next week using a Google Ventures process, called The Design Sprint, to map, prototype, and test solutions. After discussing each observation and recognizing where barriers to direct patient care are prevalent, the combined group came up with the breakthrough idea that led to the Digital Nursing Program.
Discharging patients was identified to be one of the most timely and tedious tasks in a nurse's day, so the team chose to allow virtual nurses to take on that duty.
"We're not replacing the bedside nurses, we're augmenting with other resources," Leong says. "We need on-site nurses to be accessible and focus on the parts of the patient experience that require an in-person human. The administrative tasks that can be offloaded to a virtual nurse will allow our bedside nurses to properly do that."
Shaping the program alongside bedside nurses
Christine Rafkin, RN, BSN, CMSRN: My name is Christine Rafkin. I work at West Penn Hospital. I'm one of the staff nurses.
Logan Martin, RN: My name is Logan. I'm a registered nurse at Jefferson Hospital in labor and delivery. The biggest challenges in nursing right now are the very obvious staffing issues. I think a lot of nurses are upset that their role has shifted from managing care and actually doing their job and more into being a supportive role.
Christine Rafkin: The project that you're doing in regards to trying to delineate or to give tasks and duties to other nurses or other staff is extremely important.
Logan Martin: The challenges in nursing, make everyone's job a lot more difficult because the hospitals aren't able to run without nurses.
Christine Rafkin: I think it's very important to try and help the RNs to relieve some of the stress that they're actually currently feeling because there is a shortage right now in the nursing field.
Logan Martin: The reimagined nursing project has approached this whole situation in the correct way I think by involving actual nurses in the process. Being a part of this project, I learned what a five-day sprint is. And I learned how much really goes into changing something in the hospitals. It's very different from what we normally do as nurses. It's been very interesting to be behind the scenes and kind of see the big picture of everything that goes on off the units and out of the hospitals.
Christine Rafkin: We find out what our big goals are, is patient centered care, so we need to find out what is important to that patient, what their goals are, their social determinants of health, what their values and things like that, how they see their care going, and it also helps the patient to be involved and it helps them to know that that care is going to continue smoothly from one portion of the interdisciplinary team to the other, so all members are on the same page. One aspect of this project that I hope is not overlooked in my job is the communication. Unfortunately, a lot of times communication is spotty, and its physicians and the nursing staff. So I'd like to see that get better. I really would because that in turn, helps prevent errors and helps promote you know, quality evidence-based care. It really does.
Logan Martin: The outcome of the reimagine nursing process, if it's able to be implemented, will change the entire culture of nursing and how nurses and physicians interact with each other and really elevates the nurses role, allows her to practice at the top of her license, and really puts her in the position of being the quarterback and actual manager of the care.
Christine Rafkin: I am looking forward to not being burnt out as much. I am looking forward to the fact that we can have hopefully a team, an interdisciplinary team that actually works like a well-oiled unit that will actually made care go faster and increase the quality of care and improve the patient experience.
Logan Martin: Knowing that other employees are aware of the issues in nursing and actively trying to fix it. It gives me hope that nursing will change in the future, especially at AHN hospitals.
Christine Rafkin: I think they're headed in the right direction. Absolutely. I am proud of them. They're thinking their staff and the quality of care they give their patients so absolutely. We're on the right track.
Logan Martin: I think there are a lot of things that have to happen first and have to change before what we've been doing can be implemented. But if this is the end goal, if we can actually get to what we've been working on, I think that would change everything for nurses.
Empowering nurses at the bedside and digitally
Virtual nurses started serving patients in January of 2023 at Allegheny General Hospital, taking on discharges through virtual communications technologies that allow patients to speak with them on a face-to-face call. Initial results have been promising: Bedside nurses gained back over 20 minutes daily, which if applied to all discharges at AGH, could equate to 35 hours saved every day. That's 35 more hours for patients to speak to and interact with their nurse.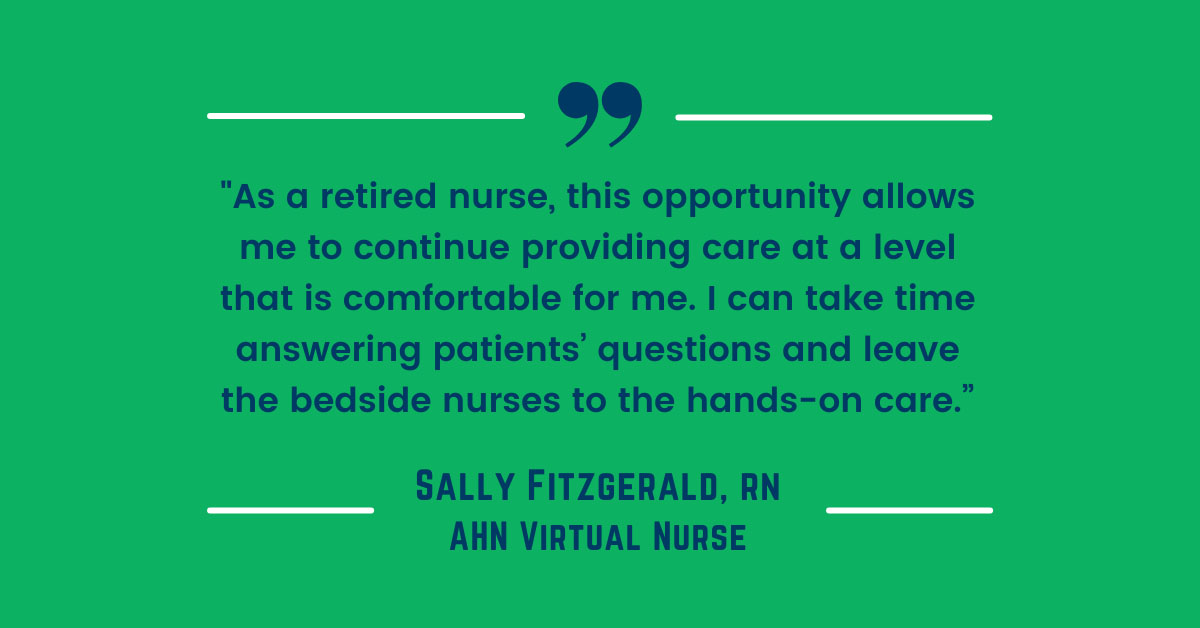 "I was thrilled to hear about this program, and I think it will open up other avenues to providing quality care to our patients," says Sally Fitzgerald, RN, one of AHN's first virtual nurses. "As a retired nurse with many years of experience, this opportunity allows me to continue providing care at a level that is comfortable for me. I can take time answering patients' questions and leave the bedside nurses to the hands-on care."
When the telecommunications technologies are fully deployed, the AHN virtual nursing team will include about 60 nurses, who will be onboarded in person but transition to work from home. Technologies in patient rooms will include a smartTV, a smart pad, and a mounted camera.
"In health care, you need to be proactive instead of reactive," says Steve Shoup, RN, BSN. "This program will take some of the load off of us bedside nurses and give us the chance to spend more time focusing on that human element of care that our patients need."
This program is just one of many plans within the Reimagine Nursing initiative to set new workplace and flexibility standards for the industry and make AHN a destination for nursing careers.
"We continue to push on the gas and accelerate our efforts to power our people," says Ashis Barad, MD, AHN's Chief Digital Information Officer. "We want every task our nurses perform to be something that brings joy and value to both our nurses and patients. We are exploring adding digital capabilities to allow our nurses to not be on computers, but rather where they want to be: with their patients and families to care for the whole person."