Social Determinants of Health: An Integrated Enterprise Strategy
By: Catherine Clements
Posted: August 18, 2021
Share This
The World Health Organization began talking about social determinants of health in the early 2000s as part of its work to develop a deeper understanding of global health disparities. In recent years, addressing those determinants has become a priority across a broad array of public, private and community-based organizations in the U.S.
Nebeyou Abebe, Highmark Health's senior vice president, Social Determinants of Health, says this trend is entwined with other aspects of the country's health care transformation. For example, in response to national health care spend hovering near 20% of GDP annually, there has been a shift toward value-based reimbursement models that reward better health and outcomes instead of volume of billable procedures. That has helped to shift the emphasis from how to treat illness to how to address the root causes that impact health in the first place.
When you look for those root causes, it turns out that many are social, not medical or hereditary. I sat down with Abebe to learn more about Highmark Health's strategic approach to identifying and addressing social determinants of health.
An enterprise-wide approach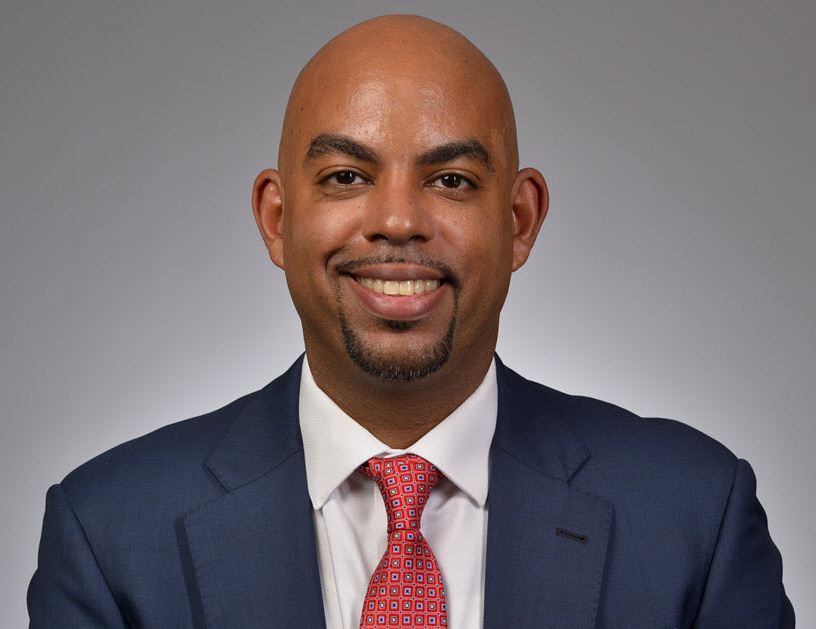 Catherine Clements: Subsidiaries and affiliates within Highmark Health have a variety of programs addressing social determinants of health, but tell us about the work of the enterprise team you lead.
Nebeyou Abebe: Highmark Health's team has built the foundational components of an enterprise social determinants of health strategy. The first piece of that was developing a universal social determinants of health assessment that allows us to collect data on patients and members who have social needs. The second component was partnering with Aunt Bertha, who powers our community support platform. Once the social needs are identified, we can now connect patients and members to the right local care and resources to address those needs.
Strengthening relationships with community-based organizations and social service organizations across our footprint is another key pillar of our strategy. Thousands of nonprofits and social care providers serve their communities, but for most people, navigating the system to get help has been difficult, time consuming, and frustrating. Our role is to help facilitate these connections for the people we serve and support the work these organizations are already doing. We're also looking to develop local, state, and national public and private partnerships to help advance the reach of our social determinants of health programming.
It's through these collaborations that we help close the loop for better overall health and well-being by expanding access. Take our collaboration with the R.K. Mellon Foundation for example. Through their $5 million grant, we're going to work with community-based organizations to stand up a high-performing social care network in western Pennsylvania. Participating community-based organizations will receive incentives for addressing the social needs of referred patients and "closing the loop" by reporting data back on the outcomes of the referral. We are going to learn a lot from this experience.
Food first
Catherine Clements: On a national scale, can you share a few examples of social determinants programs that have been successful?
Nebeyou Abebe: There is a growing body of evidence that nutrition interventions that harness the power of "food is medicine" can be impactful. These programs have demonstrated impact in terms of improving health outcomes and reducing costs for individuals with chronic conditions and social needs. An organization that really stands out to me is MANNA, a nonprofit out of Philadelphia that combines the healing power of therapeutic meals with personalized nutrition education to improve their clients' health and increase the quality and stability of their lives. Their efforts yielded 30% shorter hospital stays, 20% increased likelihood of discharge, and a 50% reduction in hospital visits. Patients were then able to recover at home which yielded a 28% cost savings. So, clearly, that's demonstrating that social determinants of health interventions can provide a strong return on investment.
A second example is the California Food Is Medicine Coalition, a leading association of medically tailored meal providers for low-income Californians that provides nutrition services for vulnerable populations. This initiative has yielded similar results as MANNA.
Building on that, there is a growing number of integrated care pilots that address medical, behavioral and social health needs for individuals with complex health and social needs. Advancing Integrated Models (AIM), which is a Center for Health Care Strategies initiative made possible through support from the Robert Wood Johnson Foundation, is a great example. Through this project, eight organizations are designing and piloting new strategies for integrating innovative, "next generation" approaches to person-centered care for individuals with complex health and social needs. These next-generation, holistically integrated models will provide important blueprints for respectful and equitable partnerships with patients and communities.
Catherine Clements: Social determinants of health include a broad range of areas, including access to food, transportation and housing to name a few. What are the priority areas for the Highmark Health program?
Nebeyou Abebe: To start, we're focusing on addressing food, transportation, and social isolation. Within that, currently food is our biggest focus, as it's an opportunity to take both a preventive and chronic disease management approach. For example, eating the right types of foods is an opportunity to help people better manage chronic conditions — or avoid them altogether.
Within the food domain, we aim to address insecurity, food access, and "food as medicine." Food insecurity is the state of being without reliable access to a sufficient quantity of affordable, nutritious food. Due to the effects of the coronavirus pandemic, more than 42 million people may experience food insecurity, including a potential 13 million children, according to Feeding America. Food access looks at bridging the gaps for individuals who live in food deserts or food swamps, improving their access to fruits, vegetables and healthy proteins. Lastly, food as medicine refers more broadly to ensuring that we're educating those various groups on how to live a healthy lifestyle through eating the right types of foods, along with other important lifestyle choices like exercising and avoiding smoking.
Overall, determining return on investment from social determinants of health programming is more of a long-term proposition, but when you look at the results of programs like the California Food Is Medicine Coalition and MANNA, they've seen health improvement and cost reductions even within six to 12 months, so that's one reason to focus on food right out of the gate.
Catherine Clements: Can you share an example of one of our food programs in action?
Nebeyou Abebe: One of the most impactful food programs we've launched to date is the Healthy Food Centers. Each Healthy Food Center acts as a "food pharmacy" where patients who lack access to food can receive nutritious food items, education on disease-specific diets, and additional resources for other social challenges they may face. There are currently five centers across our provider system. Since the start of this program, we've seen measurable success — including a two-point drop in hemoglobin A1c for people with diabetes, and improvements in lipid profiles, weight loss, blood pressure and health care utilization.
Colleen Ereditario, manager of the Healthy Food Center and a registered dietitian, provides personal insights on how the program works
Written question: How do patients get access to the Food Center?
Colleen Ereditario: Allegheny Health Network's primary care physicians are asking two screening questions upon a patient's visit. The screening questions are related to food insecurity and whether the patient runs out of food at the end of the month or not.
Written question: What's a typical shopping experience?
Colleen Ereditario: Once they have a referral, they'll come to the Health Food Center, which is a drop-in service. They're able to get two to three days' worth of food based on their household size. I will shop with them — kind of like a healthy grocery store — based on their medical needs, whether they have diabetes, cardiac disease, or high blood pressure. I'll be able to pick out the appropriate foods for their needs. Patients are also offered nutritional resources, such as how to shop on a budget, how to cook healthy, and they're also offered healthy recipes.
Written question: What kind of food is available?
Colleen Ereditario: We stock the Healthy Food Center with fresh fruits and vegetables, whole grains, lean meats and low-fat dairy products.
Written question: What does the Healthy Food Center mean to you?
Colleen Ereditario: Being a dietitian in the Healthy Food Center, and being able to provide patients and their family members with healthy, nutritious foods is very rewarding. Being able to help them bridge the meal gap and also help them improve their health through nutrition is really great.
Integrating social determinants of health across the organization
Catherine Clements: What about Highmark Health's program makes you think it can overcome challenges and succeed in using social determinants of health to improve health and care?
Nebeyou Abebe: Highmark Health is relatively unique in having a dedicated social determinants of health team that engages with all key stakeholders — so it's not just a payer or provider, it's everyone within our blended health approach. This enables us to demonstrate the impact of social determinants of health better and truly integrate efforts throughout the business and across an individual's health experience.
We're in the process of creating a culture at Highmark Health where everyone gets what we mean by social determinants of health and understands their respective roles and responsibilities to ensure that these needs are top of mind in supporting members and patients. One way that we're tackling this is through trainings and development to help staff know when and how social determinants of health programming may be implemented.
Nebeyou Abebe discusses social determinants of health in an episode of the Hitting a Higher Mark podcast series
NOTE to Highmark Health employees: This video is embedded through YouTube. If your work device does not have access to the site, you may need to use your home computer or mobile device to view it.
Both here and nationally, another critical step is to ensure that social determinants are integrated as part of value-based reimbursement models. Innovative payment and economic models that consider social risk will be important to advancing social determinants of health.
That brings me to one final point, which is the importance of measurement. To build an evidence-based social determinants of health program, we have to not only continue to innovate but also demonstrate both short-term and long-term impacts. Coming back to what I said about engaging with all key stakeholders, we work closely with our actuaries, our customer value teams, the data and analytics team, and others to identify the right measures for social determinants of health programming.
Catherine Clements: How important are social determinants of health within the Living Health model?
Nebeyou Abebe: If we think about Living Health as a vision of revolutionizing the way we deliver health care while improving health outcomes and reducing costs, it's hard to achieve that vision without addressing social determinants in a serious way. We know that up to 80% of an individual's health and well-being is impacted by social determinants of health, so having behavioral and social health be part of the model is important. Our team is actively working with the Living Health team to co-design solutions around this. To start, we anticipate launching a food insecurity pilot program that will drive health improvements for patients with diabetes, hypertension and congestive heart failure.
That's just one example — it's important for us to take a holistic view with developing solutions that meet the needs of all the people we serve across all lines of business.
Catherine Clements: How do you see broader trends like virtual care, wearable devices, predictive and prescriptive analytics, and other technological supports influencing the future of this work?
Nebeyou Abebe: Virtual care and digital health tools can really allow us to expand access to care, particularly for those with the greatest need. These tools also enable us to tap into predictive and prescriptive analytics to help identify and manage social determinants needs in a more proactive way, so we can help someone before they're visiting an emergency room or having a chronic condition get worse.
Data plays a big role in informing our social determinants of health strategy and enabling us to design tailored, person-centered solutions. This data originates from our universal social determinants of health assessment, the CDC's social vulnerability index, information from community-based organizations, and other sources. We take all those insights and develop creative ways to engage the people we serve, particularly those who are hard to reach, and connect them to the right interventions, either clinical or nonclinical, to address their needs.
"to ensure that future generations have a better quality of life"
Catherine Clements: What advice do you have for other leaders who are starting or enhancing a social determinants of health program?
Nebeyou Abebe: Social determinants of health programs are about putting together the right strategy to ensure that future generations have a better quality of life and won't be dealing with the kinds of health problems that persist today. We need to focus on upstream factors that impact downstream health, put a greater focus on prevention and wellness, and make the right strategic community-level investments.
It's also imperative to note that no single entity can do it alone. Successful social determinants of health initiatives require thoughtful coordination with community-based organizations, social service organizations, and the business and philanthropic communities as well.
I'd also say start small and measure the impact, then sustain and scale the effective programs. Remember, many of these programs will take time to prove return on investment, so take a long view and get the right measures in place to assess and showcase impact.