Veteran Voices: Walter Rosado
By: Chris Mueller
Posted: April 11, 2019
Share This
Walter Rosado still vividly remembers the five-mile trek he made to a U.S. military recruiting station on a cold day in 1997 when he should have been in school.
Rosado, now a lead consultant for HM Health Solutions' Organizational Change Management team, credits that day as an early step in his ongoing journey through a life of service and fulfillment.
His path has not been a simple one, but it has given him plenty of insights and experiences to share.
First Steps in the Journey to a Better Life
In 1997, the 13-year-old Rosado didn't have much to be happy about. He came from a family of hard workers, but money was tight. His parents separated, and his mother was raising him by herself while also managing her disability. His upbringing didn't afford him the same opportunities as most of the kids in his school district.
"I was so mad," Rosado says. "There were a lot of things happening in my life that I didn't quite understand. I was doing poorly in academics, in part because I couldn't see. Eyeglasses were expensive, my vision kept changing, and my family had to make hard decisions about what we had to spend. I was frustrated. I looked at the military as a way out."
So, Rosado left school one day unannounced and walked five miles to the nearest military recruiting station. He didn't meet the age requirement for enlistees, and the surprised recruiter had no choice but to drive him home. But the recruiter left the teenager a glimmer of hope by telling him they'd be in touch.
A week later, Rosado received a letter from a U.S. Navy captain thanking him for his interest and emphasizing the importance of education — the more educated he was, the better he'd serve and the farther he'd go.

"That was the single thing that inspired me to go through high school and go to college," Rosado explains.
As a high school sophomore, he got additional motivation to transform his aspirations into reality — on the morning of September 11, 2001.
The terrorist attacks inspired Rosado and a close high school friend to make an enlistment pact, each vowing to join the military and serve overseas. His friend enlisted immediately after high school, but Rosado's path to the military was delayed.
"I had made a promise to my mother and my grandmother that I would be the first person in our family to go to college," he says.
He enrolled at Thiel College as a history and secondary education major. His college experience provided everything he could ask for — a good education, strong friendships, and lasting memories outside of the classroom. He was on his way to a career in teaching, when he received crippling news during his senior year: the high school friend he'd made the enlistment pact with had been killed in action while serving in Iraq.
"I knew at that moment that it was time to keep my promise and go into the military," Rosado says.
Operation Iraqi Freedom
Rosado enlisted in the U.S. Army in 2007. His initial desire was to be among those fighting on the front lines. However, his diagnosed colorblindness prevented him from serving in a combat position. Instead, he took an option to become a human resources specialist, which included attending Field Artillery Basic Combat training.
Deployed to Iraq in 2009 as part of Operation Iraqi Freedom, Rosado headed his regiment's postal department as an HR specialist in infantry units. His job was to oversee the mail operations process, ensuring that all mail — care packages, letters, official government documents — reached the desired destination. This often required transportation via convoys of Stryker eight-wheeled armored vehicles, and brought its share of life-threatening situations.
"The most dangerous aspect of the global war on terror is the travel on the road, because of improvised explosive devices," Rosado explains. "We were traveling pretty often to three different places in Iraq within 10 miles of each other, and a few areas were intense during my time there. Sadr City, when you went into that town, you knew that it was not friendly to you. The streets would clear, people would disappear. For you as a soldier, that's always a red flag because you know that it might be because there's a roadside bomb."
Continuing the Journey
Rosado left active duty in 2010 after his mother was diagnosed with terminal cancer. Returning to his education, he earned a master's degree in Leadership and Business Ethics at Duquesne University. He then took a benefits administrator position with Carnegie Mellon University (CMU) — an opportunity that allowed him to receive tuition assistance as he worked toward a Ph.D. degree in Instructional Management and Leadership from Robert Morris University.
In all, he spent five years working as part of the CMU Shared Services Center, where, among other things, he was involved in the request for proposals, selection, and implementation of Workday, a cloud-based human capital management solution. That experience was a bonus when he joined the HM Health Solutions (HMHS) Organizational Change Management team in 2016. It turned out that Highmark Health, the parent company for HMHS, was implementing Workday for much of the enterprise.
In his current position, Rosado serves as a delivery lead for the HMHS Enterprise Health Solution, which combines cutting-edge technology and superior health care knowledge to help health insurers throughout the U.S.
Rosado is also an active member of Highmark Health's V.E.T.S. business resource group, which he says does important work in breaking stereotypes and finding ways to tap into some of the special qualities that veterans bring to the workplace.
"People often have this pre-determination about what a veteran is and should be — a haircut, clean shave, being on time, it's all very stereotypical," he says. "In truth, the military is the most diverse organization that exists in the U.S. today. You have people from every gender, race, creed, political affiliation and sexual orientation all serving together."
He points out that a crucial component of the deployment experience is trust. "When you're deployed, you're together 24/7, every day — you're not going anywhere without the people around you because there's danger everywhere. You're sleeping next to them, fighting with them, eating with them, laughing with them — they become family and begin to know things that maybe even your significant other doesn't know. It forms an intense type of love and trust. If there was a way to simulate that trust and put it into a corporate environment, it would change the way the entire world does business."
Without Fear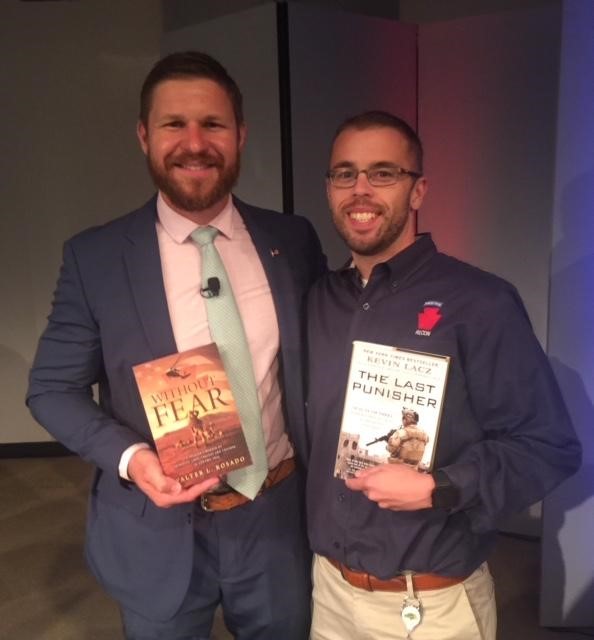 While on active duty in Iraq, Rosado kept a daily journal. In 2017, he used this material to publish a book titled Without Fear that paints a more comprehensive picture of a military deployment, including the role of military support staff.
"We are conditioned to respect the warriors, which is the correct thing to do, but I think there's a misunderstanding about what a deployment is actually like," he says. "Even if you are one of the elite Special Operations Forces soldiers — which I was not — the time spent on actual combat operations is less than most people think. And for every guy who's there to kick down doors and do the actual fighting, there's a team of about 30 people doing support work. That's what motivated me to write the book — I thought it was important for people to understand what the run-of-the-mill support soldiers do, and how many non-combat soldiers are needed to support combat efforts."
All proceeds of Without Fear are donated to support veteran charities. As Rosado says, "I realized I didn't own the book any more than the guys who were fighting next to me." It has sold internationally and caught the attention of former Navy SEAL and New York Times best-selling author Kevin Lacz, who promoted it on his social media. In a happy coincidence, Lacz came to Highmark Health in 2018 for a presentation on transformational leadership and mental toughness in teamwork.
New Ways to Serve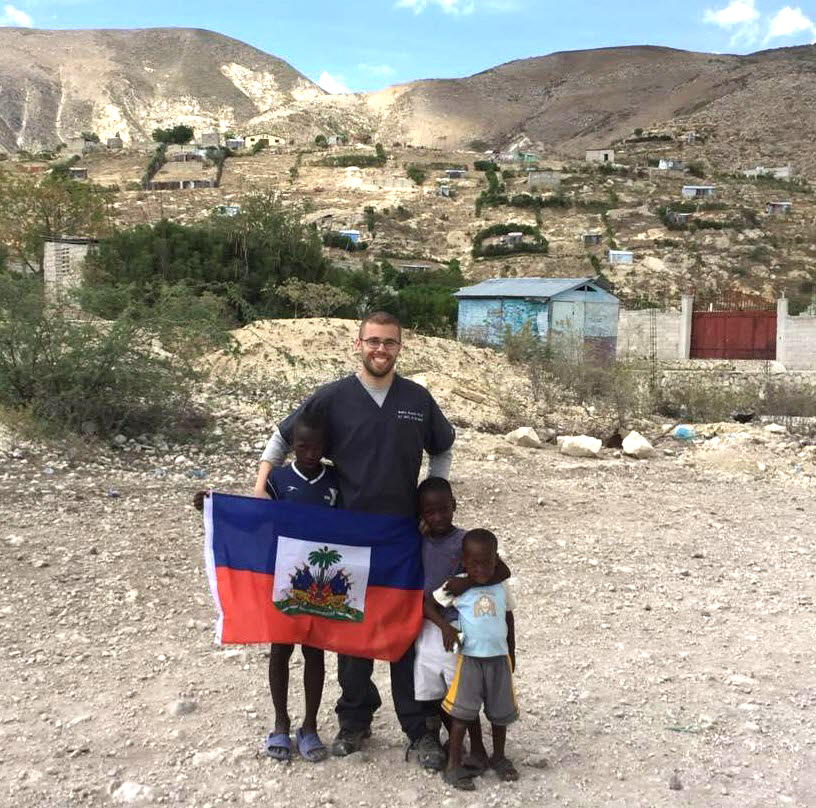 The principles of service and giving back are fundamental to Rosado's DNA, so it's no surprise to learn that he continues finding new ways to help others. In June 2018, he traveled to Haiti as part of a missionary team helping in the ongoing efforts to rebuild parts of the country devastated by earthquake. His group helped construct buildings able to withstand all forms of weather, distributed medications, and visited orphanages. He describes the trip as life-changing and has been working on a book about the experience.
"Haiti was what I'd call a war-zone without the war," he says. "Even this many years after that terrible earthquake, there are still tent cities and extreme poverty. It's statistically the poorest country in the western hemisphere, statistically the highest number of people with terminal AIDS outside of Africa. It's an extremely sad place — but at the same time, there are some of the most beautiful people in the world. They've got such strong faith, and they're legitimately working to make their circumstances better."