Beyond the Bottom Line: Communities Need More than Metrics Against COVID-19
By: Saurabh Tripathi
Posted: September 3, 2020
Share This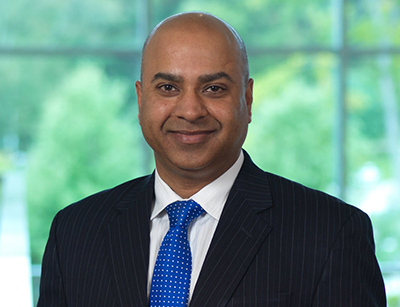 The COVID-19 pandemic takes a terrible toll every single day, both in lives lost to the disease and in widespread disruptions to our economy, jobs, schools, and ways of living. But the overwhelming amount of pandemic information can also have a numbing effect — some people start to see "just more metrics" instead of that human impact.
That's not the case at Highmark Health, a national blended health organization working on multiple fronts of the pandemic. Living up to our core values and mission means going beyond metrics to create real solutions to the unprecedented challenges faced by the people we serve. It means taking care of our wonderful workforce as they take care of our customers and communities — every single day.
It also means leveraging our financial strength to aid our communities. When we released our financial results for the first half of 2020, we highlighted several factors helping us weather the storm of COVID-19, including a responsible cost management strategy, a strong balance sheet inherited from our 2019 performance, and the value of our blended health structure. Now, I want to focus on how that ongoing strength is allowing us to provide unparalleled support to our communities against the pandemic.
Enterprise-wide commitment and investment in communities
Our blended health organization brings together affiliates and subsidiaries across key areas of the overall health system, including health care providers, health and dental insurance, health information technology, and solutions to protect employers and health care entities from risks related to catastrophic health care costs. One thing they all have in common is a legacy of strong community involvement — going back more than 75 years on the insurance side, and more than a century for some of our hospitals.
Every part of our organization has stepped up during COVID-19. Altogether, we have spent about $260 million in response to the pandemic to date, with plans to invest up to $450 million by end of year. On their own, those may be "just big numbers," but a few examples can help show how the organization's financial strength has been used to make a real difference.
I'll start with the phenomenal expansion of telehealth capacity. As my colleague Gary Dick explained in another article, the enterprise IT organization "started by doubling our capabilities for telemedicine, then we doubled it again and again." Within a short period, one platform used by our health provider system went from handling roughly 20 visits a day with a handful of specialists to handling more than 3,700 visits a day across a broad range of specialties. Just as important as expanding access to telemedicine, the health insurance business invested to make it more affordable by expanding telemedicine coverage during the pandemic.
Telemedicine coverage is just one of many ways the health insurance business has helped its members and communities. Another example is waiving cost-sharing, such as deductibles, coinsurance and copays, for members who require in-network, inpatient hospital care for COVID-19. In response to the financial challenges providers have faced due to decreased visits, the health plans advanced incentive payments to providers in its True Performance reimbursement program. There have also been numerous community grants, an innovative initiative to support local businesses and member health by creating and distributing a million face coverings, and much more.
Looking at our dental organization, I would highlight $25 million spent to help pay for personal protective equipment (PPE) for both dentists and dental schools.
Last but not least, the organization's health provider network has of course made tremendous investments to enhance capacity, expand testing accessibility, adapt facilities and implement new protocols to ensure patient safety and well-being during this pandemic. In recognition for their dedication to patients under unusually stressful conditions, Highmark Health also distributed $5 million to frontline hospital staff through a Heroes Appreciation Program.
These are just a few examples of how our organization has invested in helping communities battle the pandemic, but they all start with having the strong financial foundation that allowed us to take action without hesitation. Needless to say, there was no "playbook" for how to deal with this crisis — medically, economically, socially or organizationally. Our organization — from leadership to the frontline workers — embraced the challenge of creating the playbook and protecting our customers and communities. That's a testimony to our culture. But having the resources to do what we've done is also a testimony to all the work that put our organization in a strong, stable financial position.
Confidence in our "three Rs"
The pandemic is not over by any means. There is much speculation about additional surges, how long it will take to have an effective vaccine, and other issues related to the disease itself. Likewise, there is much debate around the economic turmoil due to this crisis — will we see a "V-shaped" recovery or a "W-shaped" recovery?
I do not feel much certainty around any of these speculations. However, I do have great confidence in the "three Rs" that our CEO, David Holmberg, has emphasized during employee gatherings throughout the pandemic: Resilience, Relentless focus, and a Remarkable health experience.
Every day, I see people throughout the organization living those three Rs. They show extraordinary resilience in bouncing back again and again from each new challenge the pandemic brings, and they have remained relentless in focusing on delivering a remarkable health experience to members and patients during the most difficult of times.
I can also say with all certainty that Highmark Health is built for this moment. From our purpose-driven culture to our strong financial foundation, we are built to serve our communities remarkably well in a time of crisis and to have the resilience to come out stronger on the other side.