Clinical Transformation: Meet Dr. Tony Farah
By: Don Bertschman
Posted: June 3, 2019
Share This
In 2017, Highmark Health formally launched its Clinical Transformation Office (CTO) — a team that collaborates with Allegheny Health Network (AHN), Highmark's health plan business and clinical partners, and other Highmark Health businesses and functions, to drive a patient-centered, value-based revolution across the entire health experience.
Many leaders would understandably pull back from an assignment that bold. In this case, the man asked to lead CTO had already outlined his vision.
Now Highmark Health's executive vice president, chief medical and clinical transformation officer, Tony Farah, MD is also a nationally respected cardiologist. His clinical work, research, training and mentoring alone qualify him as someone who has profoundly improved his corner of health care. But he's gone beyond that by taking on increasingly far-reaching clinician-leader roles. Deeply involved in forming what is now AHN, his work as AHN's chief medical officer (CMO) earned him a place on Becker's Hospital Review "CMOs to Know" lists. In 2019, Dr. Farah was named one of Modern Healthcare magazine's 50 Most Influential Clinical Executives.
In his current role, he and his team are refining and expanding innovative programs, care models, and cultural changes that have their roots in AHN's journey toward value-based care. But they are also exporting the revolution by actively applying, sharing and even marketing their work well beyond AHN.
With so many organizations talking about "transforming health care," Dr. Farah shared some thoughts on what is different, and exciting, about Highmark Health's CTO approach, programs and early accomplishments.
Transformation of a Clinician-Leader
Don Bertschman (DB): In our upcoming Getting Health Care Right series profile with you, we'll look at the full trajectory of your career — truly its own story. For now, let's focus on how you became Highmark Health's clinical transformation leader.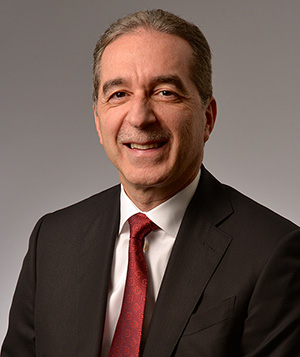 Dr. Tony Farah (TF): If you talk to many physicians, they'll tell you that they don't understand why some decisions are made that impact them. At some point, I accumulated enough experience as both a clinician and a leader that I said to myself, well, I see it both ways now. And rather than complain about why other people make decisions I don't understand, I'll embrace the clinician-leader role and then I can complain to myself.
I was asked to be CMO of, at the time, West Penn Allegheny Health System, and then I became CMO for AHN. Early on, I focused, along with our teams, mostly on growing AHN's footprint and creating more access for Highmark health plan members. But I was also having discussions with David Holmberg and the Highmark Health leadership team about realizing the full value of the payer-provider system we'd created.
Part of that involves reducing medical waste. It's well established nationwide that 30 percent of what is spent on health care is waste — administrative waste, clinical waste, fragmented care, inappropriate care, and the list goes on. Any payer-provider system has some opportunities to address that. But most payer-provider organizations are large provider systems that later created a health plan. They are health systems first, and how health systems get paid is by volume. As a result, despite all the talk about quality and value, the vast majority of health systems still depend on volume. Anything that drives volume to your hospitals or outpatient centers is a good thing.
Well, if you're a patient, you would disagree. You don't want to go to the hospital or undergo testing, and pay for it, unless it's necessary for your health. Any unnecessary test or procedure, from a patient's perspective, is waste, and in some cases harmful. At the same time, many screening or preventive tests are underutilized, resulting in otherwise treatable or curable conditions not being identified until they've reached an advanced stage.
The unique opportunity Highmark Health has comes from having a large, influential health plan that has very good relationships with providers across its footprint. Our integrated delivery and financing system, or IDFS, isn't as dependent on health system volume — we can make, and do make, decisions that create value for customers even when it might mean reduced volume. Second, although the IDFS is the health plan and AHN, what we're doing can be extended virtually with other health plan provider partners. That differentiates us. The scale of our health plan business means that any change we make — reimbursement, care models, complex care management — can have broader influence in improving value and bringing down the total cost of care.
DB: Does having the CTO at the Highmark Health level help reinforce that it is part of an integrated model rather than traditional insurer or provider business models?
TF: Traditionally, providers might feel like insurers are trying to avoid or limit reimbursement, and people on the insurance side might feel like providers just want to put heads in beds. That's oversimplifying, but the point is that we're not just an insurer, or just a health system. As an IDFS, we can more easily align incentives and measurements around what our shared customers value, including reducing costs.
Getting back to early conversations about our IDFS, intuitively what made sense to people like me is that if you improve patient outcomes, improve people's health, the finances will follow. That's the essence of clinical transformation. So we created integrated teams led by physicians from AHN, supported by multidisciplinary clinical and actuarial resources, and we set out to prove, with both clinical and financial data, that if we improved health outcomes, the total cost of care would come down. That's the focus — not just AHN's revenue, or the health plan's savings, but outcomes and total cost of care.
A Methodical Approach to Revolutionary Change
DB: I think that's a reassuring point for many clinicians and patients — that CTO isn't just cost-cutting by any means necessary, it's about the natural savings from improving quality, outcomes and experience. Could you elaborate a bit on CTO's principles and programs?
TF: Let's start with our "why." Health care is broken, health care costs are unsustainable, and I'll venture to say that very few people are happy with the U.S. health care system. Although we have great physicians, clinical teams and supportive technology, the system surrounding patients and clinicians leaves a lot to be desired. When we talk about a revolution in health care, we're saying we believe we can change that — we can transform what is broken and unsustainable and frustrating into, as our mission puts it, "remarkable health experiences, freeing people to be their best."
Okay — "how." We started methodically. This is a complex problem, and we decided a couple years ago to start with building blocks that would ensure that our work to fix the problem would be sustainable in the long run. Two of those building blocks are Enhanced Community Care Management (ECCM) and Care Models.
When you look at a population, in any geography, you have a spectrum from the very healthy to the very sick. We talk about a pyramid — the base of the pyramid is the healthy population, which is the largest group. In the next layer, people have manageable illnesses or health conditions, and then you get into what we call rising risk, including chronic conditions like hypertension and diabetes. With ECCM we focused on the next group up the pyramid — the five percent with the most complex health challenges, usually people with multiple conditions who are going back to the ER or needing hospitalization again and again because their conditions have deteriorated.
We formed teams — led by clinicians at AHN — and looked at every way we could improve and standardize the care of that five percent. One thing we figured out is that most of them didn't need to see the doctor every few weeks, but they needed more touchpoints. That's our ECCM team-based concept, where, among other things, we embed specially trained nurses in physician practices to work one on one with people in that five percent, supported by other caregivers in an integrated fashion.
Looking at how to help that five percent also meant, by definition, addressing many conditions impacting people in the middle of the pyramid. That's our Care Models, which we developed first for the most common chronic conditions that make up the bulk of health care costs, including heart failure, COPD and diabetes. We also looked at what the government calls episodes of care, such as joint replacements and stroke, among others.
With Care Models, we incorporate patient feedback and map out the current state with all the issues and barriers and problems along the patient journey, no matter what site of care. And then we say to the clinicians involved, what are the two or three clinical metrics that if you were to improve them, you would declare success? We're going to give you resources and data to make those improvements — and then we'll track everything to see what works. But the focus is all about the patient, not how clinicians get paid.
Health care is complex — many things can lead to a change, but the health plan has a very sophisticated methodology of how to track costs and rule out confounding factors. And what ECCM and our Care Models have proved consistently is that if you do what's necessary to improve clinical outcomes, the total cost of care comes down. It's a win-win for the patient, clinician and insurer (whether it's a health plan or a self-insured employer).
DB: The way you're describing clinical transformation so far, the clinicians do much of the transforming.
TF: That's a key point — we're not dictating. The way we've done this is to ask the right physicians depending on specialty to come together, and we say, look, you have the magic wand, tell us how you want this to go. They created the Care Models — we provided the support, and a push to get it done, but it was their decisions.
I also want to mention something we call Right Care, which are standardized order sets for both inpatient and outpatient care. This is something we collaborate on with Dr. Charles DeShazer, the CMO for Highmark health plan, and his clinical team.
As background, there are things almost every doctor will agree is right to do or not do…and yet, in practice, the data shows variation. As an example in my own field, you don't need an EKG on every patient. In many cases, an EKG doesn't tell you much when the patient is stable. Yet we look at the data and see far more EKGs done than makes sense.
We have data to give us clear indications for when to do what tests for most conditions. With Right Care, we said let's talk about what "right care" is — by specialty, and by test. And one thing we found was that doctors sometimes said, yes, that's how we practice. But then we showed them the data, and they could see where it wasn't how they were practicing.
Sharing data without dictating, having doctors lead, is key to the success of our work. We want to facilitate the physicians' work rather than add to their existing administrative burden, and without interfering with their ability to practice the "art of medicine." Because of our approach, even outside AHN, when we talk to physicians in private practice or in other health systems, in my experience, the discussions have gone very smoothly.
DB: What does a patient experience differently because of these efforts?
TF: Everything we do, our key principle is we're patient-centric. We don't look at just one health condition or hospital or doctor — we don't just look at diabetes, for example. Instead we look at everything the patient with diabetes experiences, and coordinate our efforts accordingly. That's different, and it guides our care teams in how to think about solving problems and simplifying things for the patient.
We're also proactive — health care providers can have all this information about someone's health, so why should we just wait for a patient to call or make an appointment or, worse, get really sick and come to the emergency room?
If we have a patient with type 2 diabetes, we don't just know their A1C test results. We know if their diabetes has led to complications. We can know about other conditions they may have, medications, if they have depression or anxiety, diet, whether they have transportation challenges to get health care. We look at everything that may negatively impact their health, because for each contributing factor to out-of-control diabetes, there is a lot we can solve for.
Our goal is not only to improve the numbers, our goal is for the patient to feel, wow, I'm going to be okay, I'm not in this black hole where I don't understand what's wrong with me and I don't know what to anticipate. Our approach is getting them to the point where they feel, whatever their condition is, they understand more about it, they know what to expect, and they know how to manage it. They know what they need to do, and they also know and have confidence in their care team. And the care team is not only the doctor — it's the nutritionist, the pharmacist, the behavioral health specialist, the social worker, whoever is appropriate for that patient. We're surrounding the patient with resources, but it's well organized — and they also know, if they have questions or start to get sicker, who to call right away.
We're surrounding the patient with the appropriate team, physically, as well as virtually after they leave.
Clinical Transformation: Proof and Promise
DB: As with work done by the Innovation team, clinical transformation leverages Highmark Health's IDFS as a unique test-and-learn laboratory to measure what works before deciding what to expand. Can you talk about some of clinical transformation's proof points so far?
TF: Our Enhanced Community Care Management (ECCM) initiative resulted in claims costs savings of 10 percent. Patients on our lower back pain Care Model had savings of $1,400 per episode, in part driven by lower imaging costs. Our COPD Care Model had savings of 9 percent in inpatient costs. Other Care Models have experienced similar savings in per member per month (PMPM) claims costs in both the inpatient and post-acute settings. All told, our clinical transformation initiatives are working with about 16,000 patients, and we saved approximately $26 million in 2018. That's a small percentage of the lives we could touch, so you can see why we're scaling ECCM across more of Highmark's footprint. Similarly, Care Models started with select groups at AHN, and now we're scaling throughout AHN, and looking beyond that.
DB: So, two basic building blocks of clinical transformation are being scaled up — are there any new blocks you can talk about?
TF: One component I'll mention is our HealthyWay initiative. In an ideal world, we should be able to go to any population and take care of everybody. If we go back to our health pyramid, about 40 percent of our workforce is healthy. So what we're doing is looking at what we can do that applies to everyone, to help healthy people maintain or improve health, as well as having ECCM and Care Models for the parts of the population that are in treatment. There are also experience initiatives, such as a Highmark app and others, that are being piloted through this population.
DB: The way you've described clinical transformation, with both clinicians and patients, a word that comes to mind is "empowering" — it's putting the system to work empowering everyone in the system.
TF: Empowering and engaging — both. And all the team members, not just physicians, who have been involved with this, you see it in their eyes — they're excited, engaged, even those who initially were skeptical. It's contributing to work satisfaction. Now we're getting people outside Highmark Health who are hearing about this work, and they want to come here for this. What we're doing is very unique — it's exciting to be here.