Get to Know the HPO: Leslie Carter, VP, Shared Services
By: David Golebiewski, Tracey Rapali
Posted: April 30, 2019
Share This
In this series, we look at one of the most important parts of the Highmark Health enterprise: Health Plan Operations (HPO) under the leadership of Senior Vice President Patricia Howard. The HPO includes key functions that impact service for health plan members and customers: benefits set-up and administration; enrollment and billing; claims processing; member and provider customer service centers; training; quality; reporting and other operational support.
Throughout her career, Leslie Carter has embraced taking calculated risks — the kind that make some people uncomfortable, but ultimately result in personal and professional growth.
Leslie, who joined Highmark Inc. in 2018 as Vice President of Shared Services in Health Plan Operations (HPO), pivoted from an early career in banking to the health care industry. She started in a part-time role at Horizon Blue Cross Blue Shield in New Jersey, where her talents and leadership qualities set her on a path that has since included senior-level roles at Aetna, UnitedHealth, Magellan, the Food and Drug Administration, and in private consulting.
"Risk-takers are innovative, are comfortable with failure and success, and often reach out across the table to different environments to ensure a more comprehensive product or service," Leslie says. "I have moved at least four times for my career. Most recently, I relocated from Atlanta to Pittsburgh to join Highmark. Having never traveled to the western Pennsylvania area, my only reference to Pittsburgh was the Steelers! Because I was willing to accept that risk and follow this opportunity, I have been able to experience diverse leadership, skills, and innovation in ways that I had never thought."
Leslie has learned to love Pittsburgh over the past year, enjoying its culture, food, and sports enthusiasts. At Highmark, Leslie leads a diverse team of 220 employees who are located in the health plan core markets (Pennsylvania, Delaware and West Virginia). She is responsible for driving HPO's strategic objectives and business transformation, identifying ways to create value by simplifying the customer experience.
Leslie is responsible for multiple teams, which include quality, training, reporting, business analysis, compliance, project management, financial planning and analysis, vendor governance, and communications.
"We have incredible individuals across our teams," Leslie says. "We have such diverse perspectives, and a tenured staff, which is valuable to our organization. The retention across HPO is really strong, as we have an increased focus on employee engagement. We take pride in knowing that our employees interact with members in a way that no one else can, and for delivering service excellence."
Prior to joining the organization, from a distance, Leslie followed Highmark's transformation into an integrated care delivery and financing system that focuses on creating a remarkable health experience for every customer. Now, she's helping to bring that mission to life.
"Highmark Health [Highmark's parent company] has a unique position in the marketplace, where we have a strong payer-provider complement," Leslie says. "We call it our True Blue Green initiative and I'm very excited to see how we continue to advance this effort. We also focus on how we can be more service-oriented and cost competitive. We are shifting to a retail-type mindset, where we are offering the best service at the right time, at the right place. Our customer obsession helps us to be more competitive in the marketplace as we continue to deliver operational excellence across the organization."
Leslie's passion for serving others, and keeping the patient's perspective at the forefront, knows no boundaries. She has traveled extensively over the course of her career and shared how a 2006 trip to Ghana, to help women with breast cancer screenings, changed her life.
"The experience was incredible," Leslie recalls. "I was in awe, amazed, and teary-eyed about the level of engagement the women had to understand their health care in a different way. I was also humbled by the level of poverty and need. The women were passionate to share their backgrounds with me, and they were also grateful to have someone help them with their health care. Although there were several women who were diagnosed with advanced stages of breast cancer, they were able to receive immediate medical attention. The women were very appreciative to learn about their health and how to seek preventive measures in the future."
At the end of the trip, Leslie and her group decided to leave something behind. She emptied everything in her suitcase — shoes, clothes, toiletries — and left it for the women and families whom she had met.
"I came home with nothing in my suitcase," Leslie says. "And I remember saying, 'this is the first time that I've ever given more than I have received.' It was a passionate experience and I would love to do it again."
As part of our series of articles on the HPO, I asked Leslie to talk a little more about her areas of responsibility.
Tracey Rapali (TR): How does your department put the customer first?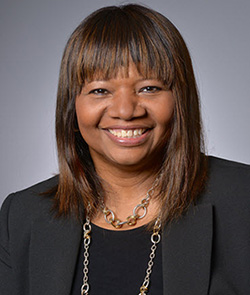 Leslie Carter (LC): We have a significant impact on both internal and external stakeholders, and we use our core behaviors, which are embedded in our daily work performance, to ensure we are continuing to put the customer first.
For example, the HPO Shared Services team continually manages various needs and competing priorities for customers. We focus on putting ourselves in the shoes of members and internal customers to simplify health care and improve the customer experience. The value that we bring to our internal partners is the ability for them to focus on the work itself, while we enhance processes and provide the simplification and innovation that is required.
TR: Can you think of an example of how you simplify and improve the experience?
LC: A great example is the giant leap we are taking in our transformation journey, where we are challenging ourselves and looking for opportunities for optimization and automation, which in turn will drive a simplified member experience. In partnership with our thinkUP team, we have conducted several ideation sessions, which have afforded us the opportunity to identify great new business solutions. Our Functional Analysis team helps develop business cases and implementation strategies to ensure thorough and timely execution.
TR: What are your top priorities and goals for 2019?
LC: We have implemented a robust governance for shared services. This means that while each of our HPO leaders has a direct responsibility to either workforce capacity, business transformation or vendor management, our team ensures that it is consistent and compliant, and that we are purposefully executing initiatives. We also are looking to redesign our training and quality program, working diligently to redesign Highmark's training program to align with the health care jobs of the future.
In addition, we are embedding change management competencies into our organization, starting with our leaders. HPO has over 250 leaders who are supervisors, managers, directors and vice presidents, and we meet every other month to talk through different leadership competencies and opportunities.
Creating the innovative payer-provider service model is also part of our team's responsibility, and activities are under way to ensure integration is successful and operationally ready. The other two items we continually work on include the Think Factory, where we are creating a culture of innovative ideas with our employees, and Robotic Process Automation (RPA). We are always evaluating ways to streamline and simplify processes, while increasing employee engagement.
TR: You have experienced so many diverse cultures in your personal and professional life. How have those experiences influenced your leadership style and your viewpoint on health care?
LC: I have worked in organizations across multiple sectors and diverse cultures. Because of my experience in a leadership capacity in all of the different environments where I have previously worked and volunteered, I have been able to develop a true leadership acumen that includes trust, collaboration, and execution. I have found that building trust among the people I am working with is crucial. The ability to build relationships and understand other thought processes has helped me throughout my career. Because Highmark is an innovative health care leader, I have the ability to address opportunities with a different focus such as Agile methodology and human-centered design concepts. It is a wonderful challenge to enhance my leadership skills, and I am able to engage employees in different ways because of the Highmark business model. Our goal is to simplify the experience for all of our members, especially with the complexity of health care.