Getting Health Care Right: A Conversation with Deb Rice-Johnson
By: Tracey Rapali
Posted: October 24, 2018
Share This
Deb Rice-Johnson, president of Highmark Inc., has been working to get health care right with the organization for more than 30 years. Her motivations are personal as well as professional.
Six months after taking a leadership role at Highmark, she learned that her late husband, Harry, had been diagnosed with cancer. In the difficult journey that followed, she and her family experienced the health care system's challenges firsthand.
She knows what it's like to balance personal, business and family responsibilities while helping someone through an intensive health crisis. She understands the stress of transporting medicine and x-rays from one facility to the next, staying on top of administrative issues, and connecting the dots across different parts of the health care system. She experienced the many challenges of needing to travel to a distant hospital for treatments, away from the comforts of home. When, after a long fight, her husband stopped treatment and was sent home, she also had the emotionally taxing experience of needing to return to the facility where her husband's treatments took place — where she had hope at one time — to obtain medicine to keep him comfortable during his final days.
And yet, seeing all those flaws in how the system worked, she knew that, relatively speaking, she was one of the lucky ones.
"I worked in a place where I knew the right people," she explains. "But what happens to people who don't know where to turn after such a devastating diagnosis?"
Inspired by the example of "tireless doctors and nurses who did everything possible for my husband day in and day out" she became more passionate than ever about "ensuring that every patient receives a superior level of care and support."
Rice-Johnson says her faith played a profound role in getting through the difficult journey with her husband, guiding her younger daughter, and coming out on the other side of the experience with new resilience, strength and hope. Those qualities also served her well in leading Highmark through unprecedented industry shifts and challenges in the decades since as she strived to keep Highmark at the forefront in changing the health care system to provide greater access to high-quality, affordable care that is well-coordinated and, whenever possible, close to home. I asked about her thoughts on some of the company's recent efforts.
Bringing Care Closer to Home
Tracey Rapali (TR): I know that improving cancer care is especially meaningful for you — how are we making progress?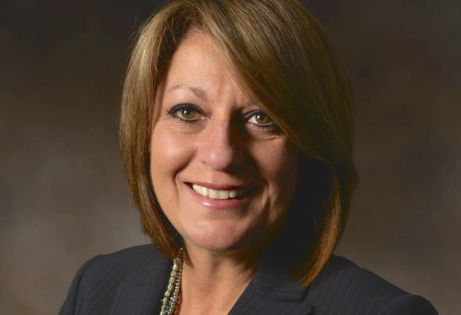 Deb Rice-Johnson (DRJ): For patients and families dealing with cancer, we want to make sure you're getting treatment close to home, receiving the highest quality care, and also doing what we can to provide a good patient experience during a difficult time. While undergoing treatments, continuing to participate in your day-to-day activities as much as possible really helps the patient and family stay grounded and focused. Compared to when my husband had cancer, it's a big step forward that we offer more treatment options near people's homes, or even in the home, and care that's personalized to fit into real lives.
You see this reflected in investments made at Allegheny Health Network (AHN). In June 2017, we announced a $200 million investment to help patients fight cancer close to home and have better access to high-quality, affordable cancer care and leading-edge technology. That includes construction of a new, state-of-the-art AHN Cancer Institute Academic Center at Allegheny General Hospital, which will serve as the hub for cancer-related academic and research activities and will house quaternary medical and radiation oncology programs.
Another part of that investment is creating community-based cancer treatment centers that allow for more care to happen in our local communities, so that patients don't always have to travel into the city. That means they can spend more time at work or home, they avoid the stress of commuting, and they save money on travel costs.
Across the enterprise, we believe that no one can transform health care alone, so we pursue strategic partnerships and collaborations to drive innovation, leverage best-in-class research and technology, and develop better ways of doing health care.
With cancer, the partnership with Johns Hopkins Medicine in western Pennsylvania is one of the most collaborative, innovative, and integrated programs working to transform cancer care. Working together has benefits in driving research, helping control costs, and providing world-class care to patients. Some specific benefits of this for Highmark health plan members and AHN patients include remote second opinions from Johns Hopkins doctors for people with rare and complex cancers, and expedited, prioritized access to clinical trials. In fact, through this collaboration, patients have access to more than 500 active clinical trials.
We are helping to bring about a new era in cancer care that is much different than when my husband was seeking treatment.
TR: That goal of delivering care closer to home isn't limited to cancer care — it pertains to care in general?
DRJ: Yes — and it's closely tied to the issue of access, which has always been part of our mission.
To help create greater access for our customers, we partner with community hospitals and independent physicians who share our values of providing high-quality, affordable care close to home. No one wants to travel far to see a physician when they can receive care right in their own community.
In addition, same-day appointments, which were introduced at AHN in October 2016, are an excellent example of how our health insurance plan and provider network collaborate to improve the customer experience and provide greater access. Since launching, more than 251,000 same-day appointments have been booked, so clearly people value this.
Getting back to investments, we focus on what makes sense for our customers, and what people need now and in the future. Ensuring high-quality care that's close to home is a top priority in every area. My husband's care wasn't close to home, and running from facility to facility and home in between was extremely stressful.
AHN's state-of-the-art health and wellness pavilions are another example of improving access. Instead of making people come to big hospitals in the city, let's put facilities in the community that can handle infusion therapies, diagnostic tests, preventive screenings and a broad range of procedures and outpatient services. You see the same principle with AHN's joint venture with Emerus, which is building four AHN neighborhood hospitals to improve access to emergency, primary and specialty care.
We have 120,000 Highmark health plan members in Erie, so we've also been investing in that community, including a $115 million investment in St. Vincent Hospital, which has plans for a new AHN Cancer Institute and is expanding specialized care options through a new Chest Diseases, Pulmonary Rehab and Sleep Center facility.
There are so many facility expansion and renovation projects in progress or planned over the next few years to further improve access to affordable, high-quality health care in western Pennsylvania, and to advance AHN's leading clinical programs in cardiovascular care, women's health, neuroscience, and orthopedics. All told, in 2017 we announced more than $1 billion in community investments over the next four to five years, with a total western Pennsylvania community investment of nearly $2.5 billion by 2022.
I'll add that these investments are having positive economic impacts, as well as medical impacts, for the regions we serve.
Value-Based Care
TR: One area where the payer side of the system is leading the way in transforming health care involves value-based business models. Could you talk about what that means?
DRJ: Our health care model is different than what anyone else has tried to build. As an integrated delivery and financing system, we focus on value, not volume, on all sides of the health care system. So that's not just reimbursement, it's also redesigning care models around value. When we say value we mean better experience, access and outcomes at a lower total cost. Prioritizing value addresses flaws in the current health care system that are tied to volume-based business models.
I am especially proud of our True Performance reimbursement program, which launched in 2017. This is a strong example of payer and provider working together around the shared goals of improving health care outcomes for patients, reducing total care costs, and helping physicians engage in patient care coordination and population health management.
True Performance really puts primary care physicians (PCPs) at the center of managing care, and then evaluates and rewards their performance on quality, cost and utilization measures. Highmark has transitioned more than 7,500 providers onto True Performance. In 2017, members covered by the program had 11 percent fewer emergency room visits and 16 percent fewer inpatient admissions, and generated avoided cost savings of more than $260 million.
TR: You mentioned payer and provider working together — that's an important part of this model, isn't it?
DRJ: No one has all the answers in a system as complex as health care, so we've embraced the power of community and provider partnerships. That also means actively empowering the clinicians in our network by asking them to hold key leadership positions and work together to drive our strategy.
TR: Outside of western Pennsylvania and AHN, how are we working with other provider networks to achieve the same kind of patient-focused improvements?
DRJ: We're forging partnerships with those who share our values. We don't have to own everything to provide the highest quality care for our members. If we look at central Pennsylvania, we signed a letter of intent with Geisinger Health System in May 2017 to create a clinical joint venture to provide high-value, high-quality, community-based care and greater patient choice.
There's also the Penn State Health partnership — an innovative strategic partnership that includes a collective investment of more than $1 billion toward developing a high-value, community-based health care network designed to keep care local and enhance collaboration with community physicians. We will partner with independent community physicians to develop this community-based provider network. This differentiates us from other network models in this market.
That's just two examples from a very diverse, dynamic approach to strategic partnering and collaboration.
Taking on the Big Challenges
TR: You've overcome or led Highmark in overcoming so many big challenges. Can you talk about how we're responding to one of today's biggest challenges, the opioid epidemic?
DRJ: Almost everyone is affected by the opioid epidemic in some way. It's getting worse and we need to pull together in our communities to fight it. We also need to look at all facets of the epidemic, so in February 2018, we declared war on opioid abuse with a three-prong strategy.
Part one is to reduce the use of opioids. Through benefit designs, we are making available effective non-pharmacy therapies for our members to address pain through physical therapy, occupational therapy, chiropractic services and acupuncture. We also offer cognitive behavioral therapy as adjunctive therapy for pain. In addition, Highmark members can access discounted programs for yoga, Pilates and more.
Part two is to ensure safe utilization of opioids if non-narcotics prove ineffective. Here, we monitor prescriber and member behaviors when opioids are needed for chronic pain to ensure that there is no misuse. We accomplish this through our Narcotics Management Program, which places controls on opioids so members have access to appropriate medications in the right amount for the right duration, to help manage and control their pain.
The third prong of our approach is to ensure members have access to effective addiction treatment. Our addiction treatment is part of a comprehensive program that includes counseling, behavioral therapy and access to medications that help them through their treatment programs.
TR: There is so much change in health care right now, and many people talking about "transforming health care." Why do you think Highmark, and the entire Highmark Health organization, is particularly well positioned to take on that challenge?
DRJ: In addition to our willingness to make bold changes in the health care business model, I would say we have some cultural advantages over many organizations. The collaborative mindset here is important — getting everyone aligned on the goal of creating value for the customer and then working together to achieve that goal. Collaborating leads to smarter change and faster change.
And then looking at priorities — some organizations make investments that are more about power than patients. That's not going to overcome our nation's health care challenges. I think our focus on the customer — the health plan member, the patient, the employer paying for care — is the way forward.