Straight from the CEO: Strategic Partnerships Create Value for the Customer
By: David Holmberg
Posted: July 12, 2018
Share This
With all the merger and acquisition activity in health care, it's no surprise that a Wall Street Journal article would frame Cigna's proposed acquisition of Express Scripts as further proof that "being a health insurer isn't enough anymore."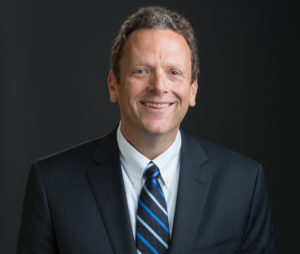 We clearly agree, having acquired Allegheny Health Network (AHN) and created Highmark Health in 2013 to better integrate health care delivery and financing. Old, siloed models where an organization focuses only on selling insurance, or only on the medical procedures it bills, just aren't effective in achieving our mission of improving health care access, affordability, outcomes and customer experience across the entire system.
That doesn't mean mergers and acquisitions are the only way forward, however. In fact, except for Allegheny Health Network, our approach has focused primarily on strategic partnerships and collaboration. Let me explain why this is so central to our efforts to transform health care, create value for our customers, and achieve long-term, sustainable growth.
Transformation Is a Team Sport
Dr. George Magovern, who carries on his father's legacy as a national leader in cardiac care at AHN, once said to me that health care isn't like other industries, where you get an idea, and then hide it from competitors. Particularly in clinical care, when you come up with an innovative technique, you share it with other clinicians, because it's for the greater good.
Imagine applying that mindset across the board — and you have one reason for strategic partnering.
Much of the nation's health care infrastructure and business models were built for health needs and markets that existed decades ago. We have to adapt to today's reality where, for example, managing chronic disease has become a primary need, and high costs driven by transactional and fee-for-service models are just not sustainable. That means transforming from volume-based models to value-based models, from treating people only when sick to supporting the whole person across a life span, and from organization-centered processes and priorities to a coordinated care experience that puts the customer at the center and aligns every organization serving that customer.
Highmark Health's commitment to that work drives our integrated delivery and financing system, clinician-led transformation of care models, value-based reimbursement, and more. But we believe that no one can achieve systemic transformation by focusing only on their own ideas and on building their own kingdom. Partnerships take different shapes in our model, but fundamentally, they're all about looking at a challenge or market, identifying organizations who share our values and have best-in-class ideas and capabilities, and bringing the smart kids into the room to collaborate.
We partner because it's the best path to saving lives, giving people better quality of life, and protecting the financial health of individuals, families and employers. That's our priority — not putting our name on more buildings.
Health Care Is Not One Size Fits All
Economics and policies involving health care may be national, but the delivery of care is very much a local issue. There are real differences in what different regions and populations need. A model built to deliver health care in a densely populated area, for example, won't be as effective if imposed on rural communities. In health care, one size (or brand) does not fit all.
Our priority is to get the right care in the right places at the right times to ensure access, high quality and affordability in the communities we serve. How can we provide what you need to help you lead the life you want and have the best health outcomes? Strategic partnerships are part of the answer, resulting in a broader menu of options for individuals, greater precision in meeting local market needs, and faster improvements to the total care experience than any one organization could achieve alone.
With so many established health care organizations in denial about the need for change, our best partners share our belief in transformation, and a willingness to disrupt existing business models. Now, Johns Hopkins Medicine is consistently at the top of national rankings — if anyone could say they don't need to change, it's them. Yet they saw that partnering with us in new ways could advance their mission and create more impact.
As a result of that partnership, Highmark health plan members with cancer now get free second opinions for rare and complex cancers, and they have access to more clinical trials than anyone in our region. Oncologists at the AHN Cancer Institute work with counterparts at the Johns Hopkins Sidney Kimmel Comprehensive Cancer Center on tumor-specific boards that help determine the best course of treatment for AHN patients. And numerous other clinical and educational collaborations, including in genomic research and precision medicine, keep our organizations' clinical leaders aligned on the latest advances in science, medicine and care models.
Our partnership with Penn State Health combines the research and educational power of one of the nation's largest universities, a health care system with the region's top children's hospital and trauma site, and the third largest Blue Cross Blue Shield plan in the U.S. This is a game-changer — not just in bringing those capabilities to the market, but in what we can do together to advance community-based care and value-based medicine, and engage people earlier to address chronic disease before they end up in a more damaging, more costly complex care state.
On the other end of the spectrum size-wise, partnering with Warren General Hospital is an extension of Highmark's decades-long relationship with that community. We are investing there to ensure that Highmark members, and the entire community, have the right assets for quality care. But this is also about working with a like-minded organization that recognizes the need to expand its focus from in-patient experiences to more outpatient, ambulatory care — to get the right balance of hospital beds for those who need that level of care, while leveraging innovation, technology and medical techniques that allow more care to be delivered outside a hospital setting.
The Emerus joint venture is another way of collaborating to get health care right. Emerus is a national leader in developing patient-centered, neighborhood hospitals that are right-sized for the community where they're located. The AHN community hospitals we're building with Emerus will move emergency care closer to where people live, and provide a convenient access point for primary care and coordinated care efforts, rather than making people drive to gigantic buildings in a city that might be an hour or more away. Just as importantly, these facilities will deliver a patient experience unlike anything our market has seen before.
We also have very collaborative approaches to innovation, including our VITAL program, our work with Carnegie Mellon University in disruptive health care technology, human-centered design, analytics, population health and more. Carnegie Mellon illustrates another value of partnering — when you bring in people who aren't traditional health care industry people and don't have preconceptions about how to do things, you get new insights and approaches to problem-solving. That's inspiring and exhilarating.
Building It Better, Not Just Bigger
The business models still used by many health care organizations often base decisions on volume for the business instead of value for the customer. Volume-based models define "better" in terms of growing "bigger" — owning more, increasing revenues, driving stock value if publicly traded, and so on. Our model's "better" doesn't start with "bigger" — it starts with whether we improve access, affordability, outcomes and experience for the customer.
Our 2018 financial results bear witness to our financial strength and stability. We now have arguably the best balance sheet in the organization's history. We did that with intent — to make sure we had the financial resources to weather any storm, and to make purposeful investments, including in partnerships, to drive transformation. AHN's success shows that we can acquire and build — and we will continue to invest heavily in AHN facilities and capabilities. But prioritizing "better" over "bigger" means we're equally committed to partnerships that are right for our customers even when they don't increase Highmark Health's size. In fact, given the speed of change in health care, and the need to be more agile and responsive to different community needs and to each consumer, we believe strategic partnering is a key part of achieving long-term sustainability.
Mary Edwards, a senior VP with HM Health Solutions, uses the phrase &quotaligned independence&quot to describe our approach. The technology platform HM Health Solutions offers, the partnerships and joint ventures I've talked about, our relationship with Blue Cross Blue Shield, our programs around value-based reimbursement and complex care management — these are all examples of aligning to achieve the benefits of scale, and provide investment capital and resources to organizations, without losing what is best about independence. To us, success isn't acquiring more businesses than our competitors, it''s providing a superior health care experience by connecting the best thinking and innovation in the nation with local knowledge, local relationships, and the ability to adapt to local conditions.
When you put customers and communities first, there is less room for the "us vs. them" thinking that drives many business models. It becomes important to find ways to align incentives and economics so that we all share in success, which then enables further investments in facilities and innovation and techniques to continue making health care better. Good works comes from doing good business, and good business comes from doing good works. If we respect that, and do that purposefully, and in partnership, we will not only improve the present state of health care, we will create the resources to reinvest for the next generation as well.
I have confidence in our model. Our work with AHN has opened up the door to a wide range of other partnerships. People want to do business with us — they want to work together to improve health care. I don't begrudge the extra media coverage given to the big national deals, but I think we're writing an even more compelling story with our strategic partners: the story of how stakeholders across the U.S. health care system can collaborate to build the world-class system we all deserve.