1 + 1 = 21: The Power of Collaboration
By: Don Bertschman
Posted: March 21, 2018
Share This
"We have an opportunity here to have one plus one equal 21."
Fred Ramos, Highmark Health's senior vice president of corporate communications, uses this phrase while recounting conversations with several partners who came together in ongoing efforts to help their fellow U.S. citizens in Puerto Rico and the U.S. Virgin Islands after the devastation of Hurricane Maria.
It's not just his way of tying relief efforts to the spirit of Pirates' great and humanitarian Roberto Clemente, who wore number 21. Whether it's disaster relief, improving health care, or just being a good neighbor, Ramos believes that when you get collaboration right, the impact becomes greater than the sum of the individual parts.
"If you get the focus right initially, and people come together because they want to do the right thing, and do it well, for patients or customers or their fellow human beings, that in itself creates a powerful sense of purpose," he explains. "As a result, more people say, 'I want to be part of that, here is what I bring to the table — and, oh, I know this other person who can help.' As everyone starts to realize that we can make a difference together, and it feels good, even more people want to join the effort, so it continues growing exponentially. That's what happened with the response to Hurricane Maria."
"Hurricane Fred"
Ramos knows about catastrophes — and resilience. At nine, as he and his family returned from visiting other family members on New Year's Eve, his father pulled their car over and walked back up the road to search for a gas cap that he thought had flown off. He never made it back, dying in a tragic roadside accident.
"My father was an entrepreneur who came to Chicago in one of the early waves of migration from Puerto Rico, because he thought he could do better by us — it was really the American Dream," Ramos says. "I admired his business savvy, his persistence, his very personal approach — he defined 'putting the customer first' to me. Suddenly, I had lost my beacon, and I had to grow up quick."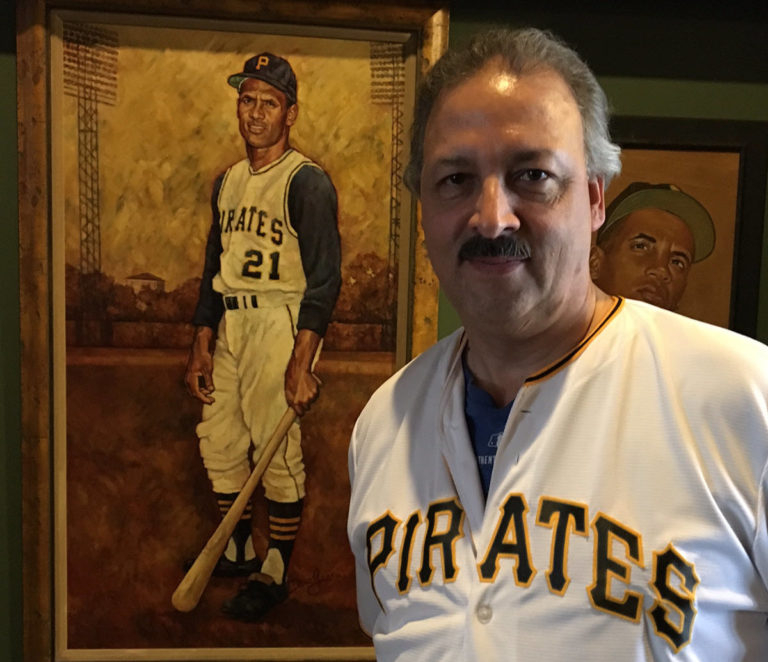 An avid baseball fan, Ramos also idolized Roberto Clemente — and still has photos of "The Great One" hanging in his office. "Even though I was a Cubs fan growing up, here was this Puerto Rican, like me, who played baseball like a man possessed — passionate, persistent, all in — and loved his family and was an inspiration on and off the field," Ramos says.
Clemente died in a plane crash, during an earthquake disaster mission to deliver relief supplies to Nicaragua. Like Ramos' father, he died on New Year's Eve.
"I had these early losses, but Clemente and my father had a lasting influence," Ramos says. "And still, every New Year's eve, I remember and acknowledge them with a nod and a wink up to heaven."
Their influence is part of Ramos' "all in" approach to life and to helping others, as well as his capacity to remain calm in the midst of a storm. These traits served him well in positions where responding to disasters was part of the job description, including as executive director for The Allstate Foundation earlier in his career.
"We had the best catastrophe management and response team in the industry — first on the ground in just about any catastrophe," he says. "When the San Francisco earthquake hit in 1989, we were there the next day driving around looking for people who we could help. It's in my DNA — catastrophe, you go and respond. That kicked in with the hurricanes in 2017. My natural response is to think about how we could help."
His vocal advocacy for disaster relief contributions and personal involvement in support efforts led Highmark Health executive vice president Dan Onorato to start calling him "Hurricane Fred."
Highmark Health and its affiliates responded to each disaster that hit the nation in the fall of 2017, including several hundred thousand dollars in corporate and employee donations. Allegheny Health Network (AHN) employees were part of the nation's Disaster Medical Assistance Teams (DMATs) providing relief in each area. But the response to Hurricane Maria's devastation of Puerto Rico has been, well, living proof that one plus one can equal 21. Ramos is exactly the person to explain this magical math.
"How Can I Help"
"Our CEO, David Holmberg, always says when you're facing a challenge, you have to 'work the problem,'" Ramos says. "I believe we can overcome any challenges if we stay calm, cool and collected in the face of the storm, learn, and remain focused on working the problem. In every crisis, it really comes down to asking, 'how can I help?'"
Ramos came to Highmark Health, and Pittsburgh, in the spring of 2016. He describes the opportunity to be part of Highmark Health's work to transform health care with great passion. He adds that he also felt drawn to the city where Clemente had played — "a place that grieved for him like I'd grieved for him, and still reveres him as I and millions of others still do."
At the first Pirates game he attended after moving to Pittsburgh, he met Ron Alvarado, chairman of the Pittsburgh Metropolitan Area Hispanic Chamber of Commerce. "It was like talking to my brother," Ramos says. "Puerto Rican, loves salsa dancing, passionate Clemente fan." They also talked about how to help other area Hispanic professionals and businesses, and Ramos accepted an invitation to join the Chamber's board of directors.
At another game later in 2016, Ramos met Pirates president Frank Coonelly — and predicted a Cubs World Series championship…which the Cubs went on to win that year. The next time he saw Coonelly, at a pre-game event in September of 2017 for Roberto Clemente Day at PNC Park, the Pirates president joked that maybe Ramos could use his predictive powers to help the Pirates.
"I told him that could be a conflict of interest since the Cubs were in town, but that I would do anything else to help the Pirates, and that he and the Pirates had a friend across the bridge at Highmark Health," Ramos says.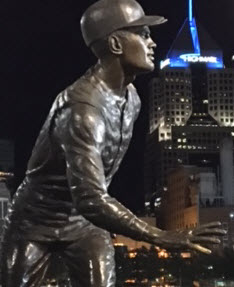 He adds that many people who have collaborated on the response to Hurricane Maria were at that game — including Alvarado, Luis Clemente (one of Roberto's sons), Coonelly, and numerous Highmark Health and AHN leaders and staff.
"There were dark clouds, like a storm forming, but the moon was as bright as the sun lighting up the Pittsburgh skyline," he says, recalling the game. "The grounds crew had cut Clemente's number '21' into the outfield grass, and the light made it look like the '21' was on fire. Hurricane Irma went through the Caribbean that night, and hit Florida a few days later. A couple weeks later — Hurricane Maria. Reflecting back, I felt like Roberto Clemente was there that night telling us, 'get prepared, we're going to need your help.'"
Hurricane Maria left Puerto Rico without power or drinkable water for days. Much of the island did not regain power for months; some areas still lack power as we publish this article six months later. In the early days, Ramos notes that focusing on how to help was the only way for people like him and Alvarado to offset the frustration of not being able to reach loved ones in Puerto Rico to find out if they were safe.
It was Alvarado who first contacted a Pittsburgh-based organization that became central to collaborative relief efforts: Brother's Brother Foundation.
"Brother's Brother was the organization waiting in Nicaragua for the relief plane that crashed with Roberto Clemente on it," Ramos says. "Luke Hinson, who runs the organization now, is the son of the man who was waiting for Clemente. He has done that same good work for his whole life, and now here they are working to help Clemente's homeland."
As Brother's Brother, Luis Clemente, Roberto Clemente, Jr., the Hispanic Chamber of Commerce, Highmark Health, and others began to coordinate relief efforts, they decided to hold a press conference in hopes that it would "serve as a catalyst for others to join our 'coalition of the willing.'"
The coalition began expanding even before the event officially started. As the scheduled speakers were huddled off camera comparing notes, Ramos says, "all of a sudden, this almost angelic woman walks in and comes toward us. I introduce myself, and she says she is Yasdet Maldonado, a doctor at an AHN hospital. She had seen the press release for the event, and so she just came right over and asked, 'How can I help?'"
This connection had some extra magic. Maldonado was born in Carolina, Puerto Rico — Clemente's birthplace. She had done her internship and residency with the person heading up the anesthesiology department at the biggest hospital in Puerto Rico — from whom she had already received a list of critically needed medical supplies and prescription medicines.
The next day, relief efforts took another leap forward: Frank Coonelly reached out to Highmark Health. Asking, "What would Roberto Clemente do?" Pirates third-base coach Joey Cora — who lived just minutes from where Ramos had been born in Puerto Rico — and other players had decided to fill up a plane with supplies and deliver them personally to the people of Puerto Rico. Coonelly was waiting to get confirmation from FedEx about providing a cargo plane.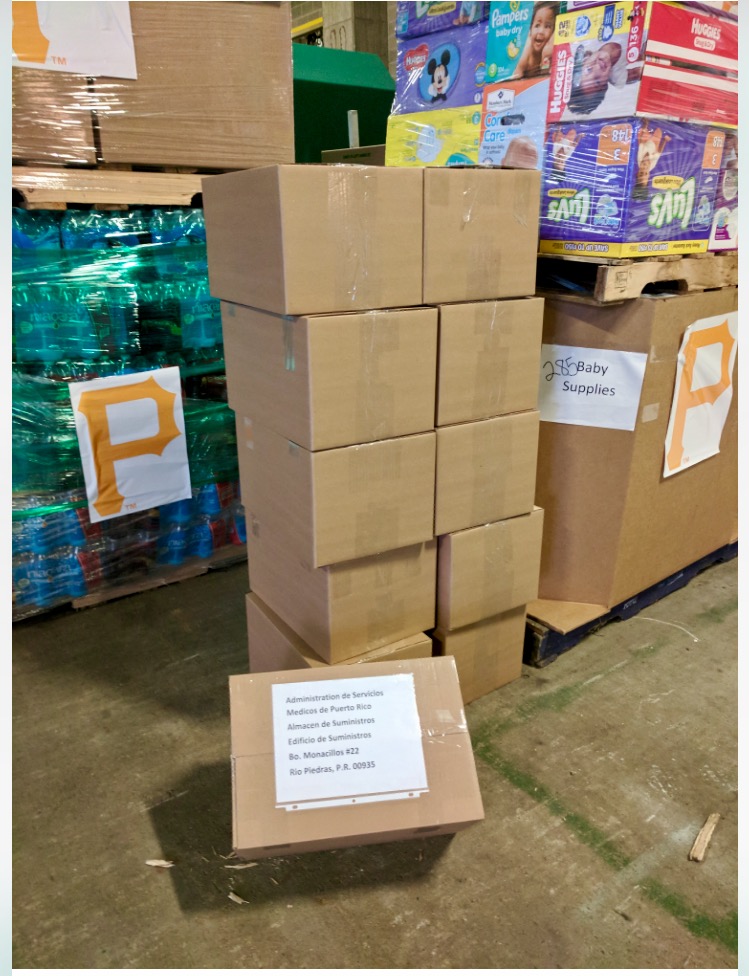 "I told Frank about Brother's Brother, the Hispanic Chamber, being in contact with Luis and Roberto Clemente Jr. on the ground, and our connection at the hospital in San Juan," Ramos says. "I said let's all work together on this, because this is an opportunity to have one plus one equal 21. You get that cargo plane and we'll help fill it up with humanitarian and medical supplies."
That Saturday, Ramos spoke to 400 people attending a Hispanic Chamber of Commerce gala for which Highmark Health was the presenting sponsor. A conscious decision was made to preserve the event's celebratory tone, but it was impossible not to bring up a disaster that impacted the families of many in attendance. Ramos built a bridge to connect the sentiments in his introductory remarks: "This is a celebration, so let us celebrate tonight the resilience of a people who are going to rise up from disaster. Let us rise up to the challenge of supporting our fellow citizens and friends and colleagues. There's a saying in Puerto Rico right now — 'Puerto Rico Se Levanta.' Puerto Rico will rise up. Let's help them rise up."
Sunday, Ramos got a text from Coonelly: FedEx had officially committed to providing a plane. Within days, the greater Pittsburgh community, Highmark Health, AHN, Brother's Brother, the Hispanic Chamber of Commerce and others had gathered a full cargo plane of supplies, including nearly all the medical supplies on Dr. Maldonado's list. Before that plane touched down, plans were underway for additional planes and rounds of help.
21 Degrees of Connection
Those first weeks after Hurricane Maria included multiple plane loads of supplies delivered from the Pittsburgh region, as well as other parts of the country. But the collaborative math whereby "one plus one equals 21" was just getting started.
On a corporate level, Ramos recalls a conversation in which David Holmberg asked him about "the longer-term play" in helping the island recover.
"I told him I'd like to see if we could broaden the coalition," Ramos says. "He had just heard from Jennifer Vachon, chief of staff to Scott Serota, the CEO of the BCBSA. Like us, they had been in contact with Triple-S, the Blues plan in Puerto Rico, whose development vice president, Francisco 'Kiki' Mantorell-Basanta, had been coordinating relief efforts. David suggested that I connect with Jennifer and Kiki and see if there would be a way to work together."
During a conference call with BCBSA Blues plans nationwide, Mantorell-Basanta and Ramos presented what Triple-S and Highmark Health had been doing. They encouraged other Blues to leverage the strength and scale of the Blues network to broaden the coalition already in place, achieving greater humanitarian response efficiency and effectiveness in the short term, and boosting the recovery phase in the long term. A dozen plans did. In February, Ramos, Holmberg and other leaders visited Triple-S in Puerto Rico, and Ramos says that the collaboration has made a big difference in getting supplies to those in need and continuing the recovery.
Non-corporate collaborations have been just as inspiring. Ramos had read about and supported Carnegie-Mellon University (CMU) student Rosana Guernica's crowdfunding campaign to pay for multiple charter planes to deliver supplies to Puerto Rico, then return with patients needing to get to the mainland for care. Like Dr. Maldonado, Guernica was born in Clemente's hometown, and they knew each other. Soon after the disaster, Dr. Maldonado asked Ramos to meet with Guernica and other Puerto Rican students at CMU and the University of Pittsburgh, many of whom still hadn't been able to connect with their families.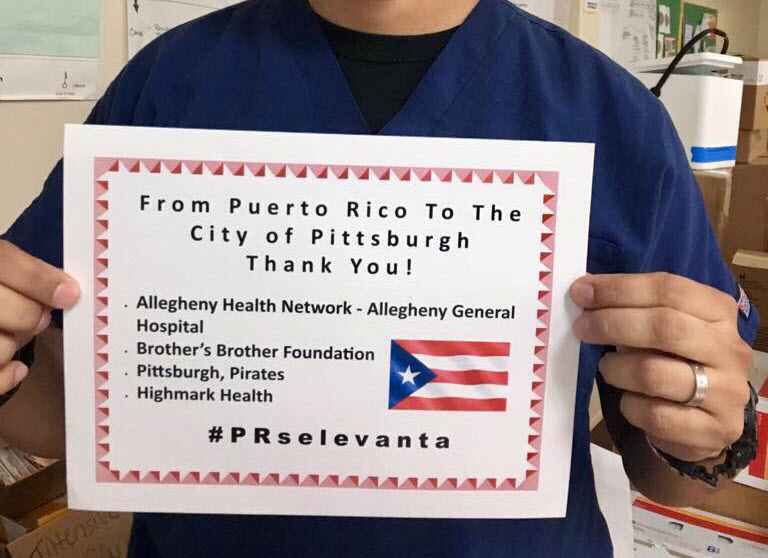 "We met at a restaurant near the campuses — and I'm just trying to be a father figure and bring them some comfort, and a little levity," Ramos explains. "I joked with the waitress about the menu lacking tostones, and one student said that there is no good Puerto Rican food in Pittsburgh. I said, oh, yes there is. At my house. My wife is the best cook, and my personal specialty is tostones. So I will invite you all to my house once we get through this thing and we'll break some bread to honor our family and friends in Puerto Rico." He later got the group tickets to a Penguins hockey game, and plans to take them to a baseball game in the spring.
Bringing the connections full circle, Ramos also introduced Guernica and Alvarado. Through the early relief efforts, Alvarado had been unable to get in touch with his mother, and then had been concerned about getting her to the U.S. to ensure access to needed health care services. When Guernica's second chartered plane returned from Puerto Rico, Alvarado's mother was on it.
"It's just been one connection after another, with people that have been connected by trying to do the right thing in a moment of truth," Ramos says, "and, I think, also by the spirit and guiding hand of Roberto Clemente."
"Moving Mountains to Do Right"
Ramos adds that he doesn't see Highmark Health's disaster relief efforts as a special case, but as one more manifestation of the organization's culture. "Putting people first, collaborating, taking bold action as leaders, purposefully executing our mission — this is who we are and what we stand for, and it's why I'm excited to be here," he says. "Whether it's disaster relief or getting health care right, it comes back to putting yourself in the shoes of the customer, the patient, the health plan member, the community member, your fellow human being. It's the Golden Rule — treat people like you'd like to be treated. If you have that as your core principle, it will serve you and everyone else well. I'm heartened by the fact that despite apparent shortcomings in the initial federal response to the crisis, people have been moving mountains to do right, and help, when people have needed help the most."