Remarkable Leadership: Meet Dr. Marcia Klein-Patel, Chair, AHN Women's Institute
By: Bill Toland
Posted: October 20, 2020
Share This
Our vision is a world where everyone embraces health. In our Remarkable Leadership series, we talk with people who are making that vision a reality by leading the work to create a new system of health, empower our customers and communities, and better support every individual's health journey.
Marcia Klein-Patel, MD, was named chair of the Allegheny Health Network (AHN) Women's Institute in mid-February. Within weeks, the novel coronavirus (COVID-19) pandemic had reached western Pennsylvania, and the institute she leads — like all AHN institutes — was forced to change the way it sees patients, and implement restrictive policies regarding patient visitation.
In this Q&A, Dr. Klein-Patel discusses the first few months in her new role, how women's medicine may change in the aftermath of COVID-19, and the future of the Women's Institute.
The impact of COVID-19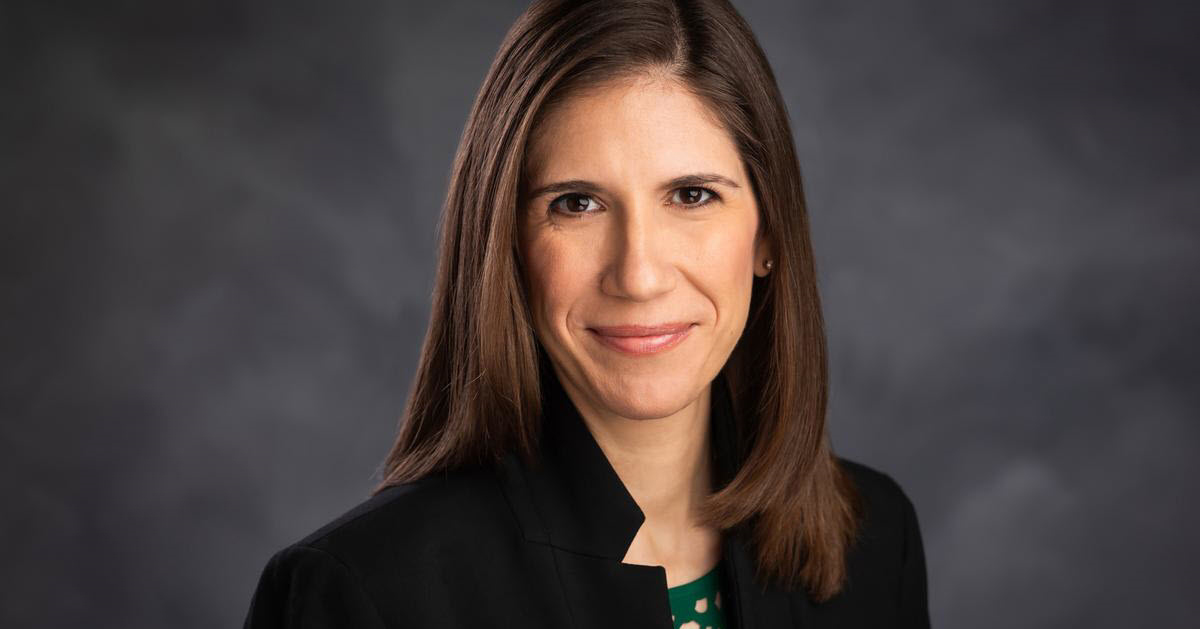 Bill Toland: This must have been an unusual transition for you.
Dr. Marcia Klein-Patel: Definitely. It helped that I was an internal candidate. I knew the setting, I knew the place.
But the coronavirus also didn't give me much time to think, or wonder "what now?" We had to make a lot of significant adjustments in a very short period time. It allowed me to rapidly build new relationships and build structure, in a way that may not have happened otherwise.
Never waste a crisis, right? I had to get up to speed and coordinate with hospital presidents and institute chairs on a pretty accelerated timetable. Obviously, this isn't the way I would have planned my first 90 days in this role, and it would have been significantly more challenging if I was coming from outside of the organization. But having some relationships beforehand helped a lot, and I was lucky to have a lot of internal support.
All of that helped.
Bill Toland: COVID-19 impacted different institutes in different ways, but the Women's Institute in particular has had to implement some difficult restrictions — limiting visitors to new mothers, for example.
Dr. Marcia Klein-Patel: That was definitely a learning curve for me — not the medicine side, but the communications side of it. How do we communicate these policy changes out to expectant mothers? The visitation policy for our obstetrical program, when we restricted it to one visitor per mother, was the most difficult thing we had to deal with.
Bill Toland: What has COVID-19 taught you about women's preferences with regard to telemedicine?
Dr. Marcia Klein-Patel: We've learned a lot, and we continue to learn. Think about obstetrical care, and the number of visits a patient will usually have throughout the course of a pregnancy and afterward. Some of those visits absolutely have to be in-person, because those patients require contact.
But some of those visits are meant to be counseling visits. And we've found that lots of our patients are really happy if those counseling sessions are telemedicine visits or video visits.
They really appreciate the ability to take that call from home. It's far more efficient than getting in the car, driving in, and sitting in the waiting room for a counseling visit. And the technology allows us to have more frequent touchpoints in the post-partum period, too.
Bill Toland: Will this be your model, going forward?
Dr. Marcia Klein-Patel: I really think it's better for patients and for families. There's always going to be a need for contact with the patient, in our field and every field. But there's a lot of stuff that can be managed through telehealth, and we're happy to do that.
Midlife medicine
Bill Toland: Amid all these changes, have you been able to maintain your practice?
Dr. Marcia Klein-Patel: Not initially — I saw a few patients by way of telemedicine, but that was it. I've now resumed a more regular practice schedule.
Bill Toland: Tell me a bit more about your practice.
Dr. Marcia Klein-Patel: I practice menopausal medicine. In some ways, it's similar to obstetrical medicine: Expectant mothers try to make positive health changes, they take stock of their lives, they take stock of their total health. Menopausal medicine can be the same thing — you're going through this major change in your life, things will be different from now on, so let me take stock of my health and decide how I want to live in the second half of my life.
It's a really rewarding specialty, and it's a really rewarding time in women's lives to provide them with medical care, because women are so highly engaged in their health.
Bill Toland: When you joined AHN in 2013, you and your partners started the network's menopausal medicine program, correct?
Dr. Marcia Klein-Patel: Right. I came over with two partners, and it was the first practice dedicated to menopausal medicine at AHN.
Bill Toland: Is it a historically overlooked specialty?
Dr. Marcia Klein-Patel: Historically, for sure. It's gotten better in recent years. I think the entire field went through a period of negative press — this whole "young at all costs" mentality. When people thought of menopausal medicine, they thought of the National Institute of Health's Women's Health Initiative, which led to a lot of fear and confusion about the health effects of hormone therapies.
But I think we are now in a far more enlightened era. It's a balanced approach, and the media reporting on this field of medicine is much more balanced too.
That said, midlife medicine has historically been a difficult specialty to market. And while midlife medicine generates downstream revenue for health care organizations — we order a lot of colonoscopies, mammograms, genetic tests, bone-density scans, for example — midlife medicine itself isn't a significant revenue generator. So it's not advertised on TV as much as cancer care or cardiovascular medicine. It's not an AHN phenomenon — you see it nationwide.
Bill Toland: Does midlife medicine account for a significant portion of genetics referrals?
Dr. Marcia Klein-Patel: Yes. Genetics is a part of our preventive-medicine focus, and we are the top referrer to genetics outside of the AHN Cancer Institute. When we refer women to genetics, we're looking for breast and ovarian cancer risks, colon and pancreatic cancer. And if we learn that there is a family history or a genetic predisposition toward a certain disease, there are preventive measures we can take to mitigate risks and promote their health.
Bill Toland: Midlife medicine seems to have a lot of connections to cancer medicine.
Dr. Marcia Klein-Patel: It does. I don't love the phrase "survivorship medicine," because I don't think it rings true for a lot of cancer patients — but a lot of what we do is in the post-cancer-treatment phase. On any given day, 20% to 30% of our patients have cancer or are survivors.
So we do a lot of medicine to manage and support their wellness. On top of that, many of our patients are on Tamoxifen, a breast cancer inhibitor, or come to us from Dr. Thomas Krivak with a history of gynecological cancers. So it's important that midlife medicine, and the entire AHN Women's Institute, has a strong relationship with the AHN Cancer Institute.
In addition to the formal connections to cancer medicine, a lot of what we preach to all of our patients — eating well, sleeping well, exercising — rings especially true for cancer patients.
Bill Toland: Is it harder to practice what you preach, now that you are a chair?
Dr. Marcia Klein-Patel: Exercise time has been harder to find. But generally, yes, I take it very seriously. I go to bed at the same time and wake up at the same time. I tell my patients — "Look, you don't want a tired doctor, do you?"
It's my job to be my best self for them.
The path to leadership
Bill Toland: What does the near future hold for the Women's Institute?
Dr. Marcia Klein-Patel: It's funny — a lot of what I thought I'd be working on the first year went out the window. But COVID can't be a distraction from our clinical goals. We really want to continue our focus on high quality, safety, and access for our patients. We also want to further develop our Centers of Excellence, particularly in the areas of pelvic health, endometriosis.
And we want to continue to build out our research portfolio with Johns Hopkins Medicine.
Bill Toland: Tell me a little bit about that initiative.
Dr. Marcia Klein-Patel: We launched the women's research partnership with Hopkins last November, and we then put out our call for scientific abstracts. We had far more submissions than we thought we were going to receive, particularly in light of COVID-19. All of our projects have joint principal investigators at both AHN and Hopkins. And we're doing a lot of collaborative work with them in fetal therapy and tumor boards. It's been a really productive relationship so far.
Bill Toland: Watching the construction of AHN Wexford must be exciting for you.
Dr. Marcia Klein-Patel: It is. Wexford will be the second new labor and delivery unit opened by Allegheny Health Network in the last seven years. It's something that the network should be really proud of — across the state of Pennsylvania, dozens of labor and delivery units have closed over the past two decades.
That's really great for women, to be able to get high-quality obstetrical care in a new facility, close to where they live.
Bill Toland: Why has AHN been on the opposite side of that closure trend recently?
Dr. Marcia Klein-Patel: We've been smart about our investments, looking for markets that were maybe underserved. Jefferson was a good example — there weren't a lot of childbirth options in the Mon Valley, and now that Uniontown Hospital has closed its obstetrical unit, there's one fewer.
It's the same in the North Hills. Obstetrical care at Passavant was consolidated into the city several years ago. So for women in northern Allegheny County who want to deliver a baby close to home, AHN Wexford is going to be a great location, in a growing community.
Bill Toland: What was your path to Pittsburgh?
Dr. Marcia Klein-Patel: I did my training at UPMC, and then I stayed on there, doing part-time faculty and part-time research. At that point, AHN was just forming, and I — along with my practice partner — thought AHN would be a great place to try something new.
Bill Toland: Why is that?
Dr. Marcia Klein-Patel: I think that for many of us, the ability to practice in an organization that's physician-led means you're always part of the process and always part of the solution.
It's a far more fulfilling way to practice medicine. I think that's true for physician leaders as well as younger physicians who may not consider themselves leaders yet.
Bill Toland: Was a leadership position like this one on your radar, or in your career plans, when you came to AHN?
Dr. Marcia Klein-Patel: When I came here, I was not intending to be a physician leader. I was just looking to do something different. But once I got here, Dr. Allan Klapper gave me a lot of freedom to do my own research and follow my own path. It was so organic.
It was almost like being part of a start-up organization. When you're in a start-up, there are places you can go, there are jobs that have not yet been held, there are new things for you to try. So at least from my perspective, that kind of autonomy leads to growth.
That was all part of my path to leadership here.
Bill Toland: Finish this sentence: "If I hadn't ended up in medicine, I would have been …"
Dr. Marcia Klein-Patel: A party planner. I like a good project. I don't know that I ever had a back-up job, though — even as a kid, as a 4-year-old in the sandbox, I thought I wanted to be a pediatric cardiologist.
Bill Toland: Finish this sentence: "If I'm not at home or at work, you're likely to find me …"
Dr. Marcia Klein-Patel: Hiking. It's always Sundays at Frick Park at our house.
Bill Toland: Best thing you've read recently?
Dr. Marcia Klein-Patel: "Range," by David Epstein. It's a non-fiction book about the path to success — and how the straight path isn't always the best way to get there. The idea is that generalists who have a wide variety of experiences are well equipped for the path ahead, and that we ought to celebrate the different paths that people take as being important to them and to their identities.
It hit close to home, for a lot of reasons.