Building sustainable and lasting changes in schools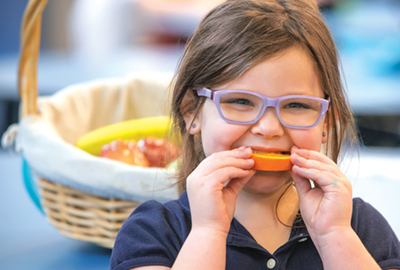 WE ARE PROUD TO SHARE THESE 2016 STORIES:
For students at St. Agnes School in Charleston, West Virginia, the bright displays of fresh vegetables and fruit in the cafeteria and extra recess time seem more like fun changes than new healthy eating and physical activity initiatives designed to help them make the healthy choice the easy choice.
These new initiatives are a result of the $5,000 Building Sustainable and Lasting Changes in Schools grant awarded to St. Agnes School from the Highmark Foundation in 2016 to support evidence-based programs like the Smarter Lunchrooms Movement, 5210 Let's Go!, and The Alliance for a Healthier Generation Healthy Schools Program.
"Through this generous grant from the Highmark Foundation, we are making St. Agnes School a healthier place for our students by reinforcing the importance of healthy eating and physical activity," said William K. Grizzell, principal, St. Agnes School. "These programs are helping to educate and raise a healthier generation of kids."
The Highmark Foundation's Building Sustainable and Lasting Changes in Schools grants are part of its Creating a Healthy School Environment Grant and Awards program, which helps schools address specific areas of student health. The grants are awarded to schools that serve children in grades K–12, and they support evidence-based programs that address one of four priority areas: bullying prevention, child injury prevention, healthy eating and physical activity, or environmental health.
"The Highmark Foundation recognizes that schools are powerful places to shape the health, safety, education, and well-being of children and, as a result, we created a multifaceted program to provide them with the funding resources they need to create healthier and safer school environments," said Highmark Foundation President Yvonne Cook. "This strategy is aligned with the Highmark Foundation's mission, goals, and focus that illustrate the effectiveness of early intervention and preventive health programs."
In 2016, the Highmark Foundation awarded a total of $326,000 in grants to 54 schools across Pennsylvania and West Virginia in an effort to improve the health and wellness of students.
Since 2002, the Highmark Foundation has provided more than $1.6 million of support to schools in communities served by Highmark Inc. in Pennsylvania and West Virginia.