Helping the Leukemia & Lymphoma Society cure blood cancers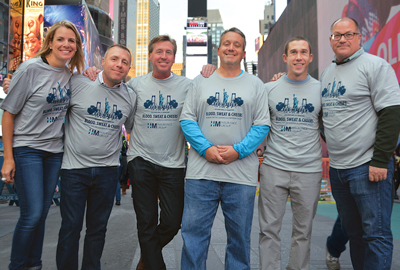 WE ARE PROUD TO SHARE THESE 2016 STORIES:
As part of a leading national stop loss carrier group, HM Insurance Group companies see firsthand the debilitating effects of catastrophic medical conditions and focus corporate giving initiatives on support for organizations impacting conditions that can result in devastating medical expenses.
The Leukemia and Lymphoma Society (LLS) has been a priority charity of HM Insurance Group companies since 2011. In 2016, HM Insurance Group companies funded pediatric and young adult blood cancer research and sponsored LLS events in Pennsylvania and New York. Employees supported the cause by volunteering their time to set up and participate in the Light the Night Walk in Pittsburgh. Additionally, two HM Insurance Group senior leaders serve on the board of directors for LLS.
HM Insurance Group companies' clinical research sponsorship funded Stephan Grupp, MD, Ph.D., of Children's Hospital of Philadelphia in his work to develop ways to use anti-cancer immune cells to achieve stable remissions after less intensive therapies. This is the second LLS researcher funded by HM Insurance Group companies and is another example of the company's commitment to support organizations and work that can ultimately impact the outcomes of catastrophic medical conditions.
In 2016, HM Insurance Group President and COO Matt Rhenish and other senior leaders united to raise more than $25,000 for LLS by participating in the Team In Training for the New York City Marathon. With cancer touching each member of the HM Insurance Group's team, they were motivated to put in the hard work and dedication needed to run the miles and raise money to help LLS to cure cancer.
Overall, HM Insurance Group companies' total contributions to LLS have exceeded $325,000 during the last five years.