Diabetes care models for the 21st century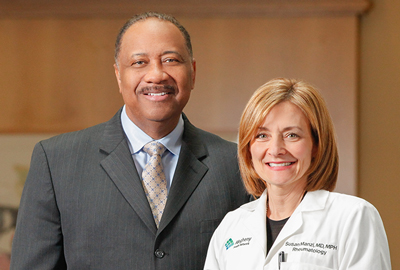 WE ARE PROUD TO SHARE THESE 2016 STORIES:
After Patricia Kowalok fell in her home in the spring of 2016, the 85-year-old North Hills resident was discouraged — both physically and emotionally — and she stopped paying attention to her type 2 diabetes. "I live at home by myself," she said. "I had let things go. I didn't really care anymore."
But that was before Patricia learned of the suite of at-home services Allegheny Health Network now offers to diabetic patients in the Pittsburgh area. An Allegheny Health Network (AHN) community paramedic visited her regularly for three months to check her vitals and monitor her blood sugar. A physical therapist guided a rehabilitation routine that allowed Patricia to regain her mobility (with the aid of a walker). And a nurse psychologist helped Patricia understand that living alone doesn't have to mean doing it alone.
"I was stubborn and thought I could do it by myself," she said. "I'm doing so much better. I have a different outlook on life. The people who came in were so caring."
The at-home visits are a small part of a much larger campaign to transform AHN's diabetes care model now and for the future. Diabetes is one of the country's and the region's most pervasive and costly chronic conditions. Nationally, about 30 million people are affected by diabetes at a cost of $245 billion.
AHN's new, integrated approach to diabetes care is made possible through a $6 million grant from the Richard King Mellon Foundation. Given AHN's footprint in western Pennsylvania, as many as 30,000 patients could benefit from the care model that is now being deployed.
AHN's team-based approach will improve access to diabetes education, preventive care, remote monitoring, and therapeutic innovations. Patients will also benefit from the guidance of a "navigator," who can help people with diabetes connect with caregivers, specialists, nutritionists, and community resources when needed.
"We know how complicated navigating the health care system can be," says Susan Manzi, MD, chair of AHN's Department of Medicine. And in Highmark Inc., AHN now has a willing partner in remaking the diabetes care model. "It wasn't until we partnered with Highmark that we saw that we could do it," Dr. Manzi said.
Charles DeShazer, MD, vice president and executive medical director at Highmark Health Plan, said that by demonstrating the efficacy of a holistic approach to disease management, AHN and Highmark will be in a position to advance new payment models for caregivers that will make it easier and more cost-effective for patients to remain healthy.
AHN's plan for transforming diabetes care "is an ideal, scalable model that leverages technology, primary care, in-home, and community-based services to make it less burdensome for patients to manage their diabetes," Dr. DeShazer said.
As for Patricia, her diabetes is now under control. In November her caregivers told her she no longer had to report her vitals every morning, because her fasting blood-glucose level is consistently under 90 mg/dl, which is considered healthy.
"I feel like a different person," she said. "I can look forward to the next day."