Community partnerships lead to healthier diets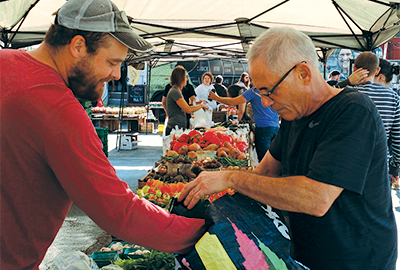 WE ARE PROUD TO SHARE THESE 2016 STORIES:
Pea shoots, alfalfa sprouts and spaghetti squashes were all foreign items in Judithe Ramski's Lawrenceville kitchen until she enrolled in an innovative diabetes maintenance program sponsored jointly by West Penn Hospital, the Bloomfield Development Corp., and a grant from Highmark Inc.
The 23-week pilot program, known as Health Bucks, gave Judithe and 34 other people with diabetes $50 a month to spend at the Bloomfield Saturday Market, a farmers market sponsored by Allegheny Health Network (AHN). To receive the weekly shopping stipend, patients were required to attend an initial nutrition education session with AHN dieticians. Throughout the summer and autumn of 2016, participants were offered additional educational opportunities, such as healthy cooking demonstrations and one-on-one counseling sessions with certified diabetes educators.
Participants were also invited to tour the farmers market, where they were introduced to vendors — and to a number of foods they'd never tried before.
"We went every week," Judithe said. "You get exposed to different things." With a variety of fruits and vegetables in her house, she found herself cooking more often for her parents, who have also been diagnosed with type 2 diabetes.
Before enrolling in the Health Bucks program, "my readings were out of control," Judithe said, speaking of her blood glucose levels. By the end of the program, her sugar levels had improved.
Getting health care right, now and in the future, means reaching patients in unconventional ways and building partnerships among foundations, providers, and community groups. And solving the nation's diabetes crisis will require patients and health providers alike to think differently about issues like food access, said Howard Aikens, RN, one of the diabetes educators who helped to run the Health Bucks program.
Proper diet is "the foundation of control for diabetes, no matter what kind you have," he said. The Health Bucks program "really made them think about healthier options."
Many of the participants lost weight, saw improved glucose and blood pressure readings — and together, they purchased nearly $7,000 in fruits and vegetables from the Bloomfield market in 2016.