Growing — and helping clients grow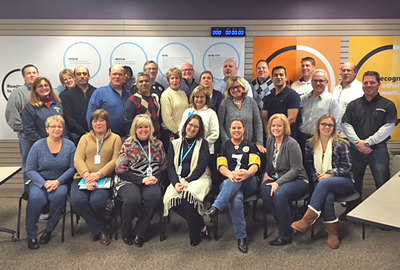 WE ARE PROUD TO SHARE THESE 2016 STORIES:
HM Health Solutions (HMHS) had a strong year in 2016 with significant growth across many dimensions of its business. The company now has 9.7 million members on the Enterprise Health Solution (EHS) platform — an increase of 17 percent from 2015. Another driver of growth is an increase in revenue of 34 percent from 2015 to $720 million with continued growth forecasted in 2017 and beyond.
Blue Cross Blue Shield of Minnesota has invested more than two years in the Operating Model Transformation, and with the support of every employee, the goal to migrate over 1.4 million members to the Enterprise Health Solution platform was successfully achieved on January 1. Blue Cross Blue Shield of Minnesota now has over 2 million members on the new operating platform across all segments of the business.
"This bold transformation of the operating model and successful migration of the business represents one of the largest migrations in the country for Blue Plans. Our success can be attributed to the tremendous efforts of our employees and a great partnership with HM Health Solutions," said Earnie Franklin, Blue Cross Blue Shield of Minnesota vice president of transformation and technology.
Additional clients have also seen great success with EHS. Since the EHS platform went live for Blue Cross Blue Shield Delaware (BCBSDE) in 2013, BCBSDE revenue has grown from $562 million to $1.7 billion in 2016, an increase of more than 200 percent. Membership has grown 55 percent in the same time period, from 297,000 members to 460,000 members.
HMHS also grew through the acquisition of Incepture Print Solutions, the fulfillment business of GuideWell. Acquiring the business is part of an overall strategy that includes steady expansion of services valued by existing and prospective health plan clients.
Matthew V. Ray, president of HMHS, stated: "Blue Cross Blue Shield of Minnesota's migration, BCBSDE's continued success, and our acquisition of GuideWell's fulfillment business each illustrates an aspect of our long-term growth strategy. These accomplishments in 2016 position us for continued growth in the future."