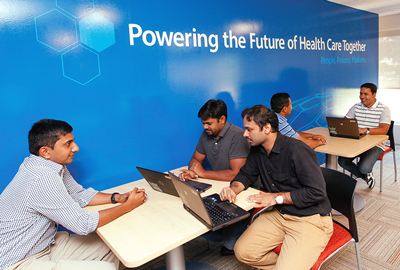 WE ARE PROUD TO SHARE THESE 2016 STORIES:
Years ago, Allegheny Center on the North Shore of Pittsburgh was a bustling hub for shoppers. Now, it is part of a transformation taking place as the North Shore establishes a new identity as one of the region's high-tech centers. HM Health Solutions (HMHS) is one of several technology leaders that have invested in the North Shore, helping to create a new "urban innovation" center.
HMHS now occupies 4 Allegheny Center as one of its technology hubs with 350 engineers and developers virtually working together across multiple campuses. The innovative and collaborative work environment has proven very productive, enabling faster problem solving, simplifying the exchange of ideas, and encouraging innovation. Engineers and developers are enthusiastic about the ease and efficiency of ideation and improved collaboration — all of which benefit HMHS's clients.
"This is a good business investment that pays off for everyone," explained Marcia Oglan, vice president, Human Resources. "We are proud to be part of the revitalization on Pittsburgh's North Shore, and the new facility provides a positive employee experience, which will help us to attract and retain top tech talent."
HMHS's commitment to promoting entrepreneurism in its own backyard is part of a wider movement to create job growth and to continue building the technology corridor of its hometown of Pittsburgh. Their 4 Allegheny Center location is an excellent example of how an investment in a company's future can also be an investment in the future of a community.