United Concordia Dental secures the world's largest voluntary dental contract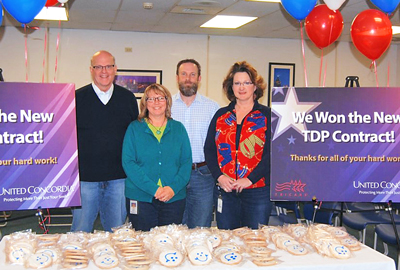 WE ARE PROUD TO SHARE THESE 2016 STORIES:
In 2016, United Concordia Companies, Inc. landed the world's largest voluntary dental insurance plan, the TRICARE Dental Program (TDP) — a five-year contract valued at $2.9 billion.
Beginning May 1, 2017, the company and its subsidiaries (collectively, United Concordia Dental) will administer dental benefits to approximately 1.8 million uniformed service active-duty members, National Guard and Reserve members, and their families.
Winning the contract is "a great honor, but it comes with great responsibility — a responsibility all of us at United Concordia Dental take very seriously," said Chip Merkel, president & CEO, United Concordia Companies. "We are each personally and passionately committed to TDP."
United Concordia Dental had the TDP contact for 16 years from 1996 to 2012 and is proud to once again have this prestigious contract. Winning the contract again means that United Concordia Dental will add about 100 new hires to its staff of 1,000 over the course of 2017.
The TDP award is a testament to United Concordia Dental's hard work to broaden and redefine the business going forward. From innovative products and customer service that will enhance the government's program to its state-of-the-art claims-processing system, United Concordia Dental is responsive, flexible, and competitive in the 21st century marketplace.
Additionally, United Concordia Dental's dental network is one of the best in the business, offering abundant access to care at an industry-leading value to connect members to better overall wellness.
United Concordia Dental encourages its employees to be accountable for producing business results and to be innovative and quick to market with new initiatives. As the organization continues to diversify its revenue streams with partnerships and large contracts, it is reaching beyond dental benefits with an integrated approach to care.