Leading the industry in medical-dental integration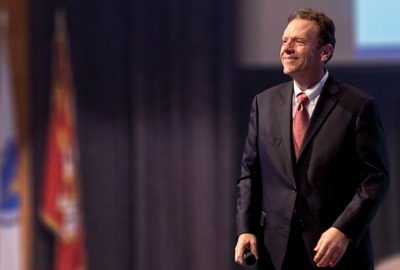 WE ARE PROUD TO SHARE THESE 2016 STORIES:
United Concordia Dental continually reaches for new opportunities to connect more closely with its customers. From innovative, research-backed products to direct engagement with customers about gum disease, the organization's nontraditional approach better integrates care and answers the needs of today's health care customers.
One of the ways United Concordia Dental is improving education and wellness is through oral wellness consultants who work directly with employers and their employees to help them achieve better oral and overall health through smart dental choices. Through customized enrollment sessions, health fairs, webinars, or onsite meetings, these consultants connect with clients and members to show them how to use their benefits and self-service tools, increasing client satisfaction.
Another important way the organization is demonstrating thought leadership is through its efforts to integrate medical and dental care.
"United Concordia, as a founding member of the Harvard School of Dental Medicine Initiative to Integrate Oral Health and Medicine, is helping foster this industry discussion, guide public policy, and bring dentists and primary care doctors to the table to improve patients' overall wellness," said James Bramson, DDS, chief dental officer of United Concordia Companies and chair of the Harvard initiative.
At a 2016 forum ("Putting Your Money Where Your Mouth Is 2.0") hosted by the Harvard school, Highmark Health CEO David Holmberg discussed the need to better connect physicians and dentists in a conversation about patient care, while other industry leaders, including Dr. Bramson, stressed the importance of leveraging oral care access in order to achieve better health outcomes and lower costs.
As the health care marketplace becomes increasingly interested in integrated solutions, Highmark Health Plans and United Concordia Dental are uniquely positioned to deliver those savings — and improved outcomes — for customers. Working hand-in-hand with Highmark Health Plans, United Concordia Dental is implementing bundled sales strategies for medical and dental benefits in key markets. The integrated care members receive provides a seamless experience for patients, making it easy to do business with United Concordia Dental.