Giving autoimmune disease patients all the care they need in one place
By the time Melissa Hood, an orthodontist's assistant, was diagnosed with lupus in 2013, she'd already endured years of extremity pain, severe fatigue, and other symptoms often associated with chronic autoimmune conditions.
"The pain in my hands was so bad, I could barely hold up my instruments to do my job," the Pittsburgh-area mother of two said. The lupus diagnosis was a relief, but the treatments she tried weren't as successful as hoped, and she continued to weaken until her 2014 hospitalization.
"With lupus, you don't realize how bad it's getting until you end up in the hospital," Melissa said.
After her inpatient stay, she decided to move her care to Allegheny Health Network (AHN). That's when she met AHN's Sue Manzi, MD, one of the country's foremost autoimmunity experts and the director of AHN's Lupus Center of Excellence.
"The first time I saw her, I was so very, very sick. I could barely walk. My dad had to bring me in a wheelchair."
But from that very first meeting, Melissa knew that she was in good hands. "She had a plan. She told me, 'You are going to get better.' And I believed her."
Since that meeting, Melissa has cycled through a variety of treatment programs and is now responding well to abatacept, a newer anti-inflammatory biologic medication.
She credits Dr. Manzi with saving her life — and she also credits AHN's Autoimmunity Institute, which opened in 2018, with making it easier to receive the life-changing treatment that she needs. The Institute, based at West Penn Hospital, is one of the first of its kind in the world, combining multispecialty care with cutting-edge research, patient education, and advocacy for those suffering from autoimmune diseases.
The purposeful design of the institute typifies AHN's innovative, integrative approach to medicine — built around the needs of the patient in order to provide better, more convenient care.
"My doctors can talk to each other. They're all in the same building. You can schedule all of your appointments in the same place — even the same day. It's so important for someone like me, because when you have a chronic condition, you can feel like you're going to the doctor all the time.
"To have everything in one place is amazing."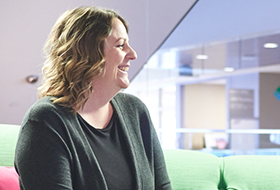 Melissa Hood talks about living with lupus during the making of an AHN Women's Health video